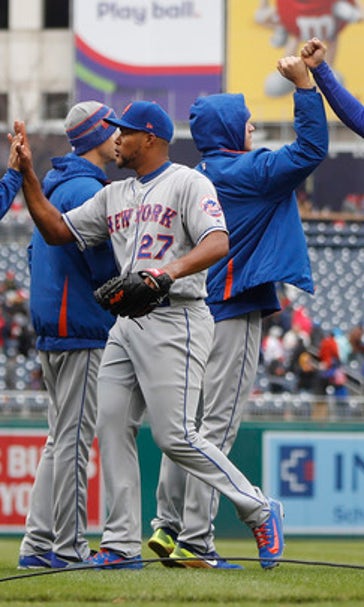 Mets win 4th in row, send Harper, Nats to 4th straight loss
April 7, 2018
WASHINGTON (AP) Nationals third baseman Anthony Rendon did not say a thing right after a strike call he disagreed with in the third inning of Washington's 3-2 loss to the New York Mets on Saturday.
Flipping his bat was enough to get Rendon tossed by umpire Marty Foster.
''I don't think my mouth even opened to chew gum,'' Rendon said. ''It's pretty funny. It's comical, to say the least. He had a vendetta out for me or something.''
Moments after Rendon was kicked out, so was Dave Martinez, earning his first ejection as a manager and then offering an old-school protest by throwing his cap and kicking up dirt. So he watched in his office as Asdrubal Cabrera hit an RBI double and scored the go-ahead run in the seventh inning, helping the Mets come back to beat the Nationals despite Bryce Harper's fifth homer.
Reliever Hansel Robles (1-0) gave up that opposite-field solo shot in the sixth, but still was credited with the win.
Jeurys Familia got a five-out save to seal the fourth victory in a row for the Mets, who are 6-1 under new manager Mickey Callaway after going 70-92 in 2017.
''People always talk about, `Man, it's early,' or `You need these games late.' We need every game. That's a blunt way of putting it,'' said Todd Frazier, who drove in the go-ahead run with a groundout off Brandon Kintzler (0-1). ''I don't care if it's early, middle season or late. Every win counts.''
It was the fourth consecutive loss for the two-time defending NL East champion Nationals and their rookie skipper. They have gone from 4-0 to 4-4, with all the defeats against division rivals.
That includes an 8-2 loss to the Mets in Thursday's home opener, when Washington shortstop Trea Turner was ejected after complaining about a called strike. The Nationals kept right on registering their displeasure in the first inning Saturday; Rendon, Harper and Ryan Zimmerman all visibly reacted to calls by Foster.
''They have good eyes. All of them were coming up and saying, `The balls are in.' And some of them were in,'' Martinez said.
He didn't think what Rendon did ''warranted a toss that quick,'' which is why he left the dugout.
''At some point,'' Martinez said, ''you've got to protect the players.''
Rendon said he thinks ''there has to be an improvement'' when it comes to umpiring.
''They don't get cut. They don't get benched. They don't get sent down to Triple-A, whatever it might be,'' Rendon said. ''It's just sad that there's no accountability for them.''
Crew chief Joe West told a pool reporter that Foster felt that Rendon's toss of his bat ''was showing him up'' and that an umpire in that situation has ''to do something, or he loses all respect from the players.''
West also said: ''The pitch prior to the strikeout, (Rendon) walked completely out of the hitter's circle, which the hitters aren't allowed to do. Marty said, `We gotta play. You gotta get back in there.' Then when he called strike three, he threw the bat.''
GOOD BULLPEN, BAD BULLPEN
Familia called this lengthy outing ''one of the biggest saves I've had in the last couple of years.'' He was limited to 26 appearances in 2017, after being suspended for 15 games because of a domestic violence episode and then going on the DL with a right shoulder problem.
Kintzler came on in the seventh and promptly gave up consecutive hits to Amed Rosario and Cabrera to make it 2-2. Then Kintzler - who allowed Jay Bruce's grand slam Thursday - got Frazier to hit a bouncer up the middle. But Michael Conforto was running from first on the play and was safe when second baseman Howie Kendrick bobbled the ball before throwing over to get Frazier.
''The last two outings have been a nightmare for me,'' Kintzler said. ''And hopefully in September, I'll laugh about it.''
FOR STARTERS
New York's Steven Matz allowed one unearned run in five innings. Washington's Gio Gonzalez went 5 1-3 innings, with one earned run, six strikeouts - and one face-saving catch of a comeback liner that was headed directly for his head in the third.
TRAINER'S ROOM
Nationals: LF Adam Eaton was out of the lineup, as expected, after tweaking his left ankle during an awkward slide home Thursday. But Eaton said he wasn't in any pain and he pinch hit in the seventh Saturday.
UP NEXT
In the series finale Sunday night, Nationals RHP Tanner Roark faces Mets RHP Matt Harvey.
---
More AP Baseball: https://apnews.com/tag/MLBbaseball
---
---