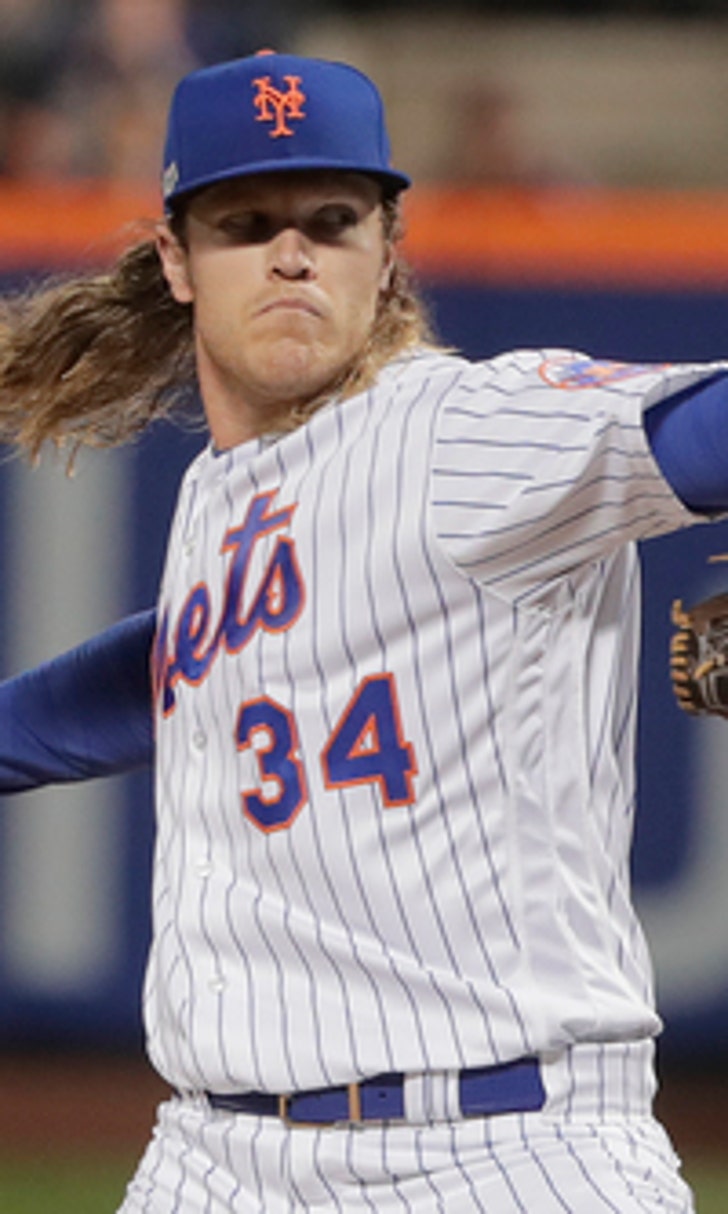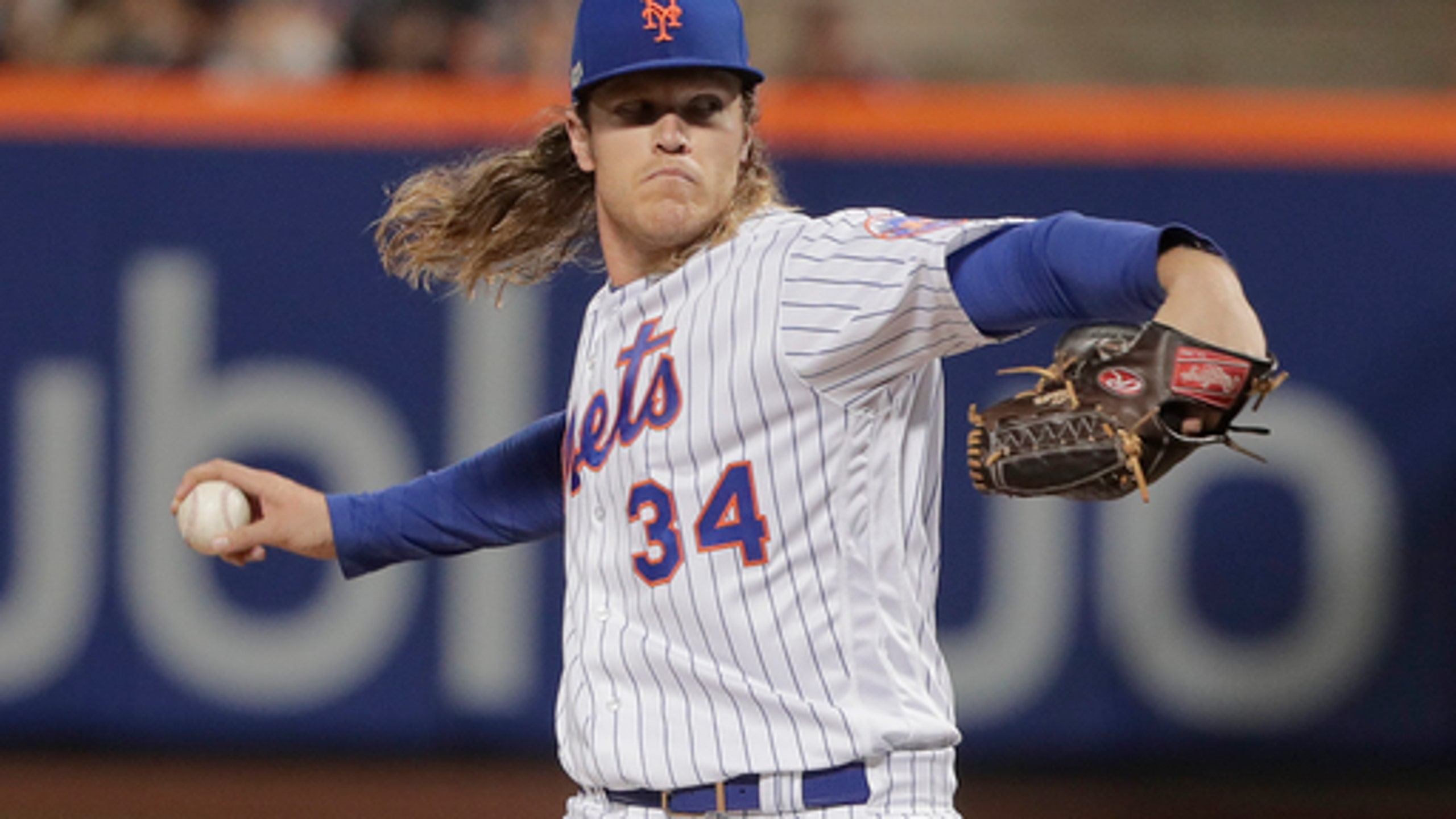 Mets hope to get healthy, keep Cespedes during long winter
BY foxsports • October 6, 2016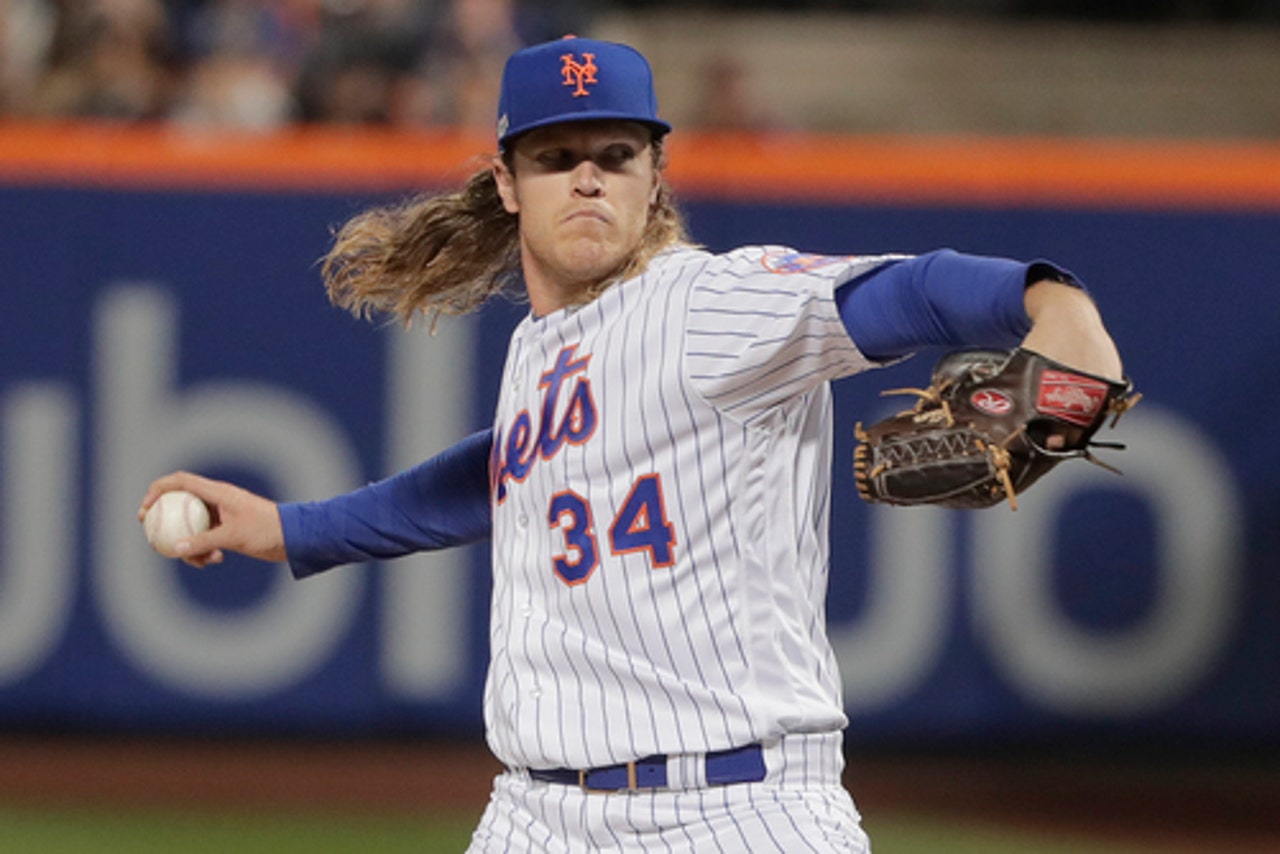 NEW YORK (AP) After grinding for months to get back into the playoffs, the New York Mets didn't last long.
Nine scoreless innings, to be exact. Never pushed a runner past second base.
A postseason matchup against Madison Bumgarner spelled the end of the line, just as it did for other talented teams in recent years. And with a 3-0 loss at home to San Francisco in the wild-card game Wednesday night, New York's drive to repeat as NL champion ended quietly.
Noah Syndergaard fired zeros for seven pressure-packed innings, but the Mets mustered only four hits. Three of them, by Rene Rivera, T.J. Rivera and Ty Kelly, came from players who weren't even on the 40-man roster when the season began.
So it went this year for the banged-up Mets, beset by one significant injury after another as a string of unheralded backups filled in admirably. Even after getting eliminated, New York (87-75) felt good about reaching the playoffs in consecutive seasons for only the second time in franchise history (1999-2000).
''There's only a few teams that could have come back under the circumstances we came back on, and I'm really proud of them,'' manager Terry Collins said. ''We overcame a lot of things. So to get here, it took a lot of character. Boy, I tell you. And we're disappointed - but we'll be able to get healthy and we'll be back.''
Every established regular besides outfielder Curtis Granderson spent time on the disabled list, in addition to helpful part-timers Wilmer Flores and Juan Lagares.
Jacob deGrom, Matt Harvey and Steven Matz went down with season-ending injuries and required surgery, decimating one of baseball's best rotations. Zack Wheeler hasn't made it back from Tommy John surgery in March 2015.
In their places, 43-year-old Bartolo Colon and surprising rookies Seth Lugo and Robert Gsellman came to the rescue.
''This organization did a really good job of preparing the younger guys that were going to come in and impact, starting in spring training, so they could feel comfortable with the guys up here that opened, and we could feel comfortable with them,'' Granderson said.
Better luck next year? Sure, you could put it that way.
Better health next year, that's what the Mets are counting on as they chase their first World Series championship since 1986. Spring training will feel like the waiting room in a crowded doctor's office, everyone at least a little nervous about each scheduled checkup.
For now, though, attention turns to an important offseason with a familiar priority: Yoenis Cespedes.
Here are some major issues coming up for the Mets:
THE BIG BAT
Cespedes has until the third day after the World Series to opt out of his $75 million, three-year contract after one season and become a free agent. The star slugger hit the open market last year but re-signed with New York, the deal structured so he could soon choose to shop his services again. With fewer power hitters available this winter and coming off another productive season (31 HRs, 86 RBIs, .884 OPS), Cespedes would figure to attract larger offers this time - certainly for more money than the $47.5 million remaining on his current contract.
Cespedes seems comfortable in New York but has plenty of leverage because the Mets' record with and without him the past two seasons shows how crucial he is to their lineup. So what will it take to keep Cespedes, and would the Mets pay a hefty price? General manager Sandy Alderson acquired outfielder Jay Bruce from Cincinnati on Aug. 1 partly as insurance for 2017, but New York needs Cespedes' right-handed pop - especially in an offense so reliant on home runs. The team set a club record with 218 this season.
SECOND THOUGHTS
Switch-hitting second baseman Neil Walker (23 homers) had season-ending back surgery and can become a free agent. New York traded second-base prospect Dilson Herrera for Bruce, so it's unclear who will start there next year. But the Mets think they're pretty well covered with Flores and hometown rookie T.J. Rivera, plus a couple of middle-infield prospects on the way. Jose Reyes or Asdrubal Cabrera could probably shift over from the left side if needed.
CATCH 22
The Mets thought they had an emerging young catcher with pop in Travis d'Arnaud, albeit one who was injury-prone. But he was unproductive at the plate this season and shaky behind it, losing playing time to veteran Rene Rivera. What do the Mets do about d'Arnaud?
WILL ARMS BE READY?
Harvey is a huge question mark following surgery for thoracic outlet syndrome, while deGrom and Matz are supposed to be healthy next spring after elbow operations. The team hopes Wheeler can overcome his setbacks. So will the Mets re-sign the ageless Colon (15-8, 3.43 ERA, team-high 191 2/3 innings) as insurance again? Or will they view Lugo and Gsellman as sufficient (and cheaper) options. With right-handed reliever Fernando Salas and lefty specialist Jerry Blevins both potential free agents, New York might need to address a hole in the seventh inning, too.
MY CAPTAIN
Longtime third baseman David Wright had season-ending surgery in June to repair a herniated disk in his neck, one year after he was diagnosed with spinal stenosis and missed most of 2015. Wright looked awfully thin during pregame introductions Wednesday. He says he plans to come back, but can the captain still play at age 34 next season? Reyes and Flores could provide coverage at third base.
---
---