Major League Baseball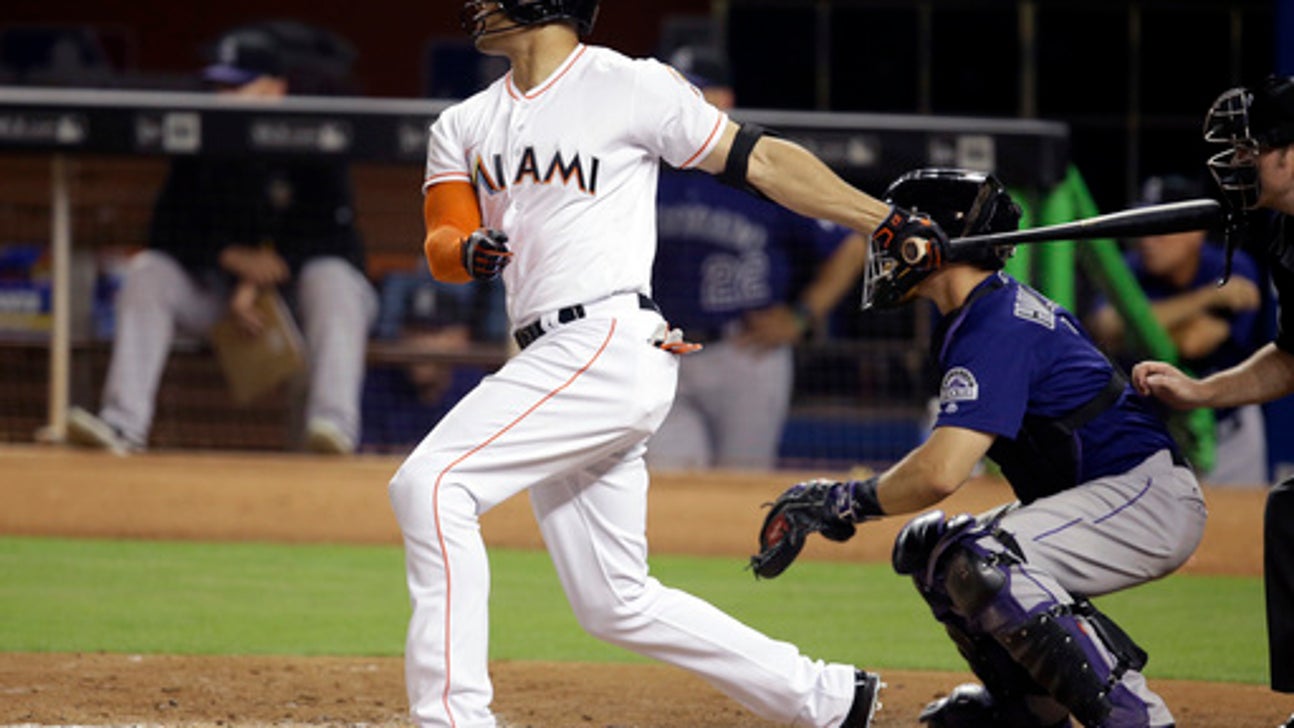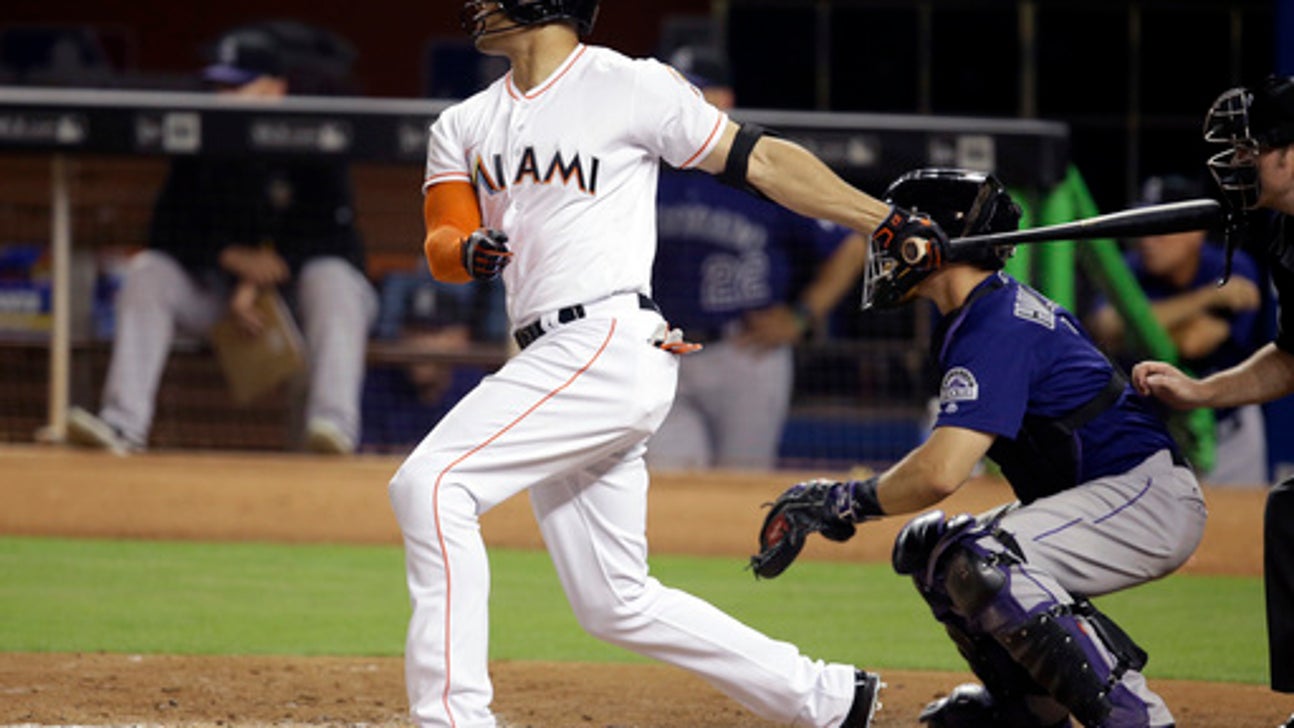 Major League Baseball
Marlins' Giancarlo Stanton aims for a fashion home run
Published
Jun. 18, 2016 10:04 a.m. ET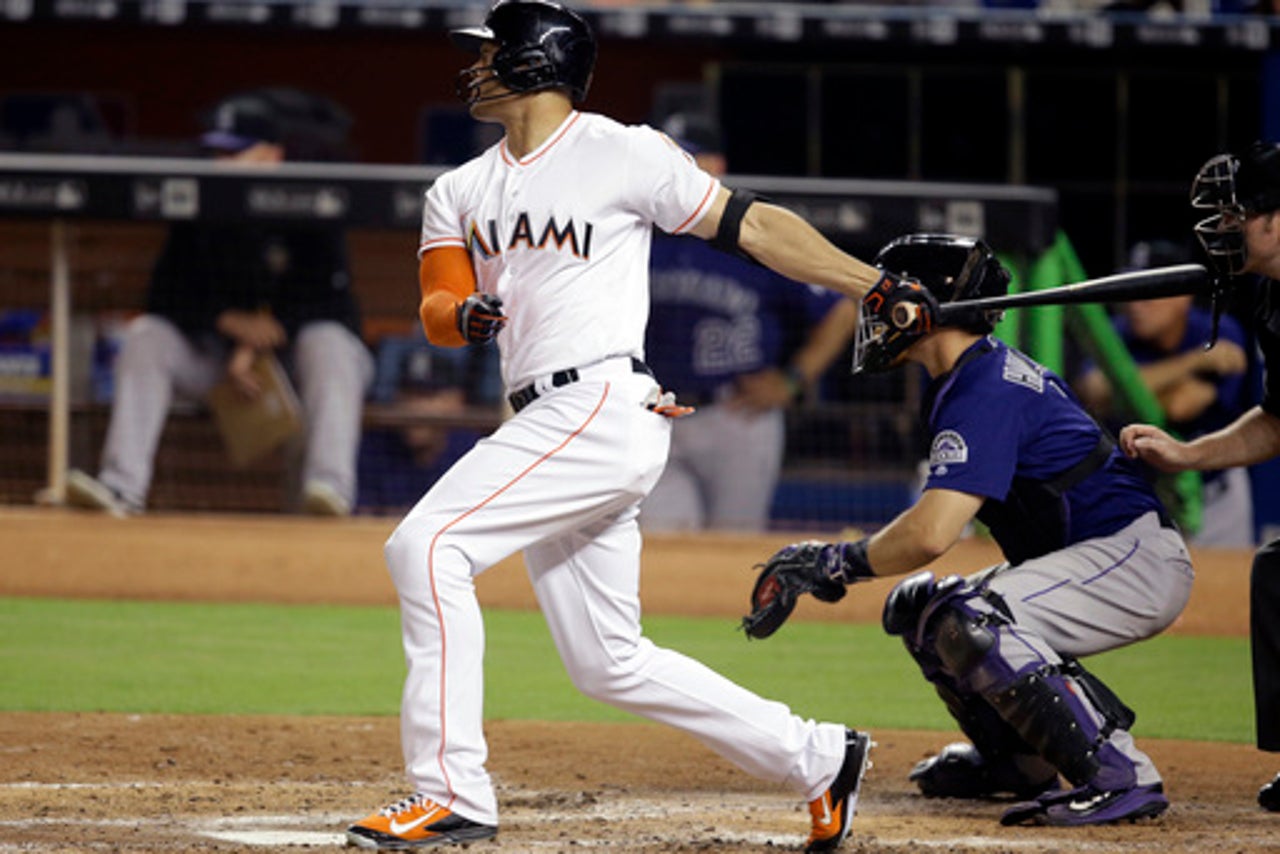 JUPITER, Fla. (AP) Giancarlo Stanton can pull off virtually any outfit, thanks to his easy confidence.
He looks at home on the cover of sports magazines, or clad in a custom suit accessorized with designer shoes that cost four figures. Despite his place in the upper echelon of fashionable athletes, the All-Star slugger for the Miami Marlins is a bit modest when it comes to his style.
''I'm not too flashy, but a little fashionable,'' he said, looking a bit sheepish at the notion that he is one of the most stylish players in baseball. ''I'm more casual or clean-cut casual.''
That style was on full display for the cover of Miami magazine Ocean Drive last year. He leaned lazily against a wall, clad in Italian designer Bottega Veneta highlighted by a cozy $2,350 oatmeal-colored cardigan.
Stanton grew up in California, but has spent most of the last seven years living in Miami. He admittedly leans more Cali, but he is flexible.
''In Miami you've got a lot of loud stuff,'' he said. ''You've got the white pants and the white shoes and stuff. So in Miami you can have more fun with your fashion when you want to.''
Though he isn't a huge fan of Miami's style excess, he does have a few appropriate outfits.
As he prepared to leave Miami's spring training facility, he was undoubtedly more California casual than South Beach chic. He wore slim cut slate grey Joe's Jeans, a fitted black cotton V-neck t-shirt with tiny flecks of white whose brand he couldn't recall (''just bumming it,'' he says) and $300 black Adidas Y3 studded tennis shoes.
With a $325 million contract that is the largest in North American sports history, Stanton can certainly buy anything he wants. But he isn't frivolous with his spending, and furnishes his closet with items from all price ranges.
He said he has about 40 pairs of shoes and is partial to Gucci and Christian Louboutin. As for pants, he likes Armani, which can run as much as $500 a pair, but his other favorite brand is Joe's Jeans, which are between $100-200.
''If I like it I'm going to get it, whether it's $20 or more than that,'' he said. ''I don't go on specific brands and say: `This is cool because it's got a name brand on it.' If I like it I'm going to wear it.''
He did add a little extra luxury to his casual outfit the day he spoke about his fashion, lifting the hem of his shirt to reveal a Gucci belt with a buckle featuring a colorful and large interlocking `G' logo.
Belts are one of his favorite accessories, and at any given time he has about 10 designer ones that he rotates.
''The belts usually put the stamp on what you're wearing,'' he said. ''But besides that you change up the jackets and the shirts but it's usually belts and shoes that you can have a little more fun with.''
It may seem surprising that someone with his paycheck would have only 10 belts, but he is careful not to get things that will just sit in his closet. He also does a clothing purge a couple of times a year.
''I'll give it away to my friends or Goodwill or people who need it,'' he said. ''I'd say right now my closet is at capacity.''
At 6-foot-6, 260 pounds and with bulging biceps that give most shirts a workout, it can be a challenge for the slugger to find clothes that fit off the rack. When he sees a rail-thin runway model in something he likes but can't find in his size he turns to custom clothier Elevee.
Among his biggest splurges are custom-made suits, 30 to 40 of them, mostly from Elevee. But he recently joined forces with Barney's department store to help promote their custom suit service. The 26-year-old enjoys tinkering with things when it comes to his suits to help beat the monotony of long baseball seasons.
''You don't want to keep doing the same thing or be boring with it,'' he said. ''You've got to get new things every year from new colors to new fabric and material. So you make it fun.''
This offseason, Stanton signed an endorsement deal with Tag Heuer watches. He is certainly a big fan of timepieces, but none of them rival his favorite piece of jewelry: A gold chain with a medallion related to his multicultural heritage, close to his heart in every way.
''It's a little world and it's got diamonds on Southern California, Puerto Rico and Ireland where I'm from,'' he said. ''That's my favorite one. It's wearable in the games. I like that one.''
---
---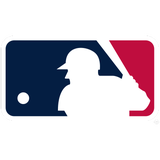 Get more from Major League Baseball
Follow your favorites to get information about games, news and more
---