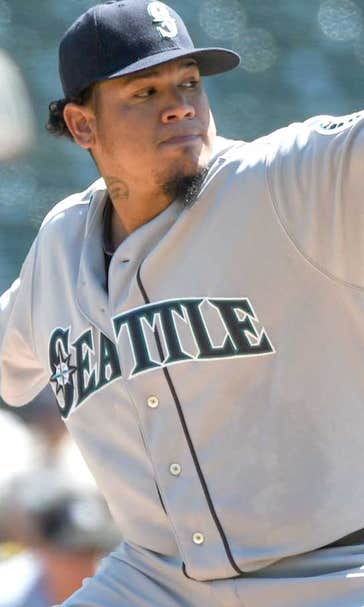 King Felix outduels Jon Lester as Mariners top reeling Athletics
September 3, 2014

If the Seattle Mariners can get into the American League wild-card game against Jon Lester and the Oakland Athletics, they'll be plenty confident with King Felix on the mound.
Kyle Seager and Corey Hart homered leading off the seventh inning to back Felix Hernandez's stellar start, and the Mariners rallied to beat the A's 2-1 on Wednesday to win the three-game series between playoff contenders.
"I think we match up well," Mariners manager Lloyd McClendon said. "We've got a few bullets to throw at them that toe the rubber. We like our chances."
McClendon and the Mariners were in a light-hearted mood after the victory.
The manager pointed out that Hernandez looked well rested despite his much-maligned move to push his ace back a day before his last start against the Washington Nationals -- which was Hernandez's worst outing of the season -- by referencing a profanity-laced quote from former Indiana basketball coach Bobby Knight.
McClendon could crack jokes mostly because of the homers that erased an otherwise brilliant performance by Lester (13-10) and helped Hernandez (14-5) win for the first time in four outings.
Adam Dunn's homer in the fourth accounted for the only run Hernandez allowed in eight innings. The right-hander gave up three hits, struck out four and walked two to outduel Lester in a matchup of two of the AL's best pitchers.
The Mariners tagged Lester for seven hits in eight innings. Fernando Rodney pitched a perfect ninth for his 41st save in 44 chances.
"It was special," said Hernandez, adding that he promised his wife a win for her birthday. "We came here to win the series and that's what we did."
Hernandez improved to 19-7 against Oakland, including 4-0 in five starts this season. He said he's just happy to finally be pitching in a playoff race.
"It feels great. It feels really good. It's fun to do that," he said.
The A's have lost seven of nine, including a four-game series at the AL West-leading Los Angeles Angels before dropping two of three to Seattle at the Coliseum. The Mariners remain right behind Detroit and Oakland in the chase for the AL's two wild cards.
And for most of the sun-splashed afternoon, it looked like a possible preview for that game.
Hernandez, who allowed a career-high four home runs in his last start against the Washington Nationals, returned to his dominant ways for all but one pitch. It was Dunn's second homer in three days since being traded from the Chicago White Sox, his 22nd this season and 462nd of his career, tying him with former A's slugger Jose Canseco for 34th in major league history.
Lester looked to be in his All-Star form, scattering hits and keeping batters off balance, but Seattle changed that on the left-hander's first three pitches of the seventh.
Seager and Hart hit back-to-back homers to give the Mariners the lead. It was Seager's 22nd home run this season, tying a career high, and Hart's fifth.
"Two mistakes, two solo homers," Lester said. "Nothing else really to talk about as far as the game went for me."
A's first baseman Stephen Vogt was replaced in the seventh after spraining his left ankle, which he injured sliding into second on a failed hit-and-run in the fifth. Vogt said X-rays were negative and he's hoping he's only out a few days.
---
---