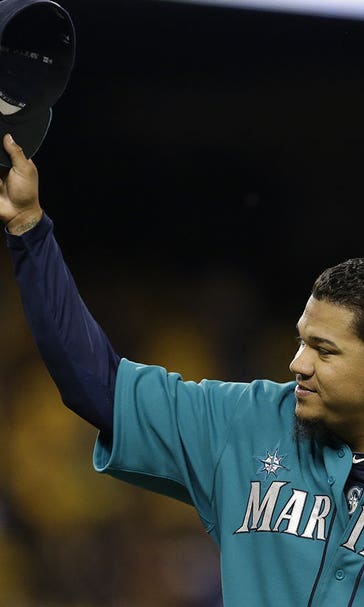 Felix Hernandez shuts down A's, strikes out 11 for Mariners
April 12, 2014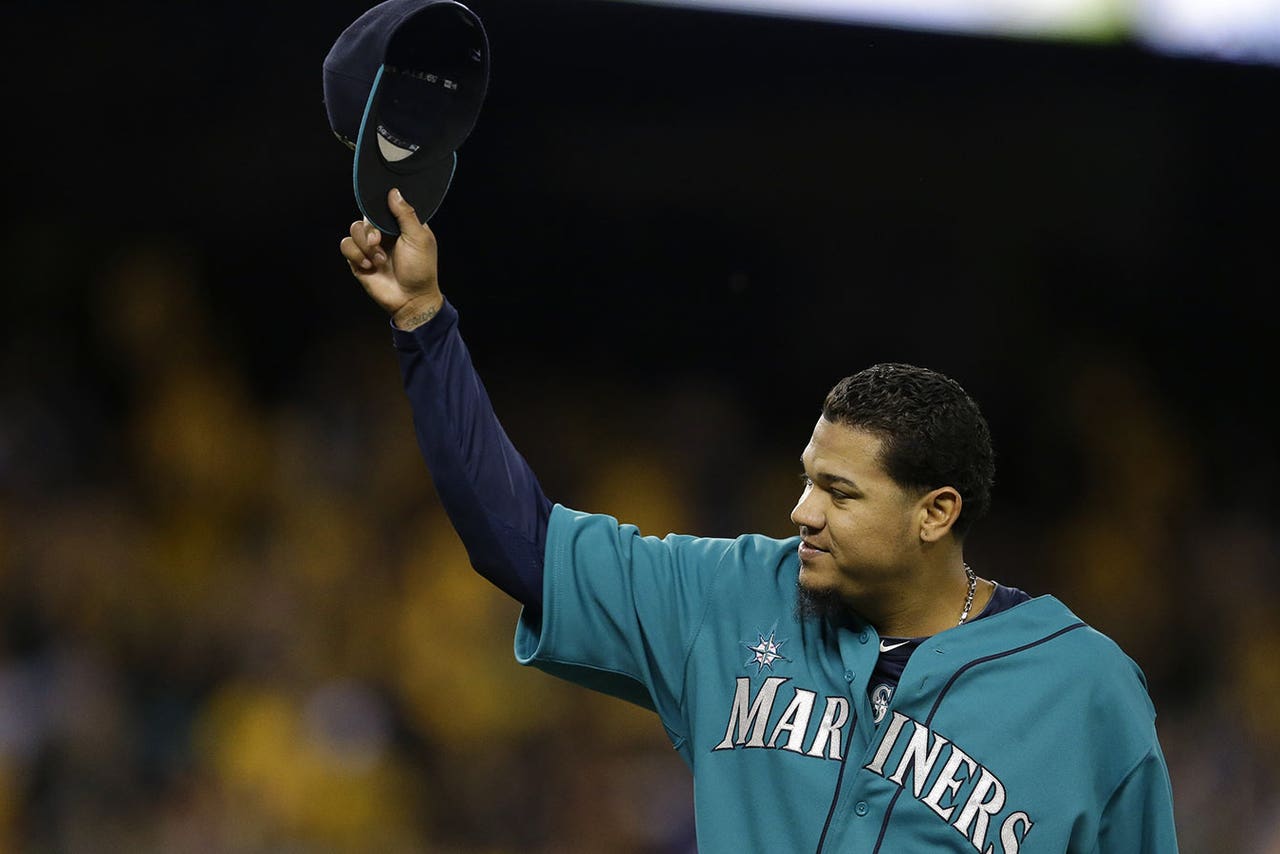 Felix Hernandez walked in from the bullpen and threw his first pitch to a standing ovation after warming up with Aloe Blacc's song "The Man" playing over the stadium speakers.
After 11 strikeouts in seven-plus innings, Seattle's ace left the mound to the same song and same cheers.
"It was a really good song," Hernandez said.
King Felix took a shutout into the eighth inning and was backed by homers from Mike Zunino and Brad Miller as the Mariners held on for a 6-4 win over the Oakland Athletics on Friday night.
Hernandez (3-0) shut down Oakland for the second time in a week, becoming the first Mariners pitcher to win three times in the first nine games of a season.
With the usual "King's Court" for Hernandez home starts expanded to a "Supreme Court" encompassing the entire stadium with yellow shirts and "K" cards, Hernandez gave up four hits in the 28th double-digit strikeout game of his career.
Hernandez was charged with two runs and walked none. He has 30 strikeouts against two walks in his three starts.
"I have to throw good games. There are a lot of people here," Hernandez said. "If you throw a bad game it's not going to be good."
Hernandez has been exceptionally good to start 2014. He's allowed five earned runs in his three starts and 14 total hits. He set down the first 10 Oakland batters Friday before Jed Lowrie's one-out single in the fourth.
Three of Oakland's four hits off Hernandez came in the span of five batters in the fourth and fifth. Josh Donaldson followed Lowrie's hit with an infield single, but Hernandez pitched out of the jam with strikeouts of Brandon Moss and Yoenis Cespedes.
Alberto Callaspo doubled to lead off the fifth and advanced to third on Robinson Cano's two-out error at second base. Hernandez struck out Sam Fuld looking to end the inning.
Hernandez struck out the side in the seventh, but Daric Barton was hit on the foot by a curveball and Eric Sogard singled to open the eighth. That was it for Hernandez.
"I thought his stuff was exceptional tonight," Seattle manager Lloyd McClendon said. "He had a great mix of all his pitches."
What should have been a comfortable win became shaky because of Seattle's bullpen.
Lucas Luetge walked his only batter. Danny Farquhar walked Lowrie on a 3-2 pitch to score Barton. Moss added a broken-bat single off Charlie Furbush for the second run charged to Hernandez, and Cespedes beat out a potential double play to score another. Furbush threw a wild pitch that Fuld scored on to cut the deficit to 6-4, but Callaspo popped out to end the rally.
Fernando Rodney pitched the ninth for his third save.
Seattle had the cushion for a poor night from the bullpen thanks to the homers by Zunino and Miller in the sixth. Zunino's two-run shot ended the night for A's starter Tommy Milone (0-1).
Miller followed two batters later with a solo shot to center field with the wind blowing in.
"Shoot, I think that was all I had. I was just hoping Fuld wasn't going to go up and take that one back in," Miller said.
The Mariners needed only three pitches to get to Milone, who was making his first start of the season after postponements caused his turn to be skipped. Abraham Almonte doubled on the first pitch of the game, Miller followed with a bunt single and Cano's infield hit gave Seattle a 1-0 lead.
Seattle scored twice in the fourth thanks to two-out errors by Donaldson and Lowrie after Dustin Ackley's double kept the inning going.
Milone gave up 10 hits and three earned runs in his season debut.
"I felt like I threw the ball well but it's tough to look at that outing and be happy about it," he said.
---
---