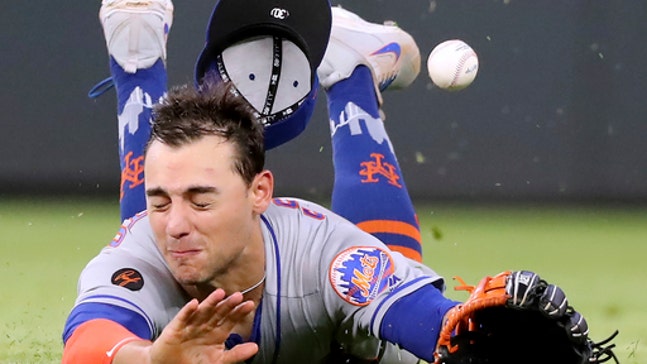 Callaway: Mets have 'hit rock bottom,' looking for way out
Updated
Mar. 4, 2020 10:13 p.m. EST
ATLANTA (AP) The New York Mets have been reeling, and first-year manager Mickey Callaway is looking for a way out.
Almost nothing has gone right since New York won its fourth straight game on May 21. It began Wednesday's game against the Atlanta Braves having lost seven of nine and in danger of falling under .500 for the first time this season.
''We've hit rock bottom the last few days and we have to come out of it,'' Callaway said.
The bullpen is 1-5 with an 8.51 ERA in its last six games. New York has 11 players on the disabled list, including sluggers Yoenis Cespedes and Todd Frazier, reliever Anthony Swarzak and catcher Travis d'Arnaud.
The Mets believe they dodged a couple of major injuries Tuesday when ace Noah Syndergaard was placed on the DL with a strained ligament in his right index finger and Steven Matz left his start in the fourth inning with a mild strain in his left middle finger.
But so much has gone wrong that Callaway is wondering what might happen next. Just in the last three days, New York has had nine relievers go on or off the active roster.
''I haven't slept in a week - well, at least,'' he said. ''We're just trying to think of ways to get out. What can we do? What can we stress? How can we react today? What conversations can we have with which players? We have to try to continue to get out of what's going on.''
Callaway almost marveled at the near-perfect storm of injuries and poor performance. Balls have dropped between outfielders. Baserunners have been picked off in the same inning. Hitting with runners in scoring position has been suspect.
The roster keeps churning over, too.
''I think we have made 17 roster moves in the past four days,'' assistant general manager John Ricco said. ''That's going to tax any team.''
The worst, though, has been the bullpen. The relievers seem to have a collective mindset that something will go wrong.
''I think that mindset has maybe kicked in a little bit already, but that's how it is,'' Callaway said. ''I think they're going to learn from this and realize, `You know what? We can bounce back from this.'''
Seth Lugo, Jacob Rhame and Gerson Bautista have taken turns blowing late leads in a four-game series with the Braves.
''It's not just giving up a run,'' Callaway said. ''When we've blown the leads, we've walked the leadoff batter of the inning. That has been consistent. We can't do that, no matter who we are. It doesn't matter if you're a guy who has 45 days in or 10 years. You can't come in and walk guys. You're giving the other team a chance.''
Callaway, who spent the last five years as Cleveland's pitching coach, said he's never seen anything comparable to this recent run, but he insists it's critical to stay poised.
''If we all start being negative and having a bad attitude and throwing things, that would not be productive,'' he said. ''Now it makes you feel better sometimes, but it's the worst thing you can possibly do in my opinion. I'm sure the fans would love to see people throwing stuff, and we're not happy with what's going on. Just because we try to approach it the right way doesn't mean we're accepting it.''
---
For more AP baseball coverage: https://apnews.com/tag/MLBbaseball
---
---