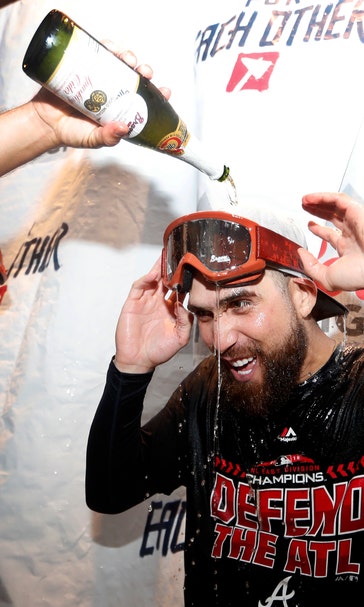 Braves top Phillies 5-3, claim NL East crown
September 23, 2018
ATLANTA (AP) — The Braves capped a most surprising season by clinching their first NL East crown since 2013, with Mike Foltynewicz taking a no-hitter into the seventh inning Saturday in a 5-3 win over the Philadelphia Phillies.
A year after going 70-92, manager Brian Snitker and his Baby Braves surged back into the playoffs.
Atlanta makes its first postseason appearance since 2013 on Oct. 4 in the NL Division Series. The Braves won their 18th division title, tying the New York Yankees for the most in the majors since division play began in 1969.
Philadelphia, which led the division in early August, is 6-14 this month.
Foltynewicz (12-10) tipped his cap to a standing ovation as he left with runners on first and second in the eighth with a 4-0 lead.
Arodys Vizcaino, in his first save situation since June 17, closed out the ninth for his 16th save.
Jake Arrieta (10-10) allowed four runs, four hits and three walks in two innings, the shortest outing of his nine-year career.
YANKEES 3, ORIOLES 2
NEW YORK (AP) — Aaron Hicks doubled home the winning run in the 11th inning off Paul Fry (0-2), and New York clinched an AL wild card spot.
Rookie manager Aaron Boone will lead the Yankees into the winner-take-all Oct. 3 wild-card game, most likely against Oakland. The Yankees remained 1½ games ahead of the Athletics for home-field advantage are are 53-27 at home this season.
Hicks and Luke Voit homered in the second inning, but the Orioles tied the score with runs in the third and the fifth off Lance Lynn.
Tommy Kahnle (2-0) pitched a one-hit 11th.
Baltimore dropped to 44-110, one shy of the franchise record for losses set by the 1939 St. Louis Browns.
OAKLAND, Calif. (AP) — Stephen Piscotty doubled leading off the ninth and scored on a wild pitch by Trevor Hildenberger (4-5) as Oakland cut its magic number to one for a wild-card berth with its second straight walk-off win over Minnesota.
Marcus Semien homered for Oakland, which opened a 7½-game lead over Tampa Bay for the AL's second wild card.
Blake Treinen (9-2) retired three batters.
TORONTO (AP) — Rookie left-hander Thomas Pannone (4-1) allowed two runs and six hits in 6 2/3 innings to win his third straight start.
Rowdy Tellez homered and drove in three runs for Toronto,
Tommy Pham and Jesus Sucre hit solo home runs for the Rays.
Tyler Glasnow (2-7) gave up three runs and six hits in six innings, losing for the fourth time in five starts.
CHICAGO (AP) — Javier Baez homered and the visiting Cubs took advantage of huge mistake by Ryan LaMarre to move 2½ games ahead of second-place Milwaukee in the NL Central. LaMarre allowed Daniel Murphy's fifth-inning drive to left to sail over him for an RBI double, and Ben Zobrist followed with a two-run single.
Jon Lester (17-6) labored through five innings to move into a tie with Washington ace Max Scherzer for the NL lead in wins. The left-hander allowed three runs, two earned, and eight hits in his second straight victory.
Lucas Giolito (10-12) was charged with five runs and seven hits in 6 2/3 innings.
PITTSBURGH (AP) — Trevor Williams (14-9) combined with three relievers on a five-hitter, cutting Milwaukee's wild-card lead to two games over St. Louis.
Pittsburgh's 16 shutouts are one behind Detroit, the major league leader.
Starling Marte hit a two-run double in the third off Zach Davies (2-7), and Colin Moran added an RBI single in the eighth.
ST. LOUIS (AP) — Tyler O'Neill hit a solo home run off Mark Melancon (0-3) with two outs in the 10th inning, and St. Louis remained 1½ games ahead of Colorado for the second NL wild-card spot. Yadier Molina also homered for St. Louis, which won for the fifth time in six games.
Carlos Martinez (8-6) pitched two scoreless innings.
LOS ANGELES (AP) — Manny Machado hit a three-run homer on his bobblehead night to highlight a five-run third inning, and Los Angeles maintained a 1½ -game lead over second-place Colorado in the NL West.
Yasmani Grandal and Joc Pederson also homered to back Rich Hill (10-5), who allowed one run and four hits in seven innings and improved to 8-1 since the All-Star break.
Rookie Jacob Nix (2-4) gave up six runs and six hits in 2 1/3 innings.
ROCKIES 5, DIAMONDBACKS 1
PHOENIX (AP) — Antonio Senzatela (6-6) allowed three hits in seven innings for Colorado.
Arizona has lost 11 out of 14 and is seven games back of the Cardinals with seven games left.
Patrick Corbin (11-7) allowed four runs, five hits and four walks in a season-low three innings.
HOUSTON (AP) — Jose Altuve capped a nine-run eighth with a two-run homer as Houston overcame a 5-1 deficit. The AL West-leading Astros remained 3½ games ahead of second-place Oakland.
After the Angels scored five times in the top of the eighth, Yuli Gurriel, Brian McCann and Evan Gattis each hit RBI singles off of Ty Buttrey (0-1) to close the lead to 5-4.
With the bases loaded and one out, pinch-hitter Tyler White hit a chopper to third baseman Taylor Ward, who threw the ball into right field for an error that allowed two runs to score. George Springer followed with a two-run single off Blake Parker.
Justin Verlander allowed one hit and struck out 11 in six innings. Collin McHugh (6-2) got the final two outs of the eighth.
ARLINGTON, Texas (AP) — Robinson Cano hit a go-ahead, three-run homer in the fifth off Mike Minor (12-8), and Marco Gonzales (13-9) allowed one hit over six innings to eliminate Seattle. The longest playoff drought in the four major U.S. pro sports extended to 17 years.
Cano, who added an RBI double and had three hits, has nine homers — five since returning from an 80-game drug suspension Aug. 14.
Dee Gordon connected for his third homer, a two-run shot in the eighth off Bartolo Colon in the 45-year-old's fourth relief appearance.
CLEVELAND (AP) — Michael Brantley singled in the winning run in the 11th inning off Drew Pomeranz (2-6), delaying Boston's bid for a club record 106th victory and home-field advantage throughout the postseason.
Tyler Olson (2-1) pitched two scoreless innings.
IMike Clevinger struck out six in five innings and raised his total to 202, making the Indians the first team in major league history to have four pitchers reach 200 in the same season. Carlos Carrasco (217), Trevor Bauer (215) and Corey Kluber (205) are the others
NATIONALS 6, METS 0
WASHINGTON (AP) — Rookie Austin Voth (1-1) and four relievers combined on a one-hitter, hours after Washington was eliminated from playoff contention. Matt Wieters and Trea Turner homered for the Nationals.
Making his second major league start, Voth allowed an infield single to Michael Conforto leading off the fourth inning.
Corey Oswalt (3-3) allowed two runs in five innings.
DETROIT (AP) — Mikie Mahtook hit a two-run homer in the eighth, and Detroit was a winner in Victor Martinez's final major league game.
With the score tied at 3, Niko Goodrum led off the eighth with his third hit of the game, a single off Jason Hammel (3-14). Mahtook then lined Hammel's 1-0 slider over the left-field fence.
The 39-year-old Martinez, who made his debut with Cleveland in 2002, hit an infield single in his first at-bat and was removed for pinch-runner Ronny Rodriguez. Fellow Venezuelans Salvador Perez and Alcides Escobar came out of the Royals' dugout to embrace the five-time All-Star as he walked off the field to a standing ovation.
Joe Jimenez (5-4) allowed the Royals to tie it in the eighth, and Shane Greene earned his 31st save.
MIAMI (AP) — Austin Dean homered and drove in three runs, and five pitchers combined on a six-hitter in a matchup of last-place teams.
Jose Urena (8-12) pitched 5 2/3 scoreless innings and won his fourth start in a row, and Drew Steckenrider stranded two runners for his fifth save.
Anthony DeSclafani (7-7) tied a career high with 10 strikeouts but allowed five runs, three earned, in 5 2/3 innings.
---
---