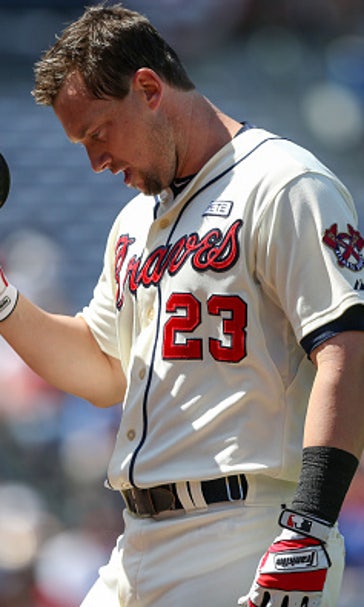 Braves the most interesting team to watch at the deadline?
July 6, 2015

By Joe Lucia
We're three and a half weeks away from the 2015 trade deadline, and the buyers and sellers are crammed pretty tightly together. Heck, the only two teams we *know* will be selling are the Milwaukee Brewers and Philadelphia Phillies, and the extent of their selling is still unknown. But one team that could conceivably both buy and sell at the deadline is one that has never been too keen on moving established players to new homes in July – the Atlanta Braves. And this month, the Braves will be baseball's most interesting team to watch, simply because of the numerous different paths they can take.
Over the past couple of weeks, plenty of rumors surrounding the Braves have popped up. Earlier, we mentioned the team didn't want to tradecenter fielder Cameron Maybin. Over the weekend, reports emerged about Atlanta wanting to move out-of-favor third baseman Chris Johnson and his contract, tying him to one of the team's more desirable commodities. Last week, a rumor surfaced discussing the team's desire to deplete their surplus of young pitching in exchange for young catching.
Related: I have a headache already.
In short, it seems like the Braves aren't traditional buyers or sellers – they're looking to improve their team in both 2015 and the future. As such, I wouldn't expect the team to break the bank for someone like Jeff Samardzija or any other impending free agent. Doing so would be solely a short-term move made to push the team into the 2015 playoffs, and given that six strong teams are ahead of the Braves in the postseason race, going all-in on this year wouldn't be advisable. But acquiring a younger, cost-controlled player at the deadline? That might be more plausible. The problem is that there aren't many players like that out there that fit the bill.
What *should* the Braves do? If I was in John Hart's shoes, I would make moving Johnson's contract my top priority. By baseball standards, it's not outrageous – heck, if Johnson was even a league average player, it wouldn't look bad at all. He's owed the balance on a $6 million salary in 2015 and $17.5 million in 2016 and 2017, which includes a $1 million buyout on a 2018 club option. As a comparison, Bronson Arroyo was owed the balance on a $9.5 million salary in 2015 and a $4.5 million buyout in 2016 when the Braves took him on last month. If Atlanta wants to move Johnson and his salary, they're going to either have to eat part of the contract - which would be a bit counterproductive - or give up a prospect comparable to Touki Toussaint, who came over with Arroyo from the Diamondbacks.
But maybe the Toussaint model isn't the best one to compare a potential Johnson trade to. What about the trade that sent Melvin Upton Jr's contract (and Craig Kimbrel) to San Diego? The Braves were able to move Upton because they paired him with a young, elite player in Kimbrel. The Braves also took on a pair of sizable contracts in the deal - those belonging to Maybin and Carlos Quentin. Neither was too huge or would be on the books for a long period of time. So maybe that would be the key to moving Johnson – pairing him with one of Atlanta's other assets and taking on a bad contract that doesn't go as long as Johnson's deal. Fox's Ken Rosenthal pitched an interesting deal that would fit that framework – Johnson and Maybin to the Giants for Jake Peavy and Angel Pagan, which would see Atlanta taking on more salary this year and in 2016, but leaving their books clear in 2017. Personally, I don't think that particular deal would work well for either side.
And I think this is the biggest problem with moving Johnson's contract – there simply aren't many fits for him out there. Assuming Johnson was an average third baseman (and he's not), most of the teams that need third base help have their own issues that would make an acquisition implausible. Cleveland seemingly solved its issue at the hot corner by promoting prospect Giovanny Urshela. The Yankees just started paying Chase Headley $50 million over four years. Nick Castellanos has been wretched at third for the Tigers, but he has the same platoon splits as Johnson. The White Sox, Padres, and Marlins all could be matches, but it's doubtful any of them will be buyers at the deadline and I really don't think a bad contract swap is all that feasible. Actually, Johnson to the White Sox for John Danks would be interesting, and largely meaningless, given how diminished both players' skills are.
The Braves don't have much in the way of marquee major league talent to pair with Johnson, aside from Maybin. No sane team looking to acquire a reliever or bench player like Jonny Gomes, Jason Grilli, Jim Johnson, Kelly Johnson, AJ Pierzynski, or Juan Uribe would willingly take on Chris Johnson's contract. Those players all have value to teams at the deadline but won't net much more than a B- or C-grade prospect in return. The Braves aren't sitting around with a Samardzija/Hamels/Cueto type of player and looking to move him to the highest bidder. The notion of trading someone like Julio Teheran, in the midst of the worst season of his career, is lunacy.
Atlanta is in such a bizarre situation. They've been a dumping ground for bad contracts over the last three-plus months, and now they want to move another one of their bad contracts. The problem is that moving that bad contract is either going to force the Braves to give up an asset or two from the cadre they've built up over the past year or take on another bad contract in return. If Hart is able to move Chris Johnson over the next month, I'd be very curious as to what the final deal looks like and what the rest of Atlanta's July looks like around the deal.
More from The Outside Corner:
---
---