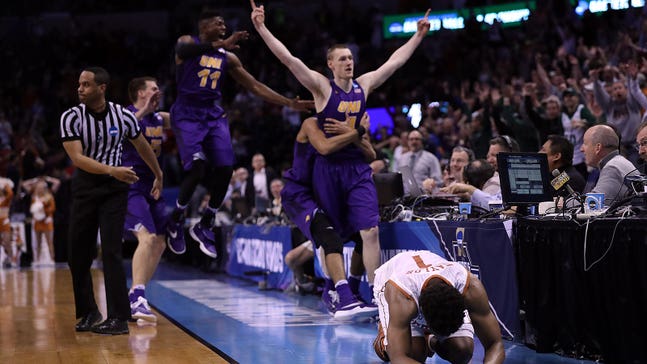 Can the Round of 32 be any more insane than what we just saw?
Published
Mar. 19, 2016 1:35 a.m. ET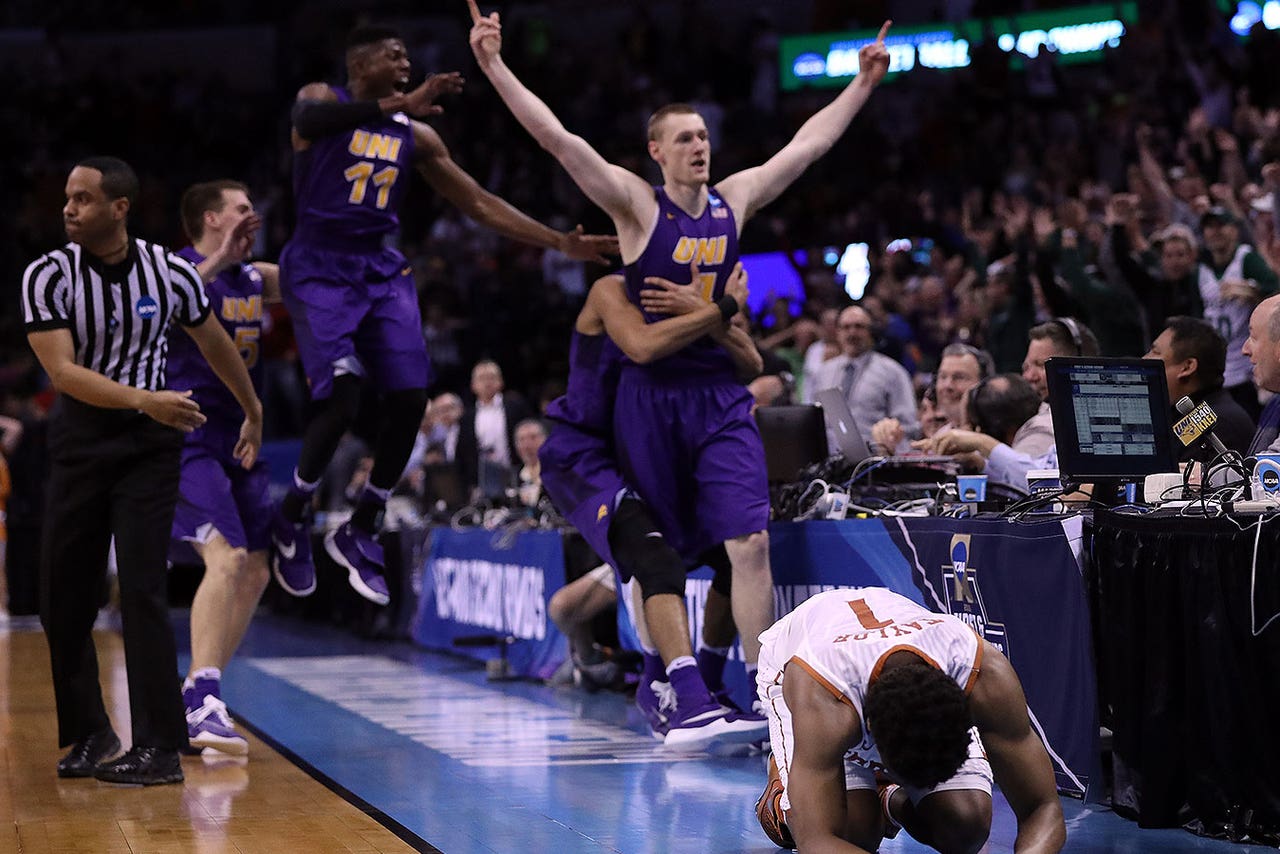 Is there such a thing as too much madness in March?
Time to find out.
From Middle Tennessee State to Stephen F. Austin, Yale and Arkansas Little Rock, 2016 brought us the most volatile Round of 64 in NCAA tournament history. By end of Friday night, a record eight teams seeded No. 11 or lower had advanced to the second round. The previous record was seven, reached most recently in 2013.
Throw in No. 10 seeds VCU and Syracuse and it's also a record number of double-digit seeds still standing.
Just to top it off, within minutes of each other late Friday night, Northern Iowa beat Texas on a once-in-a-generation half-court buzzer-beater, and St. Joe's survived Cincinnati when the Bearcats' apparent game-tying dunk at the buzzer got waved off.
America loves Cinderella, and so far this tourney is producing them in abundance.
But you know what else America loves? Great games. And with all due respect to Hawaii and Yale, history tells us the best-played tourney games usually involve the sport's heavyweights. Hence the possibility of too many upsets for the event's good.
Usually this issue sorts itself out naturally. A feel-good story like 2015 Georgia State or 2013 Florida Gulf Coast captivates us for a round or two before teetering out, with an average of about only three double-digit teams (including No. 10 seeds) advancing to the second weekend. The big boys take it from there.
But this year, the big boys already are vanishing.
Michigan State was this year's second-most popular pick to win the national title. Instead, the Spartans failed to make it to the second round.
West Virginia had a team capable of delivering coach Bob Huggins his third Final Four trip. Instead, Huggins' former assistant, Stephen F. Austin coach Brad Underwood, sent him home early.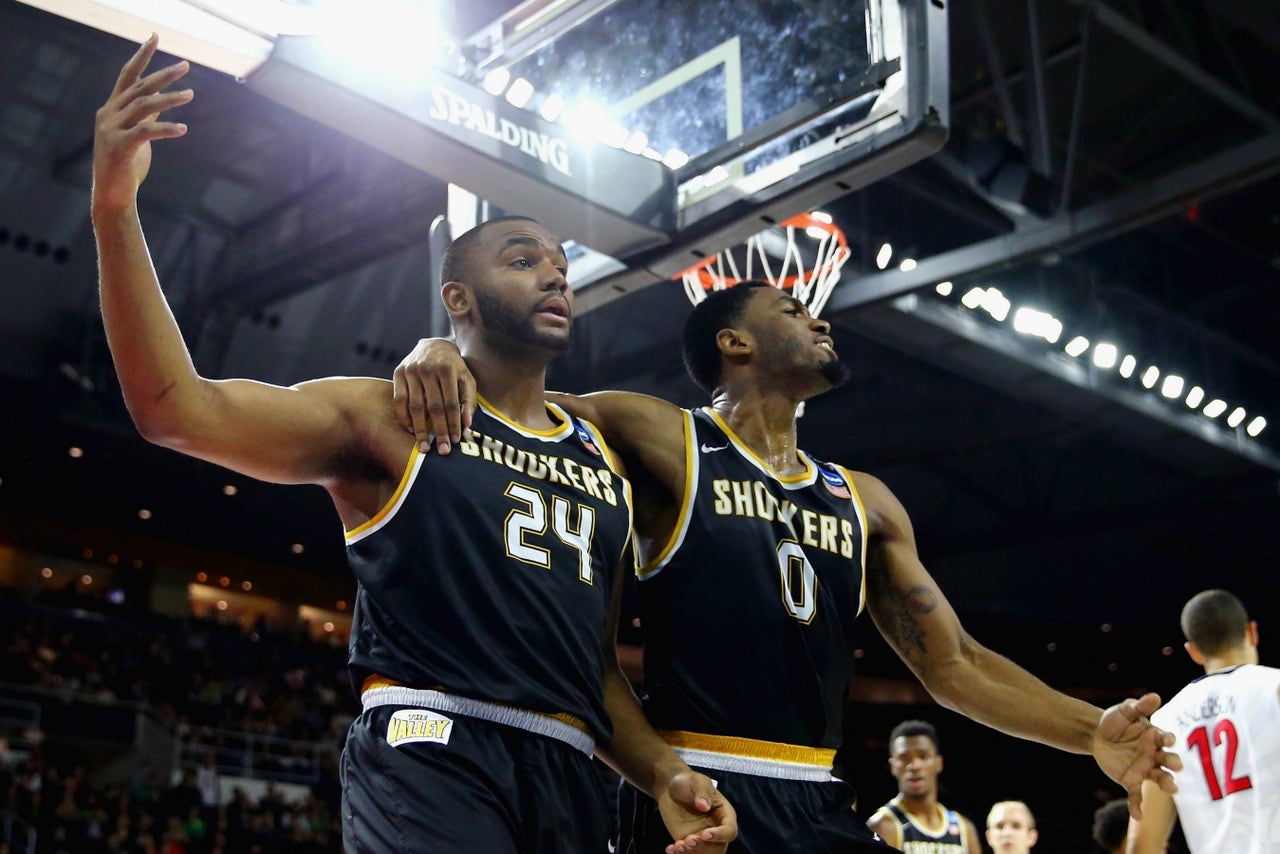 Wichita State tore up Arizona in the Round of 64.

Wichita State made Arizona look like the mid-major. Little Rock is now closer to Chicago than West Lafayette.
And now, thanks to some quirks in the selection committee's bracket, the brand-name winnowing will continue Saturday.
Kentucky-Indiana very easily could have been a Sweet 16 game. Instead, thanks to underseeding both of them, one won't make it to the second weekend.
Kansas-UConn sounds like a Final Four game, but the Huskies earned only a No. 9 seed this year, so instead it's the second round.
Xavier and Wisconsin have combined for 10 Sweet 16 trips since 2008. Only one will return this year after their meeting Sunday.
Here's a quick guide to the Round of 32 lineup.
Most intriguing game: Indiana-Kentucky (Saturday, 5:15 p.m. ET): It's a meeting of storied rivals who abruptly ended their series four years ago and had no plans to renew it. They're also a pair of legit Final Four contenders led by their dynamic point guards, Kentucky's Tyler Ulis and Indiana's Yogi Ferrell. The fifth-seeded Hoosiers ran away from a very good Chattanooga team in round one; No. 4 seed Kentucky swatted a tourney-record 15 Stony Brook shots.
Even better, the winner may face fellow blueblood North Carolina if the top-seeded Tar Heels beat No. 9 seed Providence on Saturday.
Close second: Miami-Wichita State. The 11th-seeded Shockers served their annual reminder not to be messed with in their rout of Arizona, marking the fourth straight year Gregg Marshall's team has reached at least the second round. Seniors Ron Baker and Fred VanVleet lead the nation's most efficient defense.
But the backcourt veterans could well meet their match in Miami seniors Angel Rodriguez and Sheldon McClellan, two talented and well tested guards who led the third-seeded 'Canes to a 13-5 record in ACC play. Good game all around.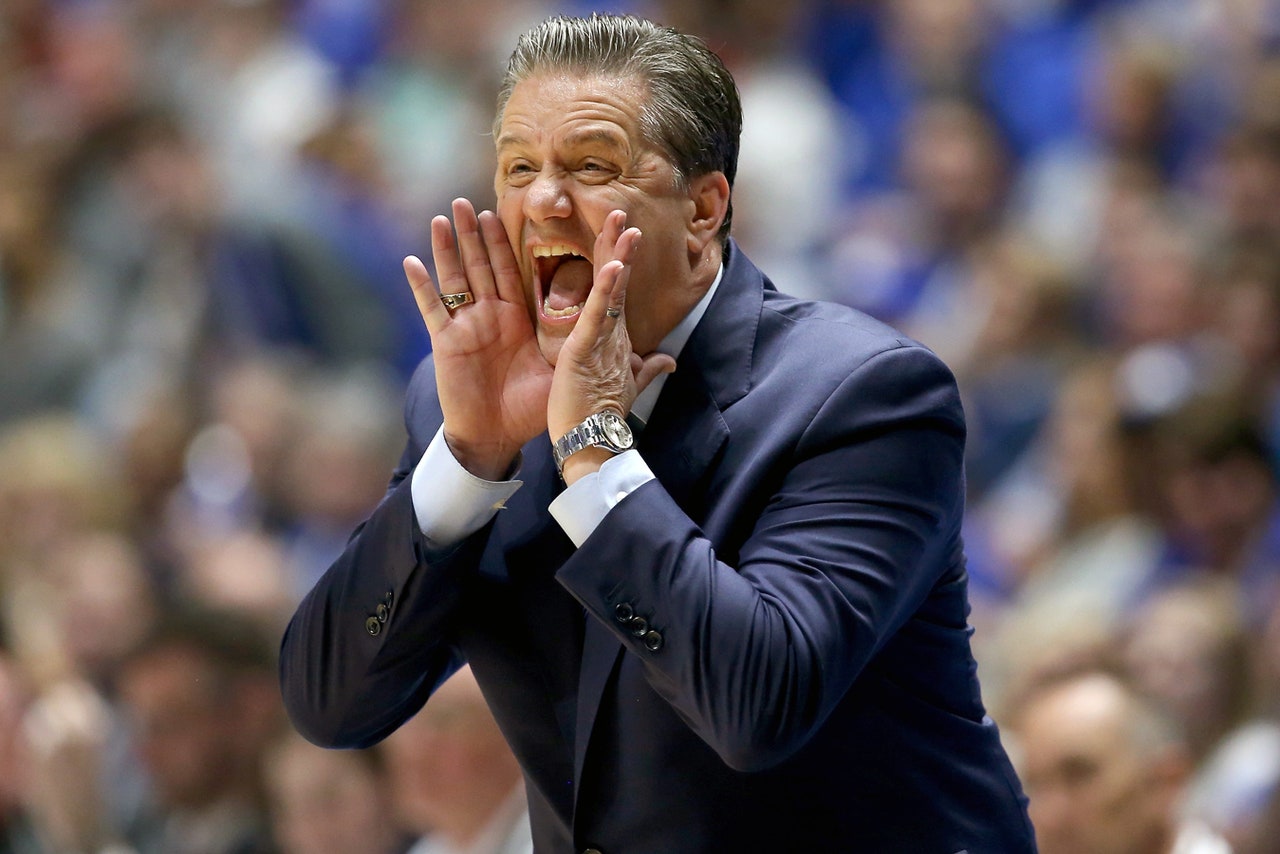 John Calipari's Kentucky team takes on Indiana in a marquee Round of 32 showdown.

By the way — Wichita State is favored.
Most obnoxious game: Duke-Yale. What should we call this? The Billable Hours Bowl? The Trust Fund Tussle? The game figures to include at least a couple future NBA starters and a couple future presidential candidates.
Most diametrically opposite styles: Iowa State-Little Rock. The Cyclones want to get up and down the floor. The Trojans, who rank 327th nationally in KenPom.com's adjusted tempo rankings, want to slow it to a crawl. Iowa State, No. 3 in offensive efficiency, looks to score and let the rest sort itself out. Little Rock, 26th in defensive efficiency, tries to lock you down. But Josh Hagins and the Trojans can score when they need to, as they did to rally back and take Purdue to double overtime.
Most conflicted fans: Texas A&M. The Aggies faithful were thisclose to a meeting with archrival Texas — in border state Oklahoma, for that matter — before Northern Iowa's Paul Jesperson went and spoiled that idea. Then again ... they presumably really enjoyed that.
Most mountain-y matchup: Utah playing Gonzaga in Denver. Will anyone in the Eastern or Central time zones bother watching?
Most likely folk hero: Stephen F. Austin's Thomas Walkup. You can't ask for much more from a breakout tourney star than a guy who's been growing his shaggy beard for nearly five months to more closely resemble that of his team's Lumberjack mascot. Also, he put up 33 points and nine boards on a Top 10 West Virginia team.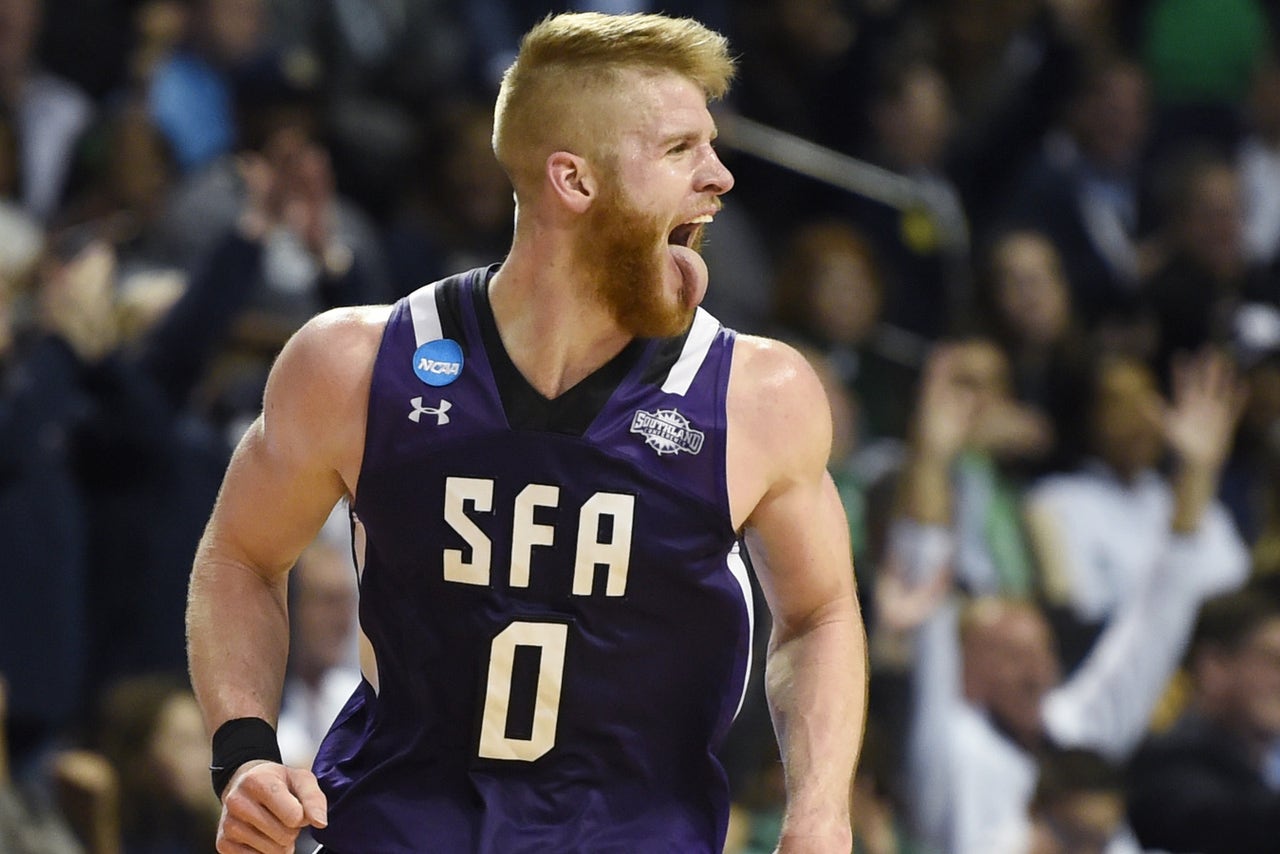 Stephen F. Austin's Thomas Walkup has some solid beard game.

Up next for the 28-5 Lumberjacks is a very winnable game Sunday against Notre Dame, which, if they prevail, will garner a week's worth of coverage for Walkup in the, um, walk-up to the Sweet 16.
Close second: Yale's Makai Mason. The sophomore guard left some jaws dropped with his explosive performance in Thursday's upset of Baylor, showing off moves you wouldn't expect to see, frankly, from an Ivy League player. Now he gets a chance to leave an even bigger impression by going against Brandon Ingram, Grayson Allen and Duke.
Most likely blowout: Villanova-Iowa. The Hawkeyes beat Temple on a last-second buzzer-beater, which was cool, and making the second round was a nice feat for the recently slumping Hawkeyes. Beating two Philly teams in a row, though, is a little much to ask.
Coach most likely to gloat: Syracuse's Jim Boeheim. Following his 10th-seeded team's win over No. 7 seed Dayton, Boeheim said anyone who dared suggest his 19-13 team shouldn't have made the field "obviously doesn't know anything about basketball." Cringe for that press conference if the Orange beat Middle Tennessee State to reach the Sweet 16.
Coach most likely fist-pumping right now: Virginia's Tony Bennett. Michigan State took down his team in the past two tourneys and appeared to be waiting in the wings again as the No. 2 seed in the Midwest. No more. The Cavaliers should handle No. 9 seed Butler on Saturday, and their region's No. 5-7 seeds are already gone. The path to the Elite Eight is clear.
Not that we should assume anything with this tourney at this point. If the first round was any indication, the carnage has only just begun.
---
---