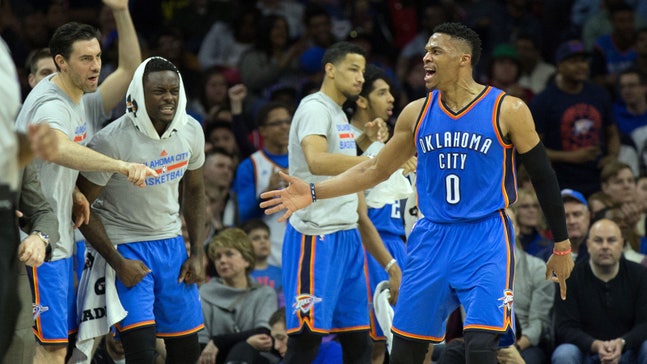 Westbrook's 13th triple-double helps Thunder down 76ers
Updated
Mar. 4, 2020 1:56 p.m. ET

PHILADELPHIA (AP) -- Russell Westbrook recorded his league-leading 13th triple-double with 20 points, 15 rebounds and 10 assists, and Kevin Durant had 26 points and 13 boards to lead the Oklahoma City Thunder to a 111-97 victory over the Philadelphia 76ers on Friday night.
Westbrook's 13 triple-doubles tie Grant Hill (1996-97) and Jason Kidd (2007-08) for most in a season over the last 25 years. Westbrook, appropriately, reached the triple-double by assisting Durant on a layup with 4:14 left in the game.
Enes Kanter contributed 16 points for the Thunder, who clinched a playoff spot with their 14th straight victory over Philadelphia. It is the longest winning streak in the NBA by one team over another.
The NBA-worst 76ers lost their fourth straight and 17th in 18 games while falling to 9-60, keeping alive the possibility of matching the 1972-73 76ers for worst record in the 82-game season. That Philadelphia team went 9-73.
Nik Stauskas scored 23 points and Hollis Thompson added 16 for the 76ers.
Durant and Westbrook combined for 16 of the Thunder's 32 third-quarter points as Oklahoma City took control in the period. The Thunder, who trailed by as many as seven points in the opening 24 minutes, led by just six at the half. But Oklahoma City's dynamic duo combined on a variety of highlight plays in the decisive period to help the Thunder enter the fourth ahead 85-68.
Durant drew "oohs" and "aahs" from a rare capacity crowd at the Wells Fargo Center when he went through his legs and then behind his back before draining an 18-footer four minutes into the quarter. Westbrook exploded down the lane for a dunk four minutes later for two of his eight third-quarter points, bringing the fans out of their seats again. And Durant followed with a jumper on the Thunder's ensuing possession to push the Thunder's lead to 77-58 with 2:59 left in the quarter.
Westbrook also flashed his notorious fire in the period, staring down Carl Landry after Landry tried to get the ball out of Westbrook's hand following a turnover by the Oklahoma City star. The referee intervened and nothing further came of it.
The Thunder, who entered leading the NBA with 48.4 rebounds per contest, outrebounded Philadelphia 63-36.
TIP-INS
Thunder: F Serge Ibaka (rest) didn't play. . Philadelphia native Dion Waiters played his second game after missing four games following the death of younger brother Demetrius Pinckney, who was killed in South Philadelphia on March 8. He had nine points. . The Thunder swept the season series, having defeated Philadelphia 102-85 at home on Nov. 13. Westbrook had 21 points, 17 rebounds and 11 assists in that contest. . Durant has scored 20 or more points in 54 straight games. . Oklahoma City improved to 9-4 in the first game of a back-to-back situation. The Thunder play at Indiana on Saturday night.
76ers: C Jahlil Okafor (knee) missed his 10th straight game. The rookie is out for the season. . F Robert Covington (concussion) and F Richaun Holmes (Achilles') sat out for the third straight game. . Naughty by Nature performed a halftime concert. . For the second straight night, a fan won a 50-inch television by making a layup, free throw and 3-pointer.
UP NEXT
Thunder: Saturday night at Indiana.
76ers: Host Boston Sunday night
---
---