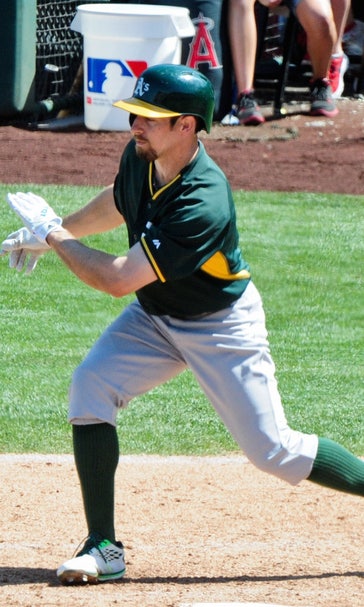 AL West Fantasy News: Time to worry about Billy Burns in Oakland?
BY foxsports • April 11, 2016
The Angels, A's and Mariners play six games this week, while the Astros and Rangers both play a full slate of seven games. Let's get to the important fantasy news and notes for Monday, April 11th:
Oakland A's
We'll start with the division leading Oakland A's, which we may not be able to say for too much longer. The A's swept the Mariners in impressive fashion this weekend, beating Felix Hernandez and getting a 10 strikeout performance from Rich Hill, who struggled mightily during spring training. 
The A's are going platoon heavy and mixing lineups quite a bit, which has hurt the fantasy stock of just about everyone. Billy Burns, who had an ADP in NFBC drafts of 137, has been benched in favor of Coco Crisp in three of the first seven games so far this year. That's obviously not ideal for a player many had poised for a big time breakout after an excellent rookie year. If you took Burns for his base-stealing prowess, you're obviously disappointed that he only has one through seven games and doesn't have a hold on a starting spot. Still, remain patient. Crisp always seems to get hurt, and we may need a bigger sample size to see if Oakland plans on mixing the lineups so much going forward.
Billy Butler has bigger problems than Billy Burns. He's only played in three games so far this year, and may only be used against lefties going forward. 
Here's an update on A's starter Felix Dubront:
Texas Rangers
With starting catcher Robinson Chirinos on the 60-day DL after breaking his forearm, the Rangers may be scrambling for options. The team showed interest in both Milwaukee's Jonathan Lucroy and San Diego's Derek Norris this offseason, so it certainly seems possible those talks will be rekindled in the wake of this injury. I'd hold off on adding Bryan Holaday for that reason, but Chirinos can be dumped.
OF prospect Nomar Mazara debuted against the Angels on Sunday, filling in for Shin-Soo Choo, who is on the 15-day DL with a calf injury and could be out in the range of 4-6 weeks. It's a tough blow for Choo owners, and although it's a long season, he can be dropped in shallow leagues for someone who can help right now. That guy just might be Mazara, a top prospect who went 3-for-4 with a homer in his debut. He's worth a pickup until Choo gets back.
Your obligatory Adrian Beltre GIF for the week:
Seattle Mariners
Stop me if you've heard this one before: King Felix was brilliant in his latest start, but he received zero run support. According to David Schoenfield, this was the 45th start where he allowed zero runs or one run and didn't get credit for a win, and those 45 winless games account for 13.4 percent of his career starts.
Steve Cishek still hasn't had a save opportunity, and he took the loss on Friday after giving up a homer in a tied game. If you're hunting for closers who could lose their role down the line, Cishek is at the top of the list. 
Houston Astros
Jose Altuve hit the longest home run of his career this weekend...and tried to catch a former teammate with the old "put the ball in your back pocket" trick. Nice little weekend, Jose. 
If you're desperate for some power, Evan Gattis sounds like he's close to returning soon:
Los Angeles Angels
Jered Weaver was throwing 79 MPH fastballs in his start this weekend, but he somehow allowed just one run on six hits through six innings. He's off the fantasy radar due to the lack of velocity, but it's still fun to watch him turn into Jamie Moyer right before our eyes. 
The entire Angels offense through six games: 1 HR, 0 SB. Not great. 
---
---