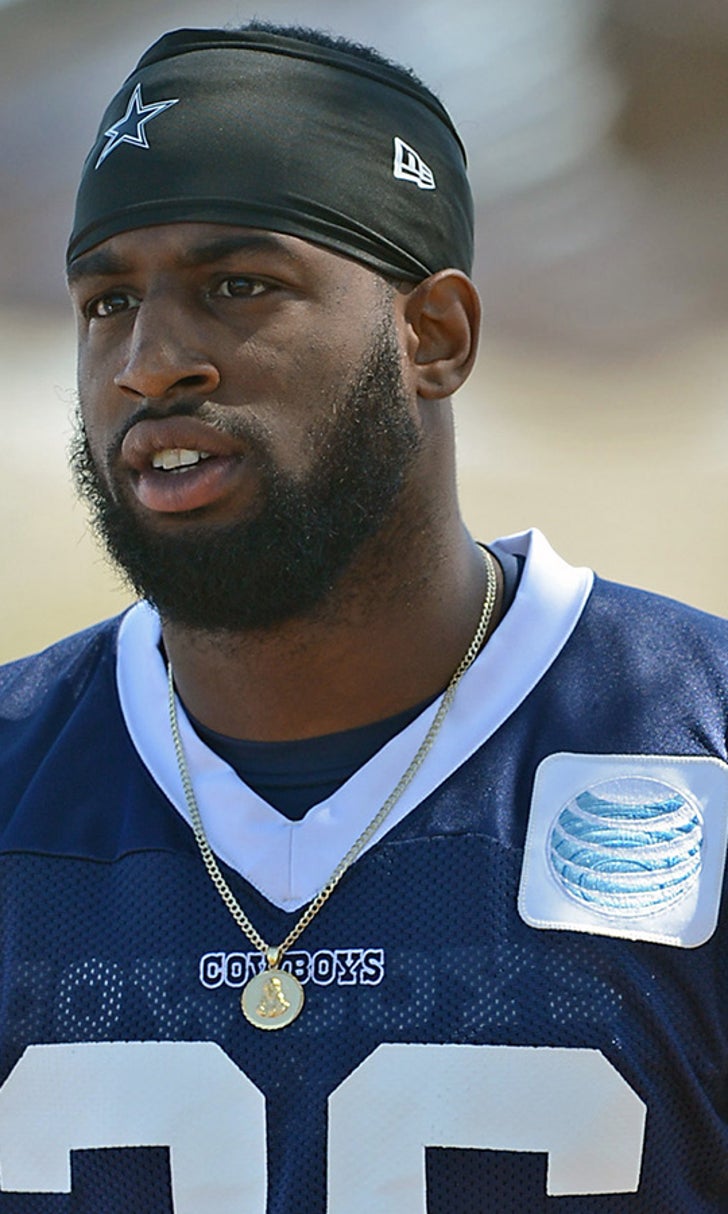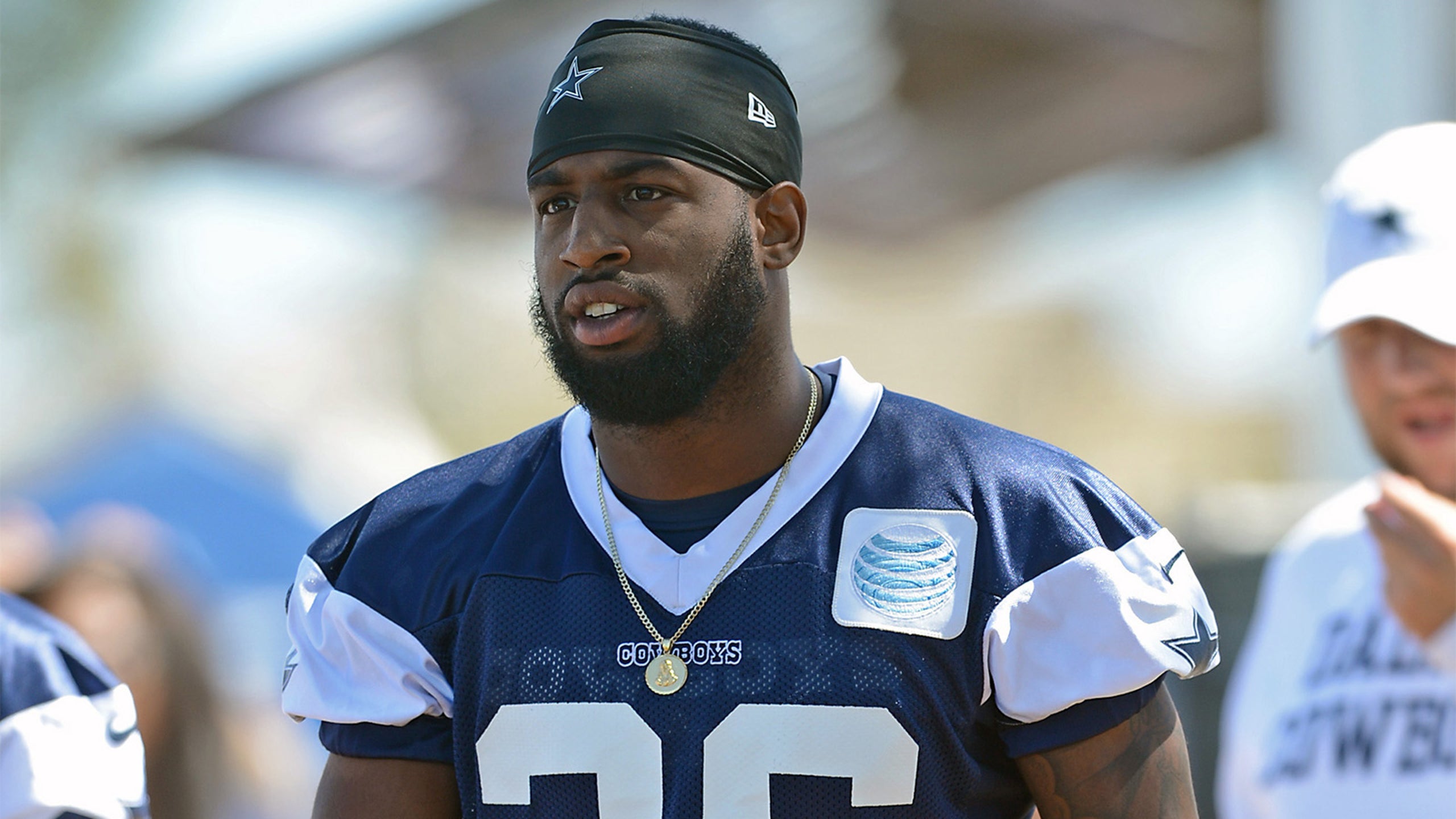 Which hidden gems stood out in first week of NFL preseason?
BY Ross Jones • August 12, 2014
With the first week of preseason in the books, depth charts around the league are being shuffled.
After impressive performances, some players who had previously earned limited reps are getting a run with the first team.
While it's suggested to analyze preseason football with caution because of the watered-down playbooks and limited game planning, the premier talent always rises to the top.
Young talents like Arizona Cardinals wide receiver John Brown and Pittsburgh Steelers running back Dri Archer have made headlines the past few days, but FOXSports.com would like to note some other hidden gems from the first week of preseason.
Ahmad Dixon, Cowboys SS
In recent years the Cowboys' defense has been criticized for lacking a certain edge. Specifically, it has lacked someone who is a tone-setter, a defender who plays with his hair on fire and has a mean streak. That nastiness certainly is abundant in the Cowboys' seventh-round safety.
Dixon, who led the Cowboys with 11 tackles on Thursday night, isn't afraid to hunt.
Although diagnosed with a concussion after the game, Dixon has since been cleared and garnered reps with the first team this week. Even head coach Jason Garrett noted that he hopes the entire team adopts Dixon's violent play.
"For him to show up as much as he did and as well as he did . . . he was fast, he was decisive, he was physical, he knocked them back," Garrett said, via the Star-Telegram's Drew Davison. "He made the plays that he should have made and he made some other ones, so it was an impressive debut for him.
"He was a good example for a lot of the other guys as to what we're looking for. For him to do that in Week 1 of his rookie year, it was impressive."
During his college days at Baylor, Dixon made a name for himself as a devastating tackler. In one game, he was ejected for targeting and generated a rise out of TCU head coach Gary Patterson.
Watch out for this heavy hitter -- who is a Texan through and through -- to be a Cowboys' fan favorite.
Seantrel Henderson, Bills OT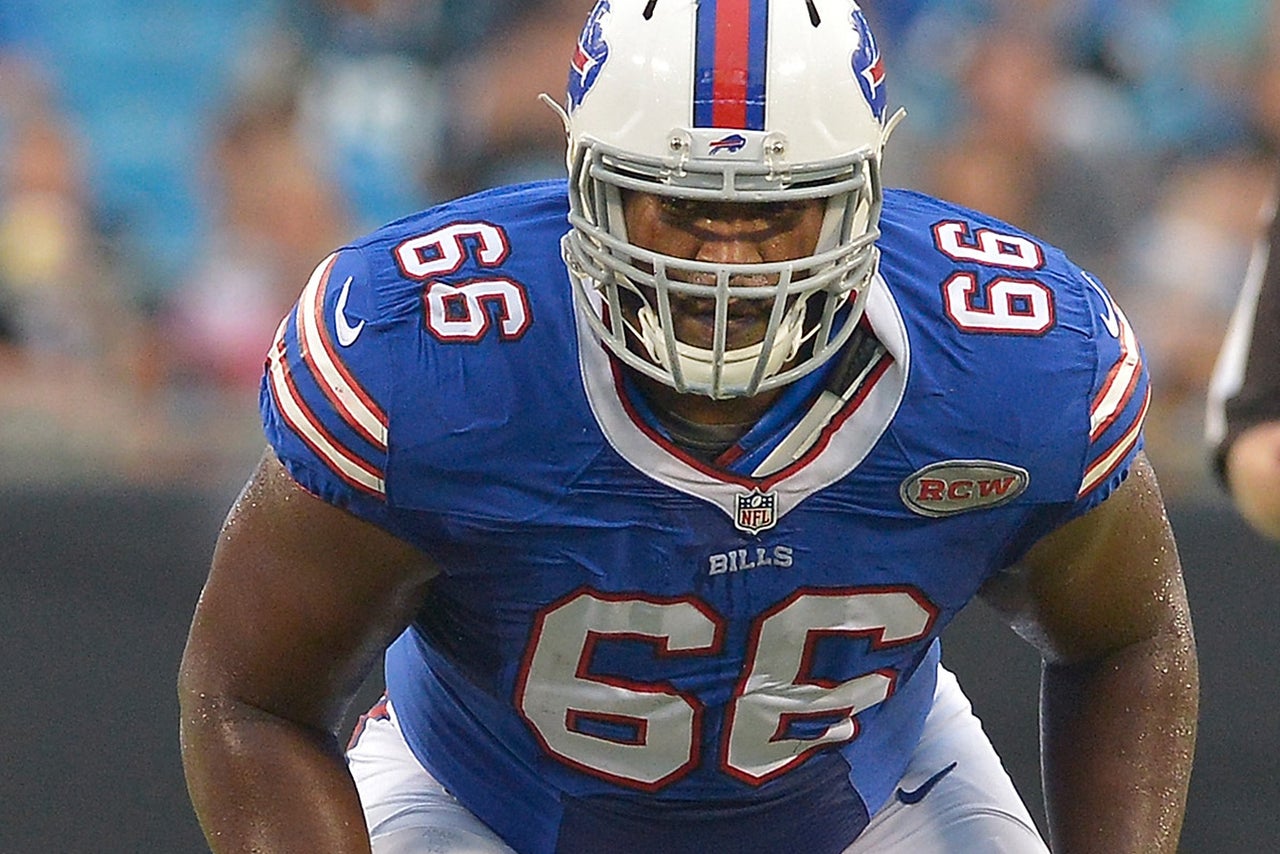 Seantrel Henderson, a seventh-round pick, has been compared to Jonathan Ogden.  
A week after holding his own against Pro Bowl defensive end Jason Pierre-Paul in the Hall of Fame Game, the former seventh-round pick showed more signs of encouragement.
Henderson, whose off-the-field troubles have been well-documented, has earned valuable reps with the ones while starting left tackle Cordy Glenn was away from the team with a "mysterious illness." Now that Glenn has returned to Buffalo Bills camp, the plan with Henderson remains to be seen.
"He could start at left tackle," head coach Doug Marrone said Saturday, via the team's transcript. "Cordy's not back yet, and that may be a long time. Seantrel can play left tackle in this league."
During Henderson's three quarters of play, he was seen stonewalling Frank Alexander's pass rush and driving veteran Mario Addison off the line of scrimmage.
"God only puts guys with that size and athleticism on this Earth every 10 years," one AFC personnel director told FOXSports.com during the draft process.
Henderson, whose size and raw potential has been compared to Jonathan Ogden, drew much interest from several teams around the league during the draft process, including two workouts with Cincinnati, according to a source.
While the former No. 1 recruit in the nation fell to the seventh round, Henderson has proven to be a solid option as one of Buffalo's starting tackles.
Quinton Dial, 49ers DT
When defensive tackle Glenn Dorsey was ruled out for the season with a torn bicepe, the 49ers said they would replace his production from within. It was probably in reference to Dial.
The former Alabama standout was very active on Thursday night against the Ravens, racking up 10 tackles and forcing two fumbles.
After logging extensive work, expect Dial to continue to get reps with the first-team defense.
"He spent last season being mentored by the vets and has now taken on a veteran mentality himself," one source close to Dial said. "It's all about confidence with him. This last performance is a big confidence booster. He's only going to get stronger."
Malcolm Bronson, Chiefs FS
An undrafted free agent from McNeese State, Bronson has made quite the impression on the JKansas City Chiefs coaching staff. After filling in during training camp for a banged-up Eric Berry, Bronson piggybacked his exceptional performances by picking off Cincinnati Bengals quarterback Jason Campbell and running it back for a score.
Earlier in the game, Bronson hauled in another interception, but it was ruled incomplete, even though video didn't show the ball hit the ground.
Bronson, who was coming off extensive rehab, showed solid closing speed while making tackles.
"He had the big interception touchdown, which I thought was good," head coach Andy Reid said, via the team's transcript. "He's not the biggest guy, but he's smart, he understands the game."
Matt McGloin, Raiders QB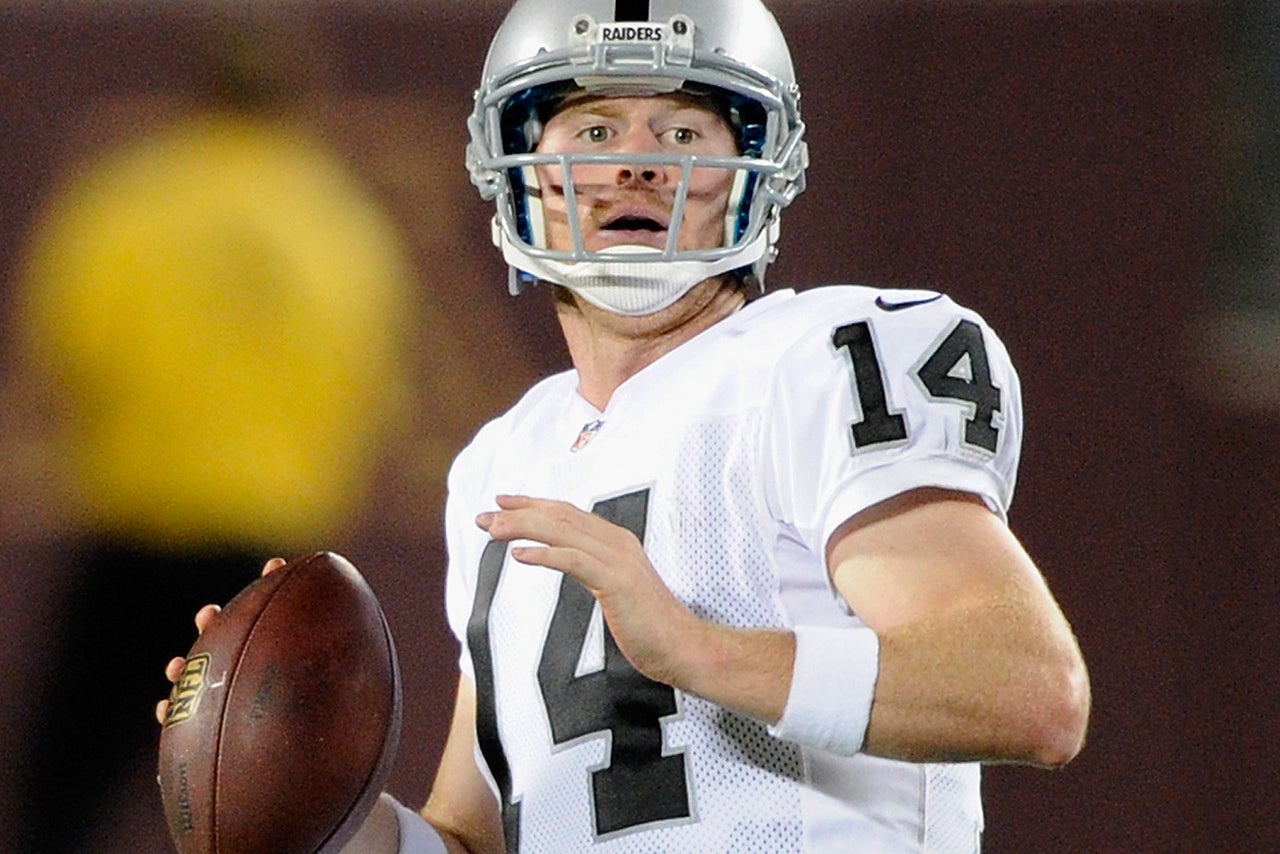 Matt McGloin was undrafted out of Penn State in 2013.

Penalties and dropped passes drowned out McGloin's gutty effort, but the third-year quarterback was responsible for the Raiders' only score.
While it came against the Vikings' third-team defense in the fourth quarter, McGloin was exceptional. On his first series, he threw a catchable ball to tight end Jake Murphy, which would have been a touchdown if the rookie had hauled it in. McGloin then showed tremendous instincts, avoiding a sack and completing a shovel pass to rookie running back George Atkinson.
Later, McGloin got in rhythm in his third and final series, showing comfort in an active pocket and zipping accurate passes to wide receivers Brice Butler and Greg Jenkins. He capped the drive with a helmet-crunching dive for the end zone.
McGloin completed 11-of-18 passes for 90 yards and looked sharp doing so. While the Raiders scooped up Matt Schaub in free agency and Derek Carr in the draft, one knows to not count out the scrappy McGloin.
Lache Seastrunk, Redskins RB
It took until the fourth quarter for the former Baylor running back to get some work, but when given the opportunity he displayed tremendous burst. Seastrunk exploded into the hole on his first carry, stuck his foot in the ground and showed off his lateral agility, shaking cornerback Travis Hawkins for a 19-yard gain.
Three plays later, Seastrunk hit a cutback and bounced it outside on the left for a 21-yard scamper until he was pushed out of bounds.
In all, Seastrunk led the team in rushing with 63 yards on 12 carries. Entrenched in a camp battle with running backs Silas Redd and Chris Thompson, Seastrunk must polish his pass blocking to be a more well-rounded back.
"He's good out of the backfield, he's got decent hands, he obviously can run the ball, he's very fast," head coach Jay Gruden said, via the team's transcript. "But as far as just fundamentals of running backs are concerned, he's a little bit behind the 8-ball as far as his footwork, his blitz pickups, some of his route definition -- a little sloppy right now."
Practicing with a sore foot, the rookie running back understands his reps are limited and with three preseason games left, he'll aim to prove he's more than just a home run threat.
Antone Smith, Falcons RB
This running back might not show up in the Falcons' box score, but he made play after play on Friday. Unfortunately, he was the victim of penalties.
Smith, who had a 35-yard catch-and-run negated by an illegal formation and later had his scintillating 76-yard sprint up the sideline denied because of a holding penalty, can cut on a dime and accelerate with the best of them.
Finishing with three carries for 5 yards and one catch for 5 yards, Smith's performance on paper is nothing to get excited about. But the 28-year-old running back could offer some depth in the backfield behind Jacquizz Rodgers and rookie Devonta Freeman while Steven Jackson nurses his hamstring.
From the kickoff, Smith set the tempo on special teams, knifing into the return and making a tackle.
Brian Tyms, Patriots WR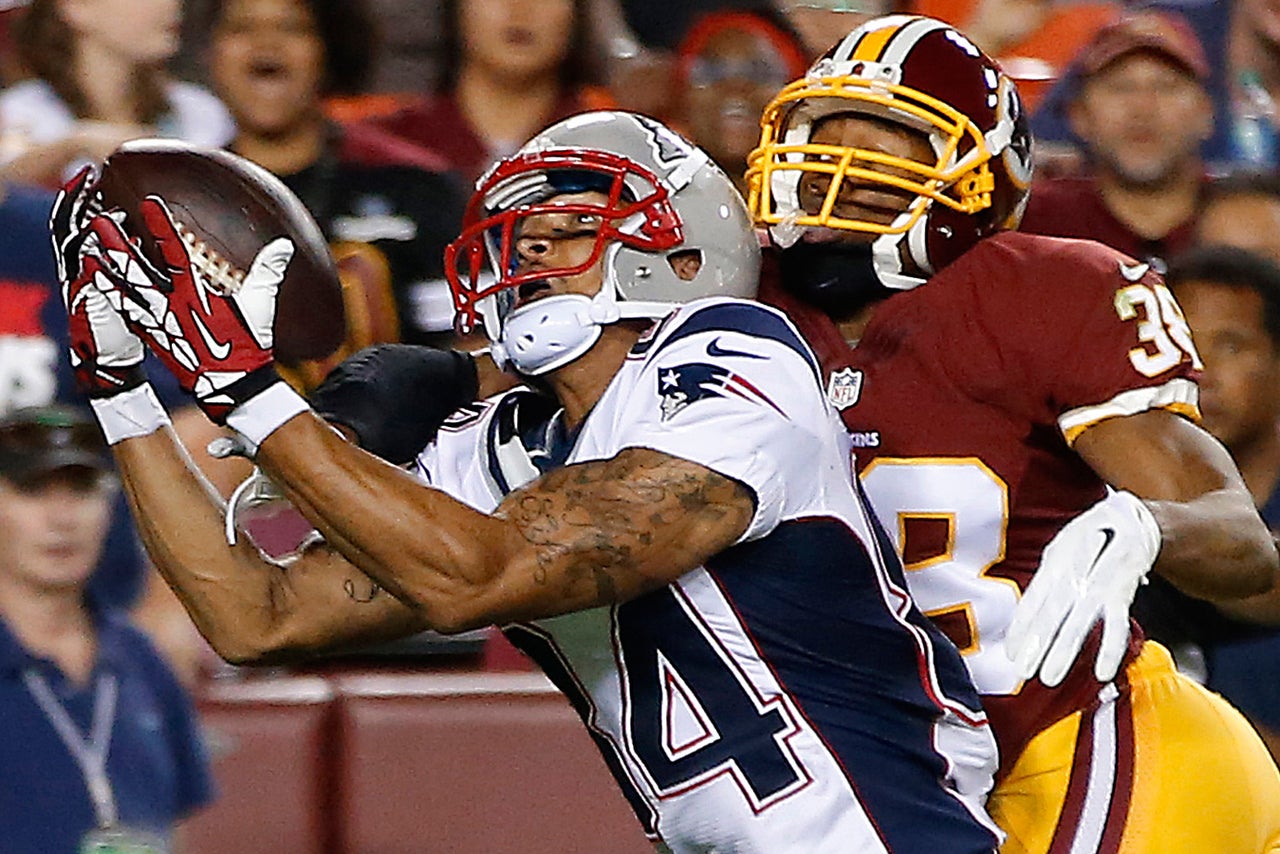 Former Florida A&M wide receiver Brian Tyms went undrafted in 2012.
Have the Patriots finally found their deep threat?
In the third quarter against the Redskins, rookie quarterback Jimmy Garoppolo reared back and fired a pass to a streaking Tyms, who nearly made the most acrobatic catch of the weekend. While the potential 38-yard touchdown was ruled incomplete, Tyms' concentration on the play is commendable. He also drew a defensive pass interference on the play, which set up a score.
Fortunately, that was just the first of six targets.
Tyms finished the game with five receptions for 119 yards and a touchdown.
A former undrafted free agent from Florida A&M, Tyms has bounced around from San Francisco to Miami to Cleveland, where he was released in February after being handed a four-game suspension for testing positive for a banned substance.
Former Browns general manager Michael Lombardi, who is now an "assistant to the coaching staff" in New England, was aware of Tyms' ability, and the team scooped him earlier this month. With an impending four-game suspension, the Patriots could technically store him away past Aug. 31 roster cuts and make a decision on him later in the year.
Albert Wilson, Chiefs WR
With a deep class at wide receiver, the former Georgia State pass catcher went undrafted this year. That didn't mean teams weren't interested, though.
Fifteen clubs offered Wilson a priority free-agent deal hours after the draft concluded.
When head coach Andy Reid hopped on the phone with Wilson to offer him the deal, it was an easy decision for Wilson, one source close to the player said. With return specialist Dexter McCluster departing via free agency and the Chiefs not selecting any pass catchers in the draft, Wilson was ready to carve out a role for himself.
While running back De'Anthony Thomas stole the show with his 80-yard punt return, it's Wilson who has become an in-house favorite.
"It was a nice situation and a big way to start," Reid said, via the team's transcript. "Guys I thought played well, we really had (Travis) Kelce, De'Anthony (Thomas), Albert Wilson and Cyrus (Gray) on the offensive side."
Wilson finished with two receptions for 14 yards, but was a factor in the kick return game, averaging 39.0 yards on two returns.
---
---