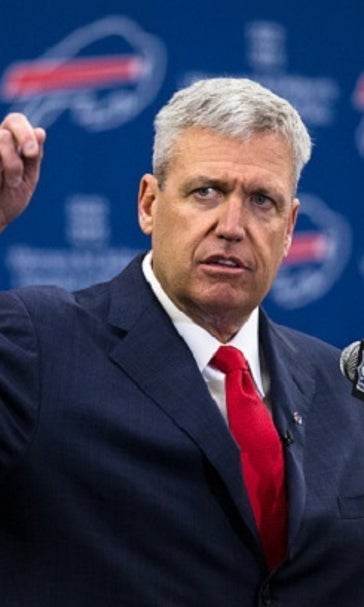 Rex Ryan goes off on Jets TE Jace Amaro in response
April 14, 2015

By Vincent Frank
New Buffalo Bills head coach Rex Ryan seems like a laid back dude, right? Well, that's until you cross him.
Responding to comments New York Jets tight end Jace Amaro made about him last week, Ryan had some rather interesting things to say about his former player.
First off, here are the comments Amaro made about last year's Jets team under Ryan.
"He (new head coach Todd Bowles) came in telling us that he expects to win," Amaro said. "He's not really playing around with everybody being late. We had an issue with that last year. I think guys just weren't accountable last year as much they could be. And I think that's the biggest thing.

We had an issue with that last year. I think guys just weren't accountable last year as much they could be.

He's making sure that everyone's going to be 100 percent in or you're not going to be on the team, so that's really going to filter out toward the guys. He just wants to win."
There is a subtle jab at Ryan embedded within that quote right there. The new Bills head coach is seen as someone that gets along well with his players. While that could cause some issues with accountability, Amaro's statement doesn't seem to make much sense; Ryan was successful with his coaching philosophy before the front office gave him duds to work with, including Amaro.
Deciding that he wasn't going to take this sitting down, Ryan responded (via Peter King's Monday Morning Quarterback).
"He's full of (expletive), and I'll remind him of that when we play him. Look, we weren't perfect. And I never said we were going to be perfect," Ryan said. "But that's a (expletive) B.S. comment. But, hey, he's happy that he's got a different coach in place. We'll see how happy he is when I play against him."
We will leave the expletives up to you here. Amaro, a second-round pick of the Jets in the 2014 NFL draft, didn't live up to expectations as a rookie. He recorded just 38 receptions for 345 yards and two scores. He was also one of the first picks of then Jets general manager John Idzik.
Ryan also responded to his internal thought process when the team decided to bring in Idzik last offseason.
"They were trying to pull away from me," Ryan said. "Like it was my fault, somehow, that people identified the Jets with me, and that was a bad thing and not a good thing. I was just being who I was. From that point on I knew I wasn't going to be long for that job."
There definitely seems to be some bitter feelings here. Ryan led the Jets to the AFC Championship Game in each of his first two seasons as the team's head coach back in 2009 and 2010. However, the squad fell on hard times over the past four years, compiling a combined 26-38 record and missing out on the playoffs each season.
As it relates to Ryan and Amaro, I wouldn't be surprised to see some Bills players stand up for their new head coach when they meet the Jets twice next season.
Just what we need. Another bitter AFC East rivalry. You've got to love that division.
More from Sportsnaut:
---
---