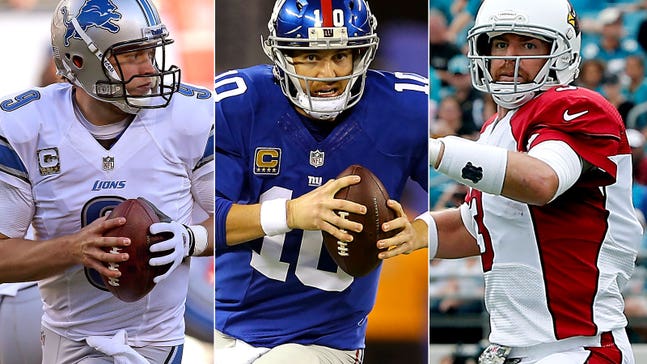 NFL Week 12 Cheat Sheet: Playoffs will be a payoff in NFC
Published
Nov. 21, 2013 10:30 a.m. ET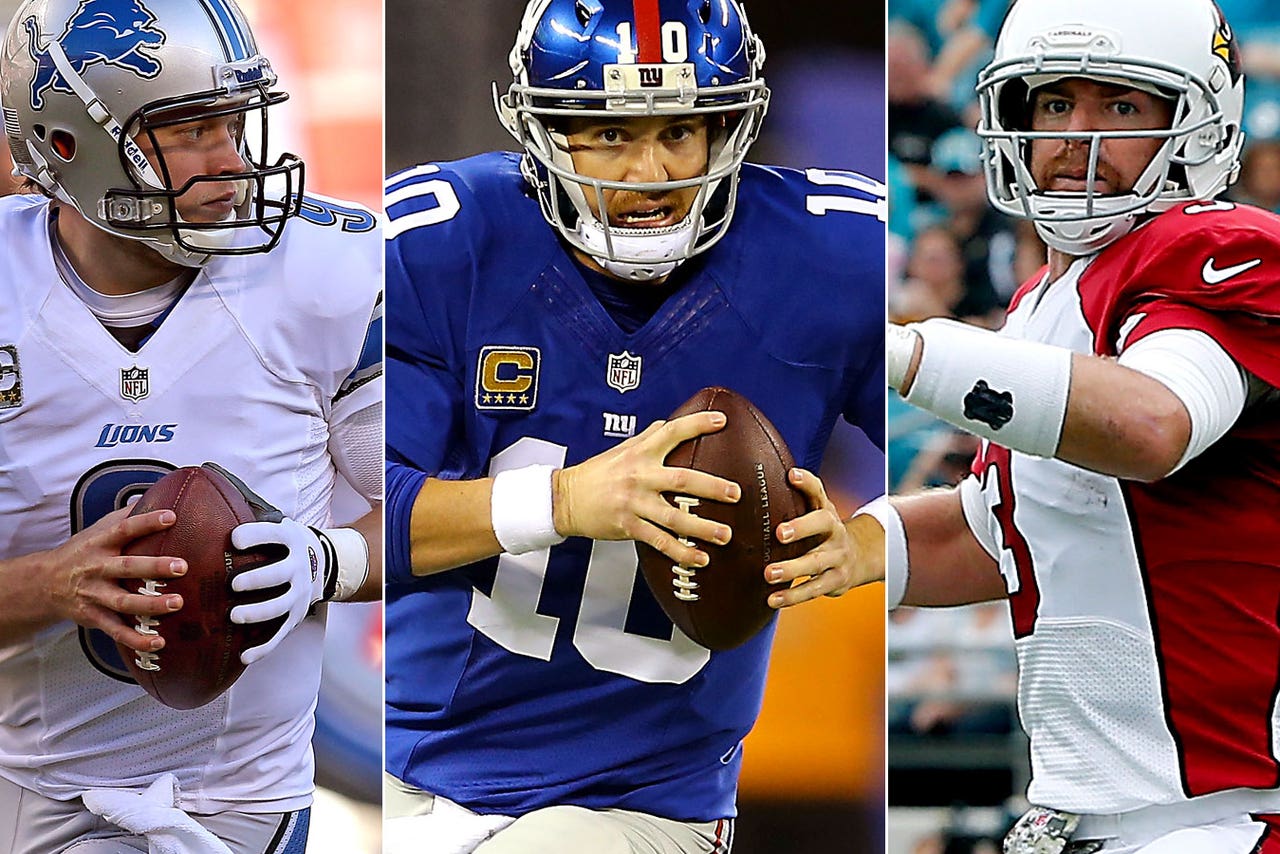 The schedule makers have taken some hits this year. Carolina faced the 49ers and Patriots, respectively, coming off byes in back-to-back weeks. The Vikings had three primetime games in 18 days. The Bills got six different opponents coming off their byes. Yeah, the critics have some points.
But look at the schedule we've got up ahead. It doesn't get much better than what we've got in the NFC the next six weeks, with a dozen teams vying for division crowns, wild-card spots and homefield advantage:
Want to make the playoffs? Want to have home field? Well, you're going to have to go earn it. It€'s right there for the taking. There are no excuses now. Just win.
And if you'€™re a fan of one of these NFC teams, buckle up. It'€™s about to get very interesting.
Now, let'€™s quit looking too far ahead and get to the Week 12 picks.
Last Week's Record: 11-4
Overall Record: 97-64
Thursday night
New Orleans at Atlanta: I spoke to Matt Ryan over the phone on Tuesday and asked him whether the Falcons'€™ players have quit on Mike Smith. "That'€™s absolutely ridiculous," the fifth-year starting quarterback said. "We had a good practice today. We did a lot of good things. The guys are all still going their hardest. We'™ve got a lot of pride, both as players and as a team, and we have not quit on the coaches whatsoever." Scoff all you want, call his bluff, but I believe it. I saw a little moment last Sunday that I loved. Trailing 41-21 late in the fourth quarter, backup running back Antone Smith ran in a touchdown on a pretty run. Standing on the sideline, I looked to the Falcons' veterans to see whether they were still interested or long tuned out after being replaced. What'€™d I see? Steven Jackson, in a dead sprint from one end of the sideline to the end zone, to be the first person greeting Smith after the touchdown. I saw Tony Gonzalez and Roddy White up on their feet, ready to encourage their young teammate. These guys haven€'t been winning, but they certainly haven'€™t quit.  
The Pick: Saints 34, Falcons 30
The result: Saints 17, Falcons 13
Sunday
Pittsburgh (4-6) at Cleveland (4-6): Two weeks ago, Dick LeBeau's defensive schemes were being doubted, Ben Roethlisberger was the subject of trade rumors (whether accurate or not), and the Steelers were on a fast track toward holiday-time irrelevancy. It's amazing what two wins will do. Now 4-6 and just one game out of the AFC playoff hunt, they'€™re suddenly everybody's darlings. Football's funny like that, isn't it?
The Pick: Steelers 20, Browns 13
Tampa Bay (2-8) at Detroit (6-4): Here's your upset special. In a game where you'll see the two best young defensive tackles in the league (until Geno Atkins returns) going at it on opposite ends of the field, Tampa's Gerald McCoy will get the best of Detroit's Ndamukong Suh. I also am of the belief that if there's one man in the league who can hold Calvin Johnson in check, it's Darrelle Revis. The red-hot Baby Bucs will get their first road win of the season! Three in a row. Get on board!
SCHRAGER SPEAKS
The Pick: Buccaneers 24, Lions 20
Minnesota (2-8) at Green Bay (5-5): The Vikings haven't traveled well this season. They're 0-5 on the road and face a desperate Packers team hoping to avoid losing their third straight at Lambeau for the first time since 2006. I'll go with the Scott Tolzien Express on Sunday.
The Pick: Packers 24, Vikings 17
San Diego (4-6) at Kansas City (9-1): I saw a few "pundits" calling the Chiefs "frauds" on Twitter Sunday night after their loss to Denver. Guess what? The Chiefs impressed me. They kept Peyton Manning in check, limited the explosive plays and were able to rattle off a few big ones of their own. Denver won the one in Denver, but I may like the Chiefs in Kansas City next week. Oh, I'€™m looking ahead. Sorry. Yeah, they'll beat San Diego.
The Pick: Chiefs 30, Chargers 24
Chicago (6-4) at St. Louis (4-6): I need one of those Go-Pro cameras on Howie Long for the entirety of this one. The father of Rams' star defensive end Chris Long and Bears rookie offensive lineman Kyle Long, Howie will be in the crowd Sunday in St. Louis. It might not have all the glitz, glamour and DirecTV ads of a Manning Bowl, but I think we'd all agree it'€™s pretty cool to see two brothers -- one on offense, one on defense -- actually go head-to-head in an NFL game. I like the elder Long in this one.
The Pick: Rams 27, Bears 23
Carolina (7-3) at Miami (5-5): The Panthers keep on rolling. With the Saints up ahead next week, this has "trap game" written all over it. Fortunately, Carolina's defense is too good to let it slip away. I'€™m all in on Carolina, led by my favorite personality on the team, Greg Hardy, aka The Kraken.
The Pick: Panthers 31, Dolphins 17
New York Jets (5-5) at Baltimore (4-6): If you told a Jets fan in August they'd have a 5-5 record with a grip on the No. 6 seed, he or she would say, "Where do I sign?" Unfortunately, all of New York City is ready to bench Geno Smith. The Ravens' defense is playing too well for me to take Geno on the road in this one.
The Pick: Ravens 27, Jets 14
Jacksonville (1-9) at Houston (2-8): This is the Thursday night matchup two weeks from now, too, so get don't get too excited. I like Houston in this one, but it won't be easy. This Jags team plays hard for Gus Bradley. They're just another year -- and a few more impact players -- away.
The Pick: Texans 24, Jaguars 16
Tennessee (4-6) at Oakland (4-6): What's more surprising -- Ryan Fitzpatrick facing Matt McGloin in an NFL game or that the game has playoff implications? This could be a season-saver or a season-ender for either team. Give me the Fightin' McGloins in the Black Hole.
The Pick: Raiders 30, Titans 24
Indianapolis (7-3) at Arizona (4-6): Old friends Bruce Arians and Chuck Pagano go up against each other as head coaches for the first time. One of my favorite things about the Cardinals this year is how their defense hasn't taken a step back since Todd Bowles took over for Ray Horton as coordinator. The D has held its last three opponents to 45 yards on the ground and 267 total. It's tough going into the desert these days. I'€™m taking the Cardinals.
The Pick: Cardinals 20, Colts 16  
Dallas (5-5) at New York Giants (4-6): Looking for a Comeback Player of the Year? How about Jon Beason? Traded for next to nothing from the Panthers to the Giants in September, Beason's been the veteran Big Blue's D was so desperately missing. The Giants haven't looked great, but four wins in a row is what it is. Without Sean Lee on the field for Dallas, look for four wins in a row to go to five.
The Pick: Giants 33, Cowboys 24
Sunday night
Denver (9-1) at New England (7-3): Peyton Manning is 2-9 all-time at New England and 2-7 head to head against Tom Brady. But New England's banged up. No Vince Wilfork. No Jerod Mayo. Potentially no Aqib Talib or Alfonzo Dennard. I'€™m always cautious when doubting the coaching abilities of Bill Belichick, but to take on the Broncos offense, on just six days rest, without so many key defenders -- €"I just can'€™t go against Manning here.
The Pick: Broncos 27, Patriots 23
Monday night
San Francisco (6-4) at Washington (3-7): The Redskins are a mess. On "€œMonday Night Football" with an entire country watching, and with an angry 49ers team coming off back-to-back tough losses coming to town, this could get very ugly. It was supposed to be Kaepernick-RGIII, the battle of the GQ cover boys. It'€™s going to be the 49ers defense flexing its muscles and carrying the offense past Washington.
The Pick: 49ers 31, Redskins 20
---
---