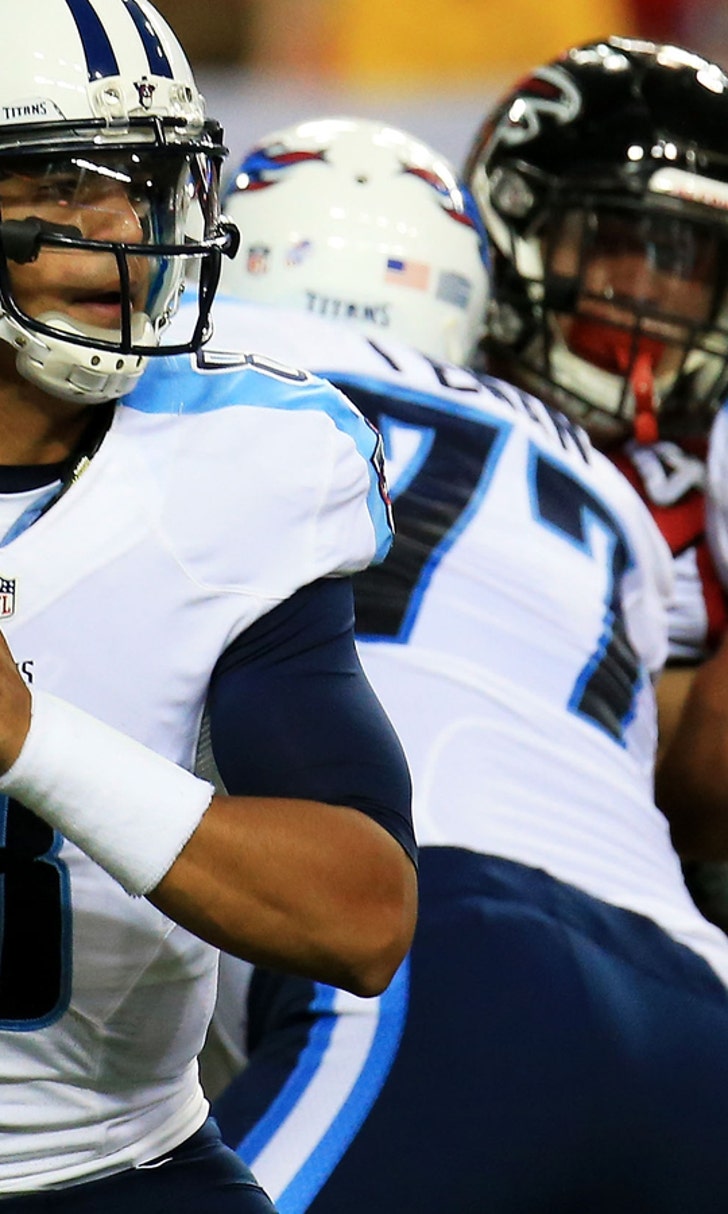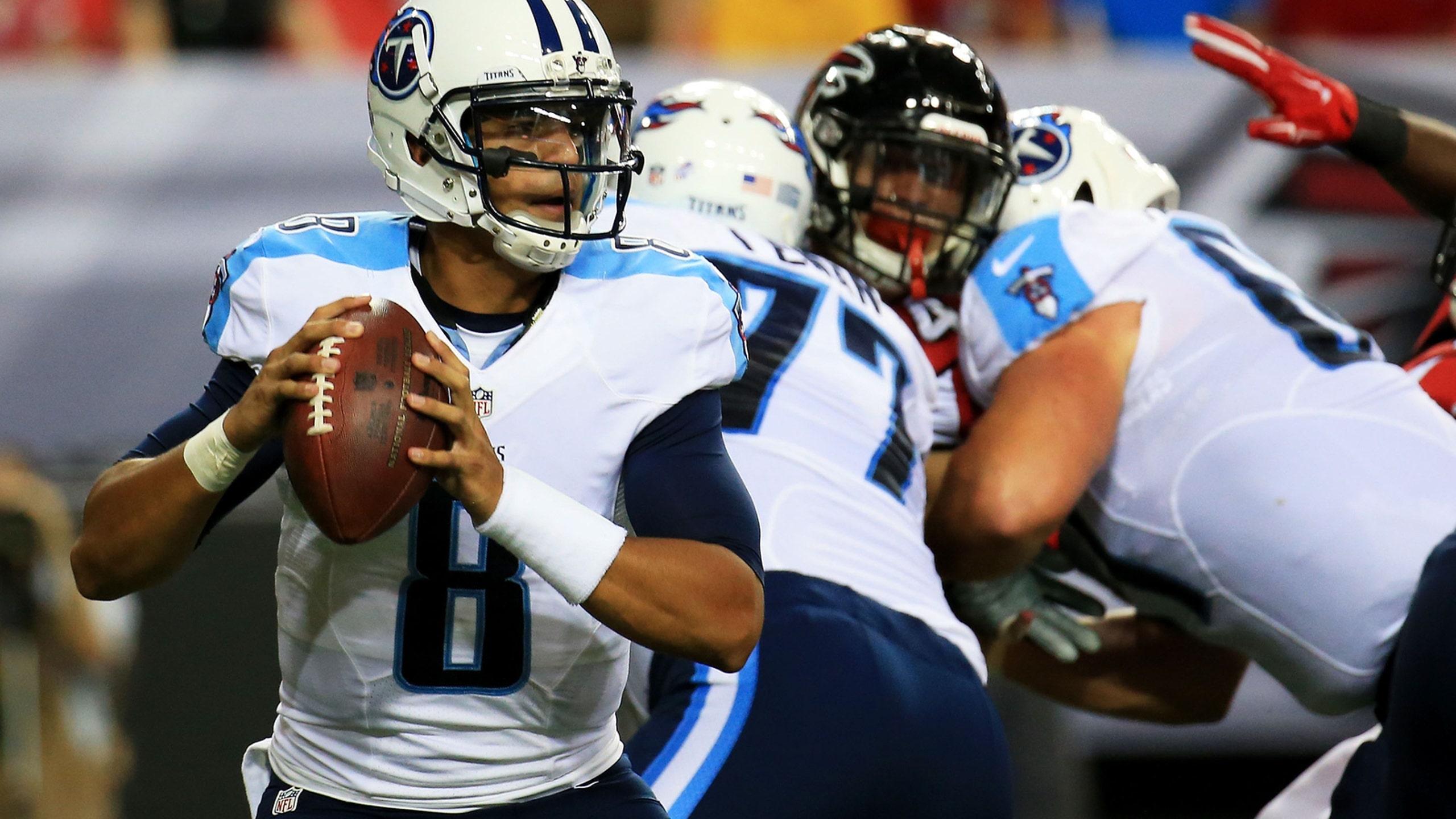 Mariota can get on with career after first practice interception
BY foxsports • August 19, 2015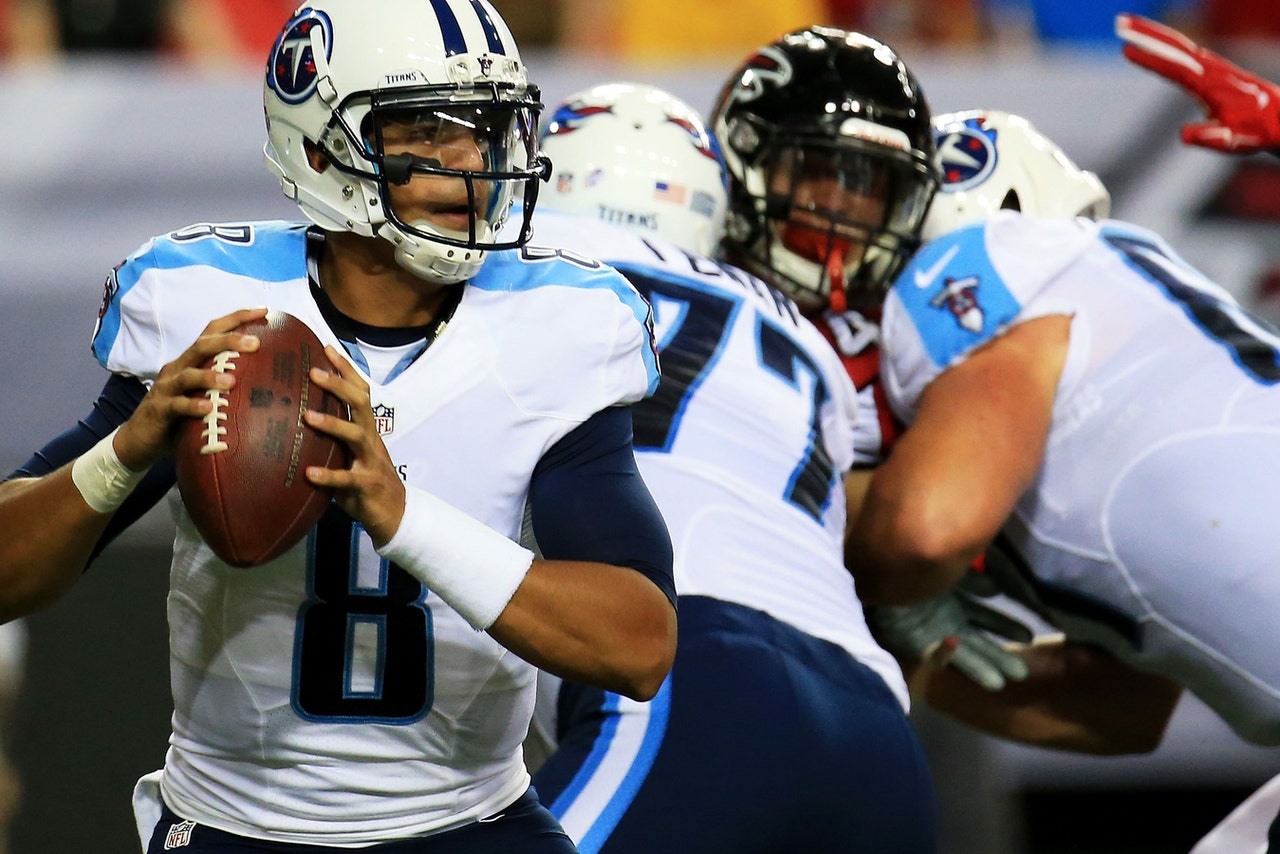 Tennessee Titans fans learned Tuesday that rookie quarterback Marcus Mariota isn't perfect.
The second overall pick in the 2015 NFL Draft threw his first practice interception, according to John Glennon of The Tennessean.
It wasn't the first interception Mariota threw in a Titans uniform. His first preseason series ended with a pick in the Titans' 31-24 loss at Atlanta.
Mariota's streak of 13 practices without an interception actually has been a story this summer.
When did practice interceptions become a statistic?
They've been part of hourly news updates on sports talk radio. At one point in early August Mariota had no interceptions, Eli Manning had one and Aaron Rodgers had five.
So Rodgers is washed up and the Titans can start printing those playoff tickets, right?
The reporting of practice interceptions is a sign of America's voracious appetite for football. We need something to digest and talk about during the interminable wait for the real games. That's why the NFL Draft has become a prime-time event. The first round used to take place on weekend afternoons, now it's risen to that hot Thursday-night time slot.
Even the NFL Scouting Combine fills up hours of programming on the NFL Network. Less than a month after the Super Bowl and more than six months before another real NFL game is played, it can be depressing for hardcore NFL fans to watch a bunch of guys doing 40-yard dashes in an empty stadium, but the combine has become an event.
The circumstances surrounding Mariota's first practice interception are a lot closer to what will take place in a real game than what goes on at Lucas Oil Stadium in February. And just in case there are any Titans fans out there who need to be talked off the ledge after Mariota's practice blemish, rest assured that he's in a good situation.
Titans head coach Ken Whisenhunt was Ben Roethlisberger's offensive coordinator when the Pittsburgh Steelers won Super Bowl XL in 2005. Kurt Warner revived his career under Whisenhunt when he led the Arizona Cardinals to Super Bowl XLIII in 2008. Chargers quarterback Philip Rivers was the NFL's Comeback Player of the Year in 2013, the one year Whisenhunt was his offensive coordinator. Rivers returned to the Pro Bowl in 2013 after his three-year Pro Bowl streak ended in 2012.
If you're a quarterback in the NFL, you want Whisenhunt in your corner.
A little patience might be required. Mariota is coming from a spread offense at Oregon and will have to get used to an NFL playbook.
If anything, that first practice interception should be considered part of Mariota's baptism into the NFL.
More from The Sports Daily:
---
---