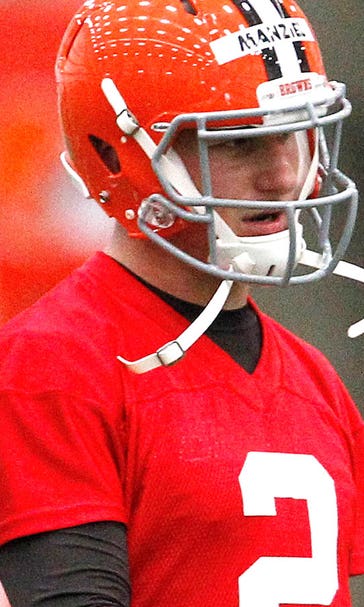 Johnny Manziel takes snaps with third team at Browns' OTAs
May 21, 2014

There's nowhere but up for Johnny Manziel on the Browns' depth chart.
Manziel took third-team snaps on the second day of Cleveland's offseason training activities, according to multiple reporters on scene.
Veteran quarterback Brian Hoyer took first-team reps and was followed by journeyman Tyler Thigpen.
While taking snaps in basketball shorts in May is interesting news fodder, it likely means next to nothing until the team's training camp begins July 25. The club's coaching staff and front office have preached competition at the quarterback position, a fact that certainly hasn't scared Manziel.
"I'm a rookie. I need to earn my place. I need to earn my keep. Nothing here needs to be handed to me. I don't need to be treated based off of what I've done in the past," Manziel said over the weekend.
Manziel was selected No. 22 overall in this month's NFL Draft and has infused the city with excitement upon his arrival.
Other notable players reportedly present at Wedneday's practice were wide receiver Josh Gordon, who could potentially be facing a suspension, and recently acquired wide receiver Miles Austin.
---
---