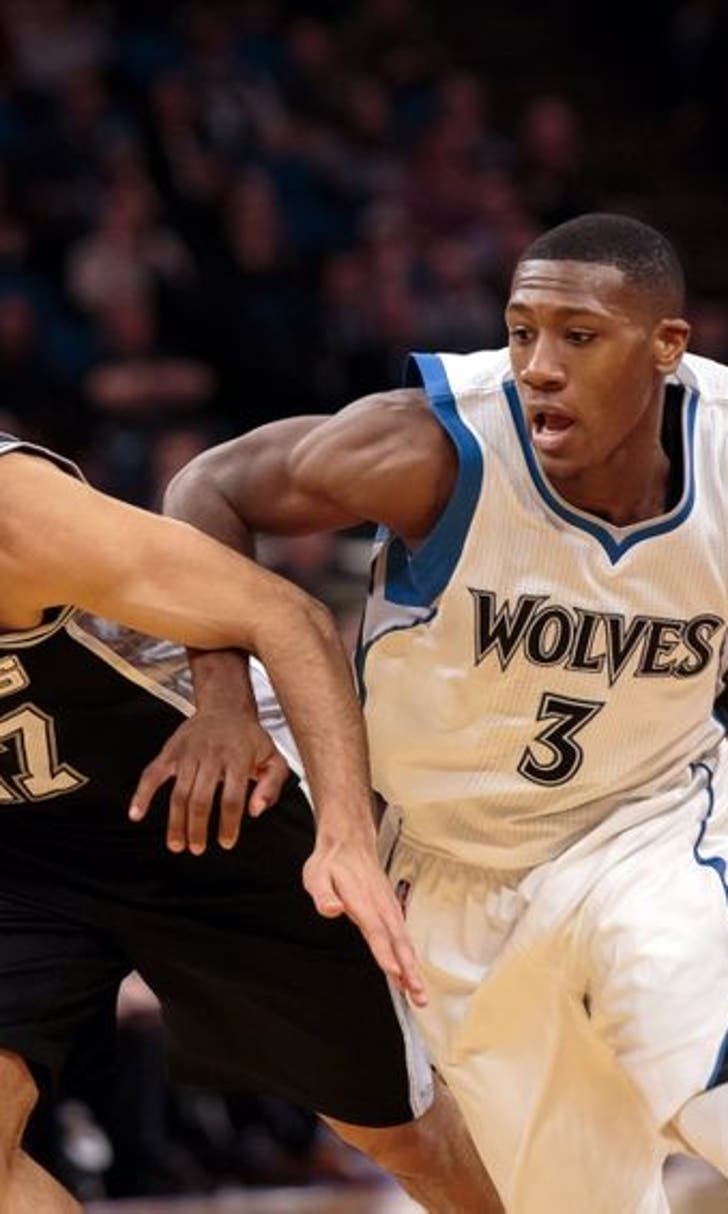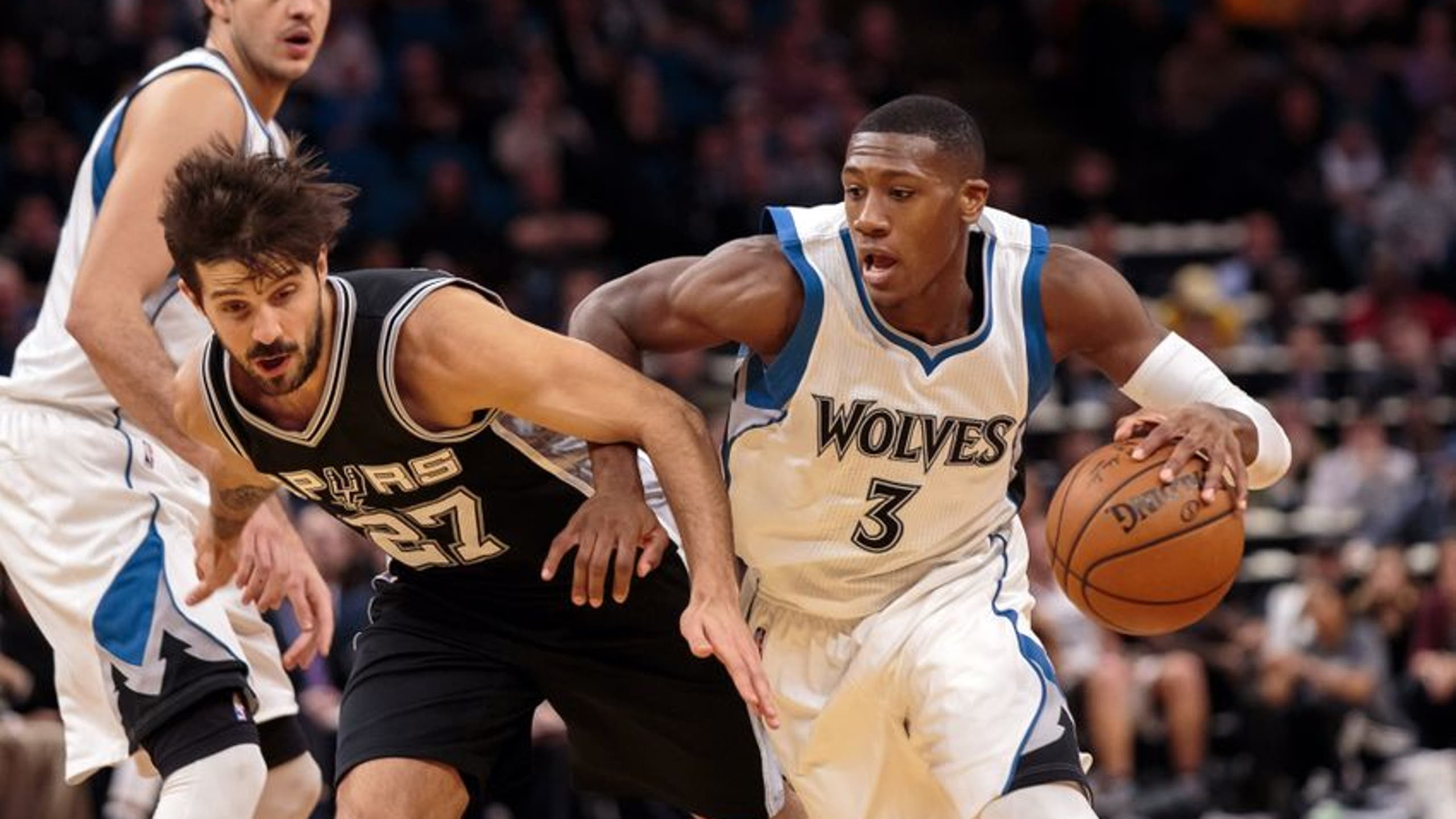 Revisiting the Timberwolves' point guard situation
BY Fansided and Ben Beecken/FanSided via Dunking with Wolves • December 27, 2016
The Timberwolves' point guard situation continues to be intriguing, but it has also been perhaps the biggest key to the Wolves' overall improved play of late.
About six weeks ago, we took a look at how poorly the Timberwolves' point guard play was through the first 12 games of the season. The Wolves' record stood at 4-8 at the time, and the main issue with the team's play was painfully obvious.
Ricky Rubio was injured late in the second game of the season and missed the next five contests. In his absence, second-year point guard Tyus Jones outplayed rookie Kris Dunn, but in the third game after Rubio returned, Jones was back to receiving DNP-CDs on a regular basis.
Here's what yours truly penned at the time:
Dunn has struggled all season and ultimately didn't shoulder much more of a burden with Rubio out; second-year guard Tyus Jones saw the largest bump in minutes. And for good reason: Jones' stretch of five Rubio-less games (and two after Rubio's return in which Jones saw the floor) were the best minutes that a Timberwolves point guard has played all season.

With the obvious caveat that we're only 12 games into an 82-game slate, the point guard situation is threatening to be turned on it's head.

Jones was rumored to be on the trading block in the days leading up to the season, and it seemed to be common knowledge that the Twin Cities native was on his way out. At the same time, he more-or-less fits the profile of diminutive, decent-shooting point guards that have seen success in Tom Thibodeau's system in the past: Nate Robinson, Aaron Brooks, Mike James, etc.

And now, Jones has played the best basketball of the three (four, including John Lucas III) point guards on the current roster. Of course, that apparently hasn't meant much to Coach Thibs, as Jones didn't play in Tuesday's close loss to Charlotte and only saw the floor for garbage-time minutes in Thursday's big win and Saturday's embarrassing loss.
What's changed since then, you ask? Well, Rubio underwhelmed for the better part of the next four weeks while Dunn improved incrementally. The gap between the two seemed to be shrinking, and with the team continuing to struggle, some began to clamor for a role swap with Dunn joining the starting lineup.
It was premature, of course; Rubio's track record far outweighs a short streak of improvement from a rookie. And now, Rubio has played his best ball in recent memory over the past two weeks.
More from Dunking with Wolves
Since the Wolves' impressive win in Chicago on December 13th, Minnesota has gone 4-3 and Rubio is averaging 7.9 points, 9.3 assists, 2.1 steals, and just 2.4 turnovers per game. He's still shooting just 36.6 percent from the floor over that stretch, but he's hitting threes at a 47.1 percent clip in 2.4 attempts per contest.
The past two games, a loss to the Thunder and a home win over the Hawks, Rubio has scored just six points but has dished out 20 assists to just zero turnovers, also grabbing three steals and eight rebounds.
He's cut down almost completely on shooting from the mid-range, instead spotting up beyond the arc in the corners or just above the break. More often than not, Rubio will still immediately swing the ball on the catch, but as long as he knocks down one or two of those a game, the offense can function while utilizing Rubio in this way.
As it turns out, a low-turnover, high-assist point guard with an average three-point shot and fantastic defense can have a spot on a roster full of shooters and scorers like Karl-Anthony Towns, Zach LaVine, and Andrew Wiggins.
Kris Dunn has improved, too, although his resurgence started a bit earlier. After back-to-back scoreless outings, Dunn had a three-game stretch (a loss in New York, the overtime win in Charlotte the next night, and a home loss to San Antonio) in which he averaged 9.7 points, and 4.3 assists on 11-of-15 shooting (73.3 percent).
Despite scoring only three points in each of his last three outings, Dunn has played much better since the start of December. He's shooting 45.3 percent from the field during the month and has displayed improved decision-making on offense.
And all of this while Tyus Jones has scarcely played. Clearly, a trade is still on the table, although that's a conversation for another day.
The point guard play has improved so much that Tom Thibodeau even paid a compliment through the media after Monday night's win over Atlanta.
The biggest issues now remain consistent defensive effort and bench play. The defense has improved over the recent solid stretch of play, but still has places to go. The bench…not so much. We'll cover what adjustments could be made to tweak the reserve unit in the near future here at Dunking With Wolves.
Until then, the Wolves have a solid chance to build another modest win streak with games against Denver and Milwaukee this week…
---
---