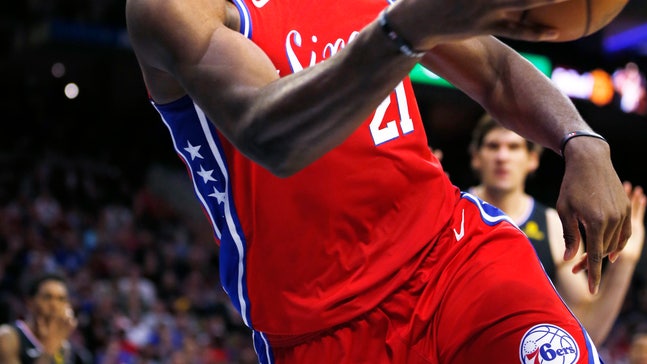 Embiid leads 76ers past Clippers 122-113
Updated
Mar. 4, 2020 3:46 p.m. EST
PHILADELPHIA (AP) — Joel Embiid wants to be the NBA MVP and Defensive Player of the Year this season.
He is off to a solid start.
Embiid had 41 points and 13 rebounds, helping the Philadelphia 76ers beat the Los Angeles Clippers 122-113 on Thursday night.
It was Embiid's sixth game already this season with at least 30 points and 10 rebounds. Philadelphia fans rained down "MVP! MVP!" chants on the big man.
"It's great," Embiid said. "It's just about being aggressive and staying within the concepts of the system."
Ben Simmons added 14 points and 11 assists, bouncing back nicely from one of his worst games as a pro. Markelle Fultz provided a spark late in the third quarter and finished with 12 points, nine rebounds and five assists while helping Philadelphia improve to 5-0 at home.
But it was Embiid leading the way for the Sixers.
"He's tough, he's skilled, he can shoot, he basically can do everything," Clippers coach Doc Rivers said.
Philadelphia led by as many as 11 in the final quarter on Embiid's follow dunk, but the advantage was just three with 6:16 remaining.
Embiid then scored nine of the next 12 points, including an emphatic dunk over Boban Marjanovic with 1:39 remaining that gave Philadelphia a 117-109 lead.
"He was just dominant," Philadelphia coach Brett Brown said.
Lou Williams scored 26 points for the Clippers, and Danilo Gallinari had 25. Tobias Harris finished with 24 points.
"We didn't execute (down the stretch) and had bad shot selection," Rivers said. "That can't happen."
The Clippers trailed by as many as 22 points in the opening half and were down 72-57 entering the third quarter. But Los Angeles slowly chipped away at the deficit, going in front for the first time on Gallinari's 3-pointer from the right wing that made it 81-80 with 3:58 left in the period.
Another Gallinari 3 put the Clippers up 84-80 before Fultz showed flashes of why Philadelphia drafted him first overall in 2017.
Fultz scored on a goaltending call, and then assisted on Mike Muscala's four-point play before converting consecutive coast-to-coast layups, helping the 76ers end the quarter on a 10-2 run that put them ahead 90-86 entering the fourth.
"He had a huge influence," Rivers said. "He might have been the change of the game."
Said Brown: "We continue to see why he was drafted (No. 1). He's really gifted with the ball as a point guard."
BETTER BEN
After tying his career high with 11 turnovers in Tuesday's 119-112 loss at Toronto, Simmons had just two turnovers against Los Angeles.
"Tremendous response," Brown said.
DEEP BENCH
The Clippers entered leading the NBA in bench scoring at 56.9 points per game. They got 58 points from their reserves against Philadelphia.
FOR OPENERS
Philadelphia shot 57.4 percent from the field and made 7 of 10 3-point attempts in a strong opening half.
TIP-INS
Clippers: The Clippers lost their fourth straight to the 76ers. They last beat Philadelphia on March 11, 2017.
76ers: Embiid's career high is 46 points. ... Philadelphia declined the third-year contract option on reserve swingman Furkan Korkmaz, meaning Korkmaz could become a free agent on July 1. ... New England Patriots owner Robert Kraft was in attendance. ... The 76ers are 0-4 on the road. ... Rookie Landry Shamet gave Philadelphia a lift in the opening half with 11 points, one shy of his career best.
UP NEXT
Clippers: At Orlando on Friday.
76ers: Host Detroit on Saturday.
---
---