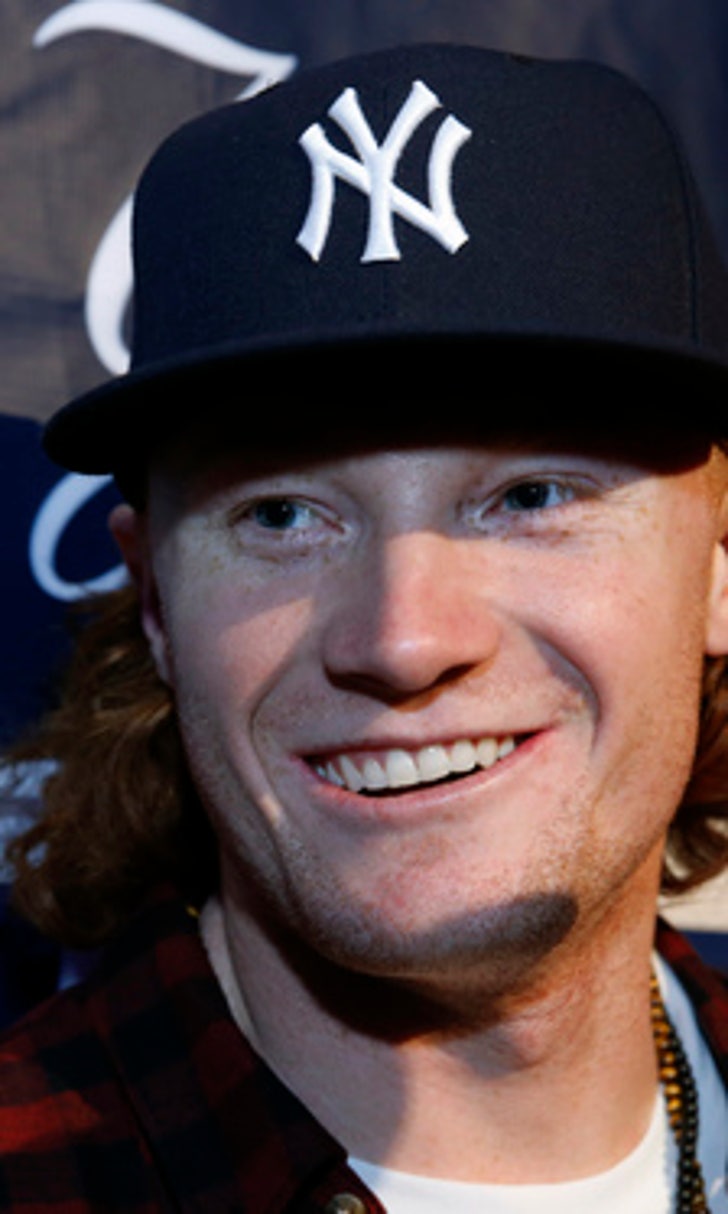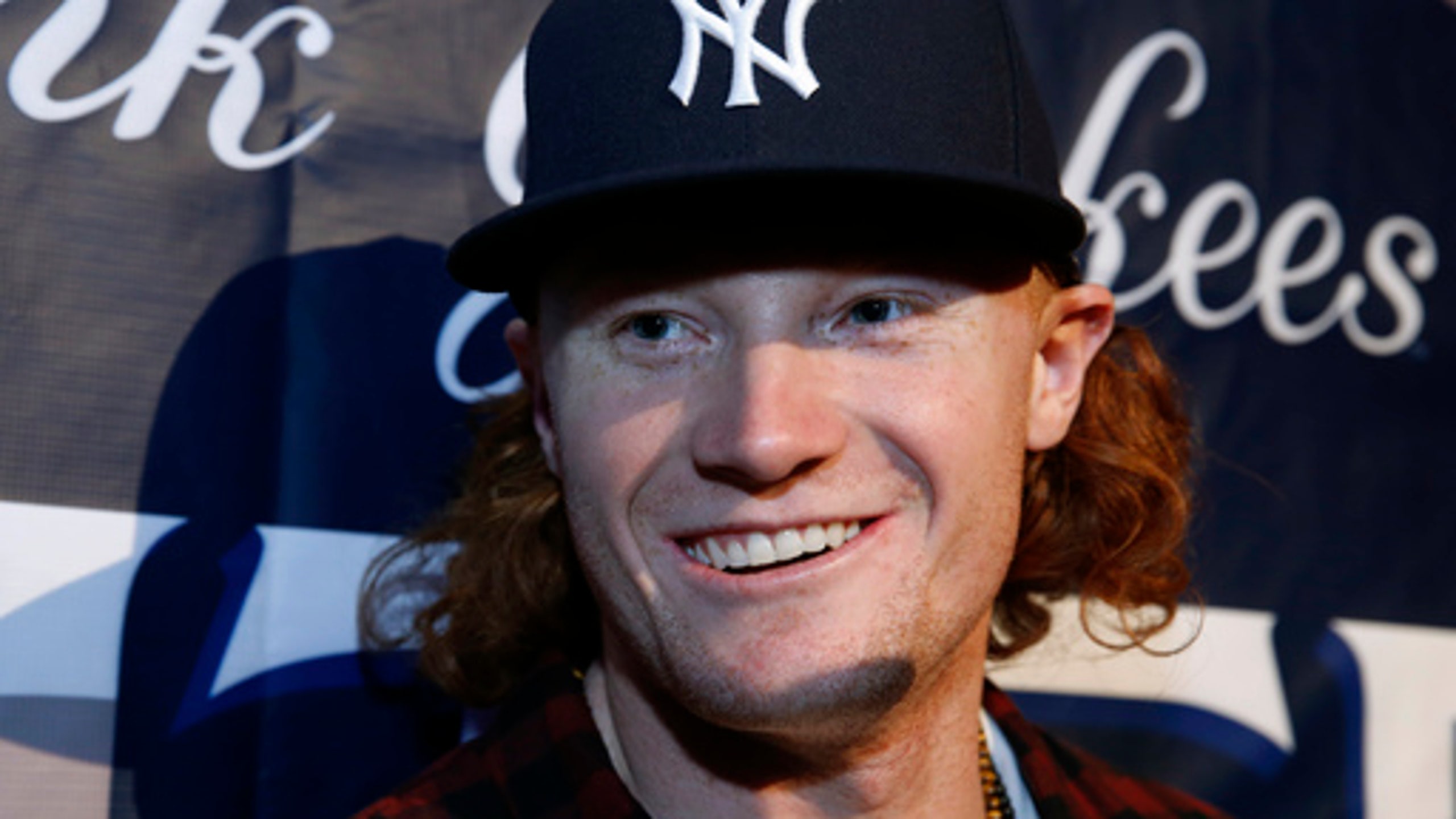 Yankees bring Baby Bombers to NY to promote season
BY AP • January 18, 2017
NEW YORK (AP) Clint Frazier thought to the future and predicted: ''It's going to be common for people to not like us.''
Rather than bring veterans, the Yankees had Frazier and fellow Baby Bombers James Kaprielian, Gleyber Torres and Chance Adams respond to fans' question at a town hall meeting on Tuesday night along with infielder Starlin Castro and general manager Brian Cashman. They hope the rebuilding club transforms into a power resembling the teams that won four World Series titles from 1996-2000, one opposing fans will hate but respect.
''There's something to be said about this group, not only the ones that are here, but the ones that aren't here,'' Kaprielian told the crowd of several hundred at the Hard Rock Cafe in Times Square. ''We just don't know yet. Only time will tell.''
Pivoting to youth, the Yankees have jettisoned Alex Rodriguez, Carlos Beltran and Brian McCann. Mark Teixeira retired.
Catcher Gary Sanchez, right fielder Aaron Judge and first baseman Tyler Austin were brought up last August. First baseman Greg Bird is back from shoulder surgery that sidelined him for all of last season.
Torres, a touted shortstop obtained in the trade that sent closer Aroldis Chapman to the Chicago Cubs, at 19 became the youngest MVP in the history of the Arizona Fall League. Frazier, acquired in the deal that sent setup man Andrew Miller to Cleveland, is confident he will rebound after hitting .228 with seven RBIs in 25 games last summer for the Yankees' Triple-A team at Scranton/Wilkes-Barre.
''I got a lot of attention with Cleveland, but that ultimately just grew times 10 I felt when I came over here,'' Frazier said before the event. ''I went from trying to fill Clint Frazier's shoes to filling Andrew Miller's shoes. The guy did what he did because he's one of the best pitchers in the game, and to try to live up to the amount of hype that he had because I was traded for him was hard. He went out there and did what he did, and I struggled, and I think that for the first time in my life I was humbled to a maximum tee, and I needed that. I needed to kind of get off cloud nine and realize that there are things I need to work on.''
Frazier had to cut his long, curly red hair at the time of the trade - it was one of the first questions he asked Cashman last summer - but has let it grow out again.
''We'll see how long I can get it before I have to do it again,'' he said.
Frazier went to Yankee Stadium this week for the first time since 2013, when he took a tour the day before the amateur draft.
''I was also envisioning myself and a few others out there at some point,'' he said. ''We're almost bound for success.''
Cashman compared the Yankees now to when he first went to work for New York in the 1980s, what he described as a ''second-division team.'' By the 1990s, the farm system produced Bernie Williams, Derek Jeter, Mariano Rivera, Andy Pettitte and Jorge Posada.
''We didn't know the powder keg we were sitting on,'' Cashman said, while at the same time cautioning: ''Sometimes it's gory before glory.''
Average home attendance fell from 41,995 in Jeter's final season in 2014 to 39,430 in 2015 to 37,820 this season. Average viewers for games on the YES Network declined from 288,000 in 2014 to 259,000 in 2015 to 218,000 last year. Across town, the Mets' average on SNY rose from 242,667 in 2015 to 263,850 last season.
Perhaps as a result, the Yankees are holding a ''Winter Warm-Up 2017'' this week. Sanchez worked behind a counter at a Bronx deli on Monday. Tuesday's group visited a senior citizens' center and an elementary school.
Kaprielian, the 16th overall pick in the 2015 amateur draft, was sidelined by an elbow flexor strain from mid-April until early October, then recovered and was throwing 97 mph in the Arizona Fall League. The right-hander, who turns 23 in March, confidently said ''I want to be a No. 1. I want to be the guy.''
With all the prospects on stage, one fan dreamed about stars. He asked Cashman about Bryce Harper, Manny Machado and Matt Harvey, who can become free agents after the 2018 season. Cashman wouldn't discuss individuals, but left a hint of his intentions.
''At the end of the day, we're going to be in a position to do a number of things and maybe turn the clock back and be big-game hunters,'' he said.
---
---