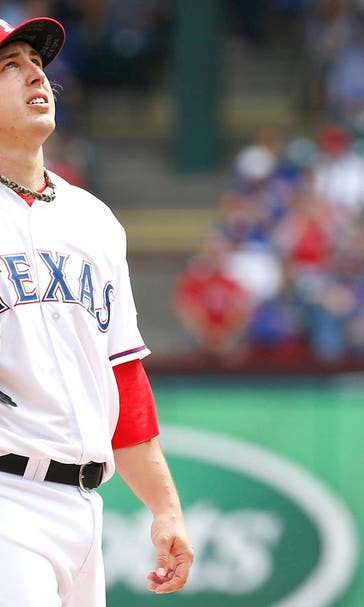 Rangers starter Holland, OFs Choo, Rua injured vs. Astros
April 10, 2015

Derek Holland never looked right on the mound for the Texas Rangers in their home opener. Now he won't be back there for at least six weeks -- and maybe more.
Holland left the 5-1 loss to the Houston Astros after only one inning Friday with tightness in the back of his shoulder that was later diagnosed as a strained subscapularis muscle.
"I'm pretty beat up about this," Holland said. "I just wanted to make sure I got through the inning. To come out here and throw the first pitch and have it go down the drain like that crushes you. Personally it really sucks."
General manager Jon Daniels said Holland won't throw again until the muscle is healed. Even if the pitcher is good when another scan is done in four weeks, Holland would still have to rebuild his arm strength and do rehab before coming back.
The Rangers were already without ace Yu Darvish, who had Tommy John surgery last month.
Outfielders Shin-Soo Choo (back spasms) and Ryan Rua (sprained right ankle) also made early exits because of injuries. Choo was feeling better afterward, but Rua had a protective boot on his foot and could be headed to the disabled list.
Holland (0-1), who missed most of last season recovering from left knee surgery, felt the tightness on the last pitch he threw during warmups. The left-hander then gave up a single to Jose Altuve on the first pitch of the game, and his velocity was noticeably down.
"I thought he was throwing change-ups," shortstop Elvis Andrus said.
"The velocity below 90 (mph), and not typical of where Derek is normally at," said Jeff Banister, the Rangers manager who made his home debut. "We felt like that we needed to get in front of it."
Anthony Bass was already warming up before Holland finished the first inning on nine pitches. The Rangers trailed 1-0 after Jed Lowrie's homer that came after Altuve was picked off second base.
Bass allowed one run in five innings. The right-hander had a defensive gem in the fifth when he had a diving backhanded stab to catch Robbie Grossman's popped-up bunt and turned that into a double play.
"Anthony Bass did a tremendous job and gave us exactly what we needed," Banister said.
Collin McHugh (1-0) pitched six solid innings, with four strikeouts while allowing one run, to win his eighth consecutive decision. He was 7-0 with a 1.77 ERA his final 10 starts as a rookie last season.
Jed Lowrie and Colby Rasmus homered for Houston, which had more runs and hits than in its first three games combined.
"That's the best way to win. When you have guys who can contribute every day," Lowrie said. "You don't have to rely on one person."
Lowrie hit a solo homer in the first off Holland. Rasmus had a two-run shot in the ninth of closer Neftali Feliz pitching in a non-save situation.
No. 9 hitter Jake Marisnick had three of Houston's 10 hits and drove in two runs. The Astros totaled only three runs and eight hits in their season-opening, three-game series against Cleveland.
TRAINER'S ROOM
Astros: RHP Brad Peacock, who is rehabbing after hip surgery, allowed no hits in 4 2-3 innings in a start for Triple-A Fresno. He walked five batters and hit another one. "It's good that he was hard to hit," Hinch said. ... RHP Josh Fields (right groin) threw live BP in Kissimmee, Florida, and next will pitch for Fresno, likely this weekend.
Rangers: RHP Tanner Scheppers (right ankle) struck out all three batters he faced for Double-A Frisco. The next step is pitching in consecutive games, which is the plan Saturday and Sunday.
UP NEXT
Astros: RHP Roberto Hernandez, who went to spring training on a minor league deal after pitching last year for Philadelphia and the Los Angeles Dodgers, makes his Houston debut. The 2010 AL All-Star with Cleveland was 3-0 in his five spring training games to earn a rotation spot.
Rangers: Yovani Gallardo is from Fort Worth, and was acquired by Texas in January. The right-hander, who lost the season opener at Oakland, makes his home debut for the Rangers.
---
---