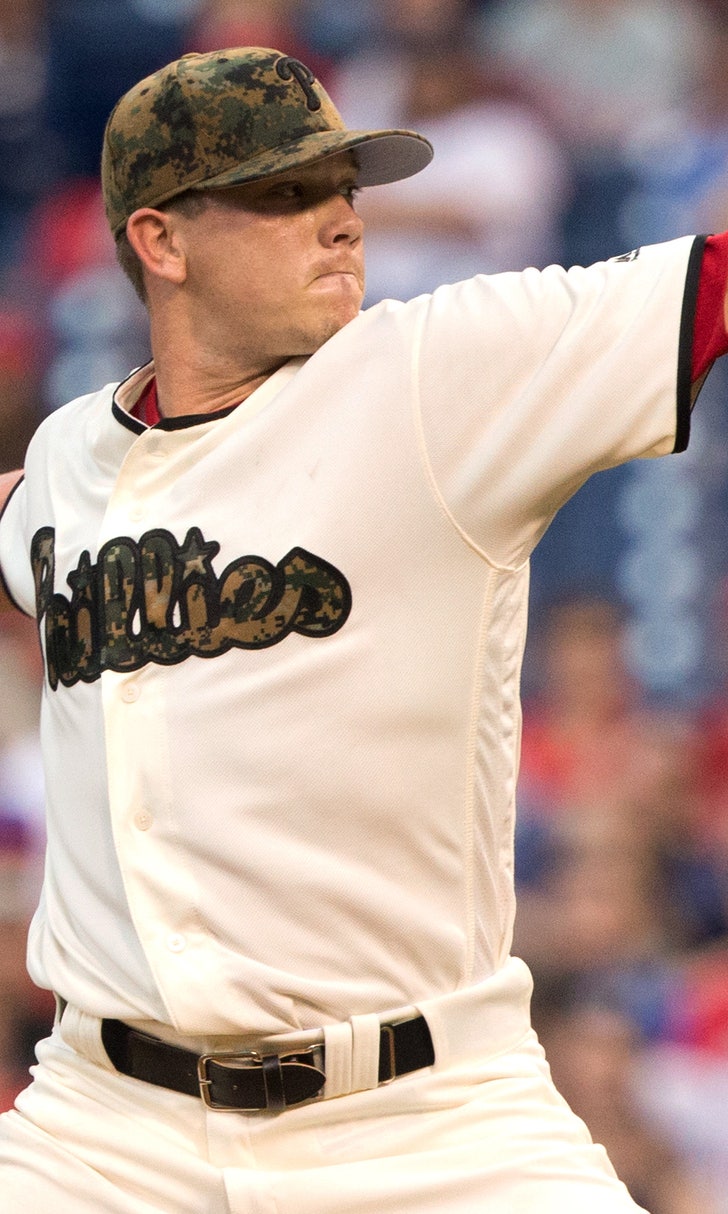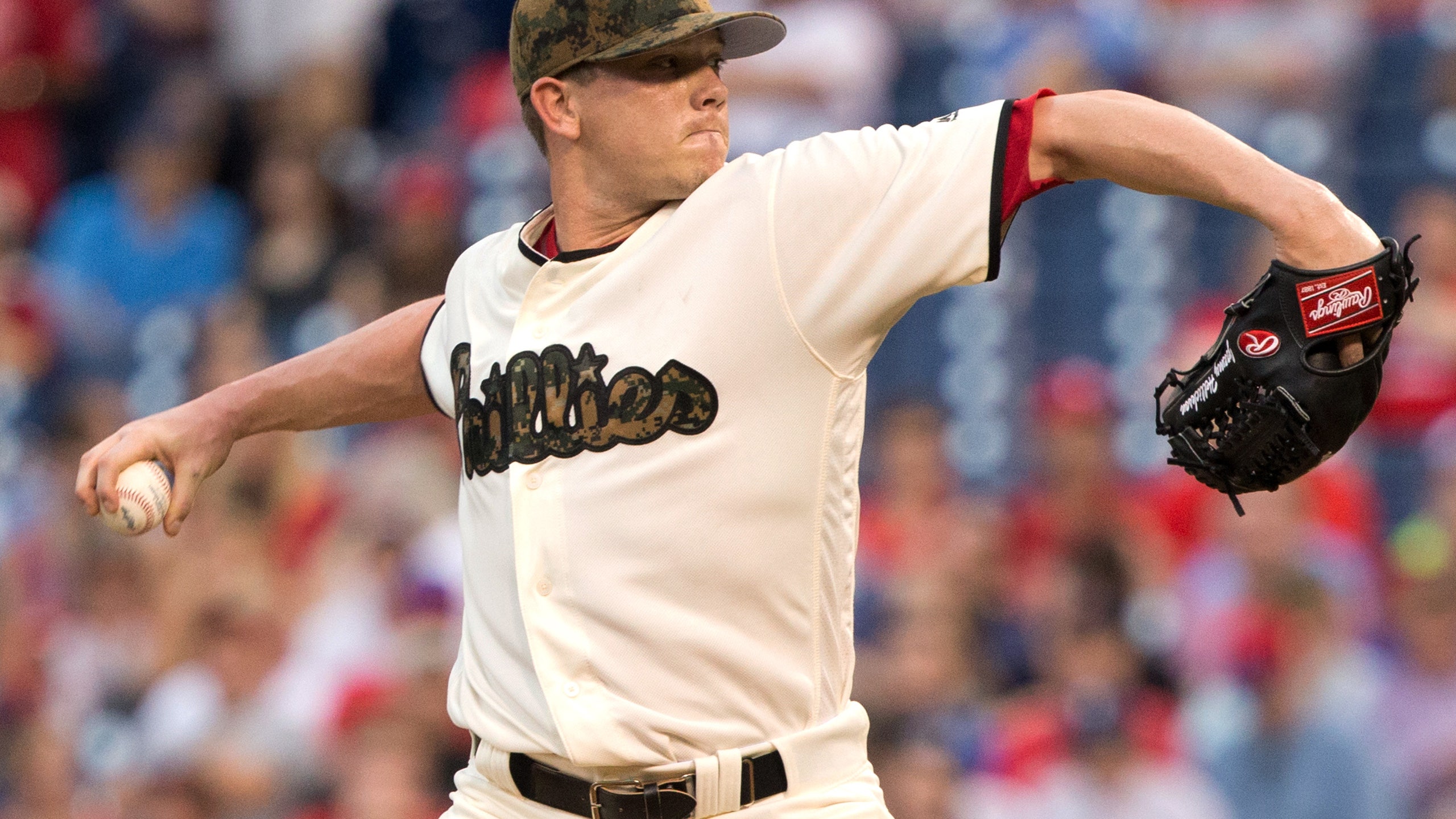 Philadelphia Phillies: A Winning 2017 Or?
BY Fansided and Tal Venada/FanSided via Call to the Pen • June 30, 2017
The Phillies Hope Buchholz Will Be the Next Hellickson. Photo by Greg M. Cooper – USA TODAY Sports.
While the hope for next summer is 82 victories or more, some fans expect fewer than 71 wins, and others predict 86 triumphs for the Philadelphia Phillies: a range from 66 to 86.
Varied Expectations: 
In the middle between wishful thinking and pessimism, reality is invisible to anyone with incomplete analysis.
Regarding a plan, Double D, a poster from another site, expressed confidence in general manager Matt Klentak and the way he's improving the team. Of course, the decision-maker has given youngsters who were ready a shot, while others filled in for disabled hurlers. Originally, Double D, Klentak added Jeremy Hellickson and Charlie Morton in 2016 to head the staff and take the pressure off Aaron Nola, Jerad Eickhoff and Vince Velasquez. But what was the GM's expectation for success from the two veterans? Fifty percent.
Last year, Klentak acquired two experienced arms to strike gold with one. For instance, Hellickson is returning for a second campaign, while Morton had a season-ending injury in late April. In other words, health is also part of that other 50 percent.
Pitching stats for 2015:
Klentak adds two of everything he currently needs and can move in July. Who does that remotely remind you of? Noah. For instance, Double D, he acquired Pat Neshek and Joaquin Benoit for the back-end of the bullpen, Howie Kendrick and Michael Saunders for the corner outfield spots; and the general manager has two vets for the rotation: Hellickson and Clay Buchholz. And if we rely on Klentak's own words, three will be healthy for most of  '17 and give the locals plenty to cheer about.
Pitching:
Hitting:
Saunders Is the Left-Handed Bat the Front Office Wanted. Photo by Dan Hamilton – USA TODAY Sports.
Estimates:
As spring training is drawing ever closer, conversations turn to the Phillies and usually a difference of opinion ensues in discussions. So, while recently overheard chatter in a diner added to the atmosphere, a victim of many disappointing campaigns from the red pinstripes pointed out the high number of one-run victories in 2016 and wondered if the club – expected to win just 66 games last year – will have a setback. Last summer, however, manager Pete Mackanin claimed playing as a team overcomes some shortcomings, which means a run or two could be the difference.
IN OTHER WORDS:    

"You know, what is team chemistry? My opinion is when you have enough people who care about winning and enough people who losing affects. That's what chemistry means to me. It doesn't necessarily mean you're going to win, but you're going to have enough people on the same page. It's almost impossible, I think, to get everyone on the same page, but it's gotta mean something to you." – Derek Jeter
Another figured on a five-victory increase to reach 76 wins because of the improved offense and more experienced moundsmen for the late innings. Also, another veteran starter will ease the pressure on the five-man staff and the relief corps.
Benoit Will Close If Neris Has Difficulty. Photo by Evan Habeeb – USA TODAY Sports.
Listening intently to the 2017 predictions, a local at the counter turned around to add the forecast of a .500 campaign from Mackanin mentioned during a TV interview at the Phillies Winter Banquet in Bethlehem. But a third friend believed Klentak wants a winning season with at least 82 victories because the decision-maker can plan for a push to the 2018 playoffs. However, this third man wanted 86 wins and the NL Wild Card, which would mean the Philadelphia Phillies should be buyers at the trading deadline. Abruptly, they went completely silent; what distracted them? The waitress.
FOOD FOR THOUGHT:    

"A lot of people think I had such a rosy career, but I wanted to identify that one of the things that helps you have a long career is learning how to deal with adversity, how to get past it. Once I learned how to get through that, others things didn't seem so hard." – Cal "Iron Man" Ripken, Jr.
During the offseason, many general managers build their rosters for the first half. And they examine the possibilities for the postseason near the All-Star break with three options: buy, sell or stand pat. Well, Double D, Klentak will probably be selling.
Neshek Adds a Veteran Presence to the Bullpen. Photo by Troy Taormina – USA TODAY Sports.
NL East minuses:
NL East pluses:
To sum up, the 162 grind has injuries, career years – good and bad – upgrades by divisional rivals and a fifty-fifty chance for those winter acquisitions. But when players have logged six weeks in camp and 100 games including almost daily preparation, the nagging aches and pains impact performances during the final two months. Yes, trades deplete their 25-man roster, pipeline replacements fill the vacated slots, and September call-ups showcase their talents for management. In other words, these openings make winning more difficult, while youthful exuberance and only scouting reports from the minors to go on can stymie the opposition. After, however, adding and subtracting, is the prediction still an 82-80 record? Yes!
Kendrick Hopes to Round Third and Head for Home Frequently in 2017. Photo by Gary A. Vasquez – USA TODAY Sports.
The Numerical Bible:
This review is not a sabermetrics article, which means no heavy statistical analysis. But because some readers rely on stats, this is only a reference: no reason to articulate the importance of these numbers.
These numbers do not include any postseason activity. * He had 21 starts.
Pitching for 2015:
Pitching:
Hitting:
More from Call to the Pen
This article originally appeared on
---
---