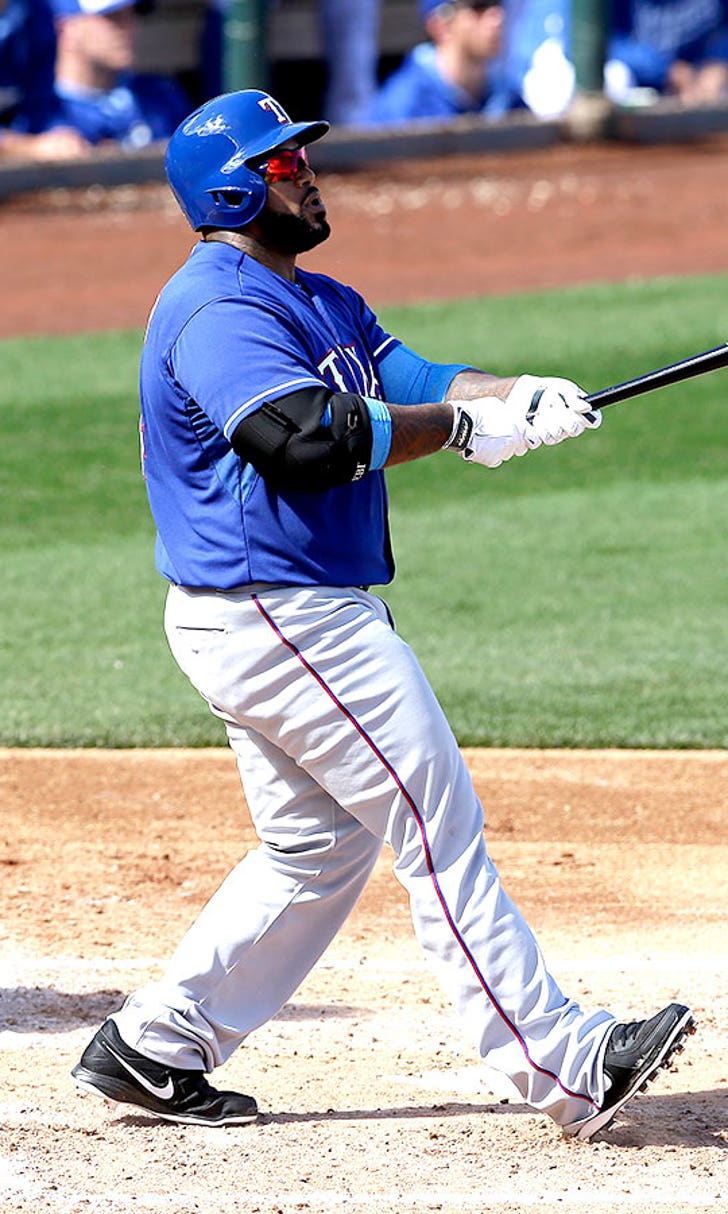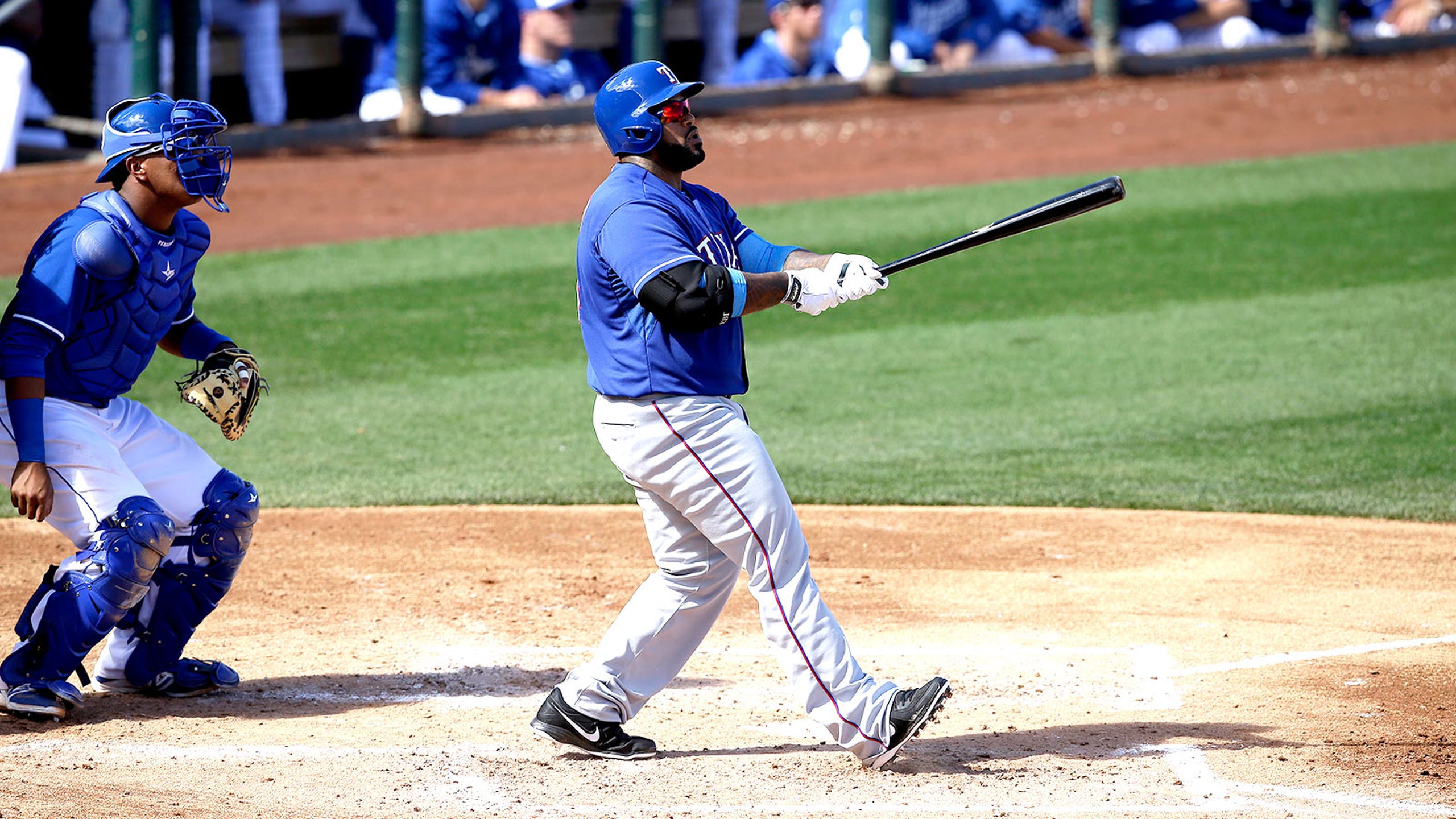 Morosi: Rangers' Fielder shines as lineup protector, producer
BY foxsports • February 28, 2014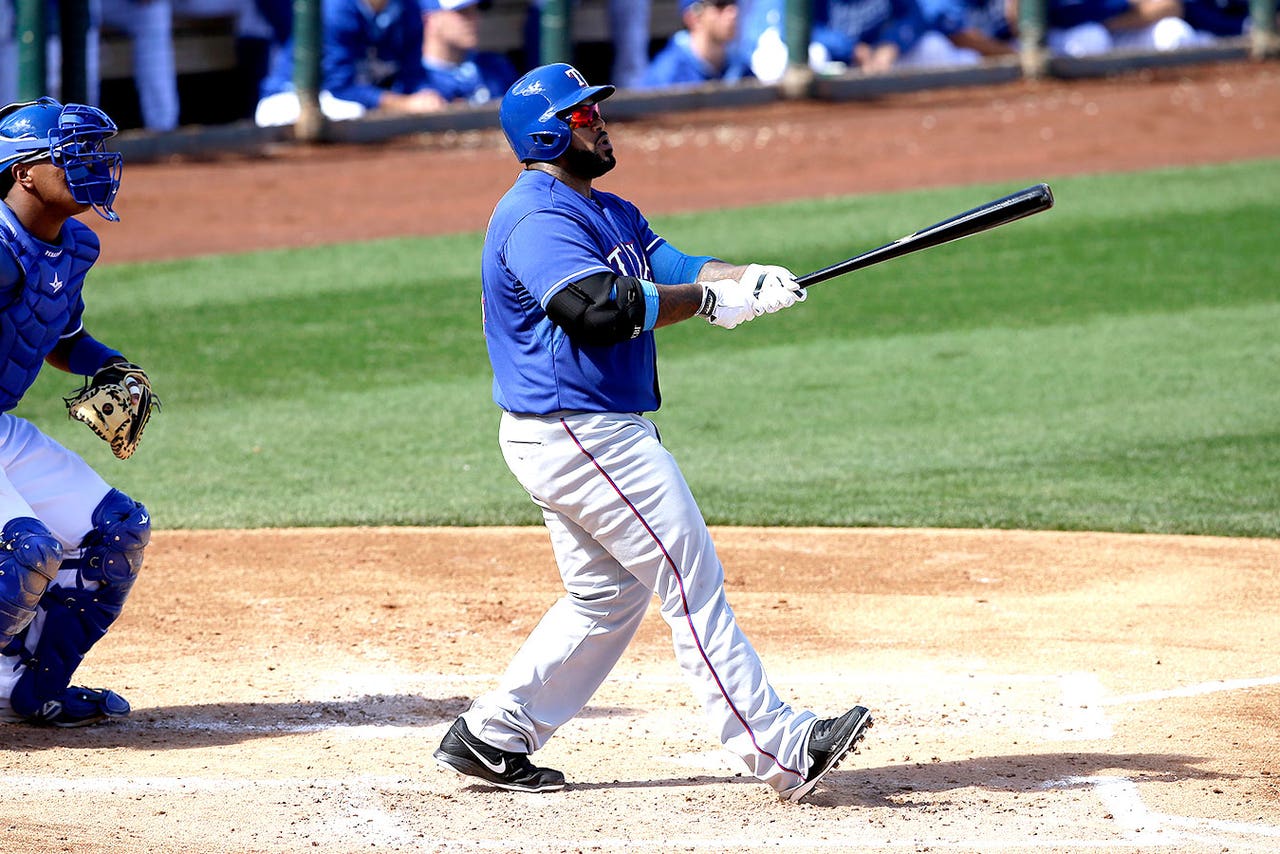 Richard Sherman intercepts passes. Ray Allen sinks 3-pointers. Sidney Crosby wins gold medals. Prince Fielder protects MVPs.
Among brand identities in sports, Fielder has a laudable one. He batted behind Ryan Braun in 2011, Miguel Cabrera in 2012, and Cabrera again last year. In each of those seasons, Fielder played every game, his team reached the playoffs, and the man hitting in front of him was named MVP.
Obviously, Fielder's production helped the Brewers and Tigers win games. But did his "protection" actually influence the way Braun and Cabrera performed? As is typical in baseball today, the answer depends on whom you ask.
This much is certain: Fielder has statistical and physical gravitas. He's averaged 35 home runs and 108 RBI over eight full seasons in the big leagues. He cuts an imposing figure in the left-handed batter's box at 5-feet-11, 275 pounds. Men who wear major-league uniforms – managers, coaches and players – will tell you that Fielder's presence in the on-deck circle had something to do with the success of Braun and Cabrera.
"No doubt," asserted J.P. Arencibia, the Texas Rangers catcher who played against Fielder in each of the last two years. "As a catcher calling a game, there's a lot of times where you say, 'Don't let this guy beat you.' That's the way it works. You're facing a team where there's no protection . . . Robinson Cano [of the Mariners] is a guy that, hey, we're going to pitch around him, bottom line."
Arencibia doesn't have to worry about Fielder this year. They're teammates, following the November blockbuster that sent Fielder to Texas and Ian Kinsler to Detroit. Elvis Andrus will bat ahead of Fielder, and Fielder will bat ahead of Beltre. So, Fielder will have protection of his own; Beltre has four seasons of 100 RBI or more.
"You've got to pick your poison," Arencibia said. "You've got Prince. If you want to put him on, all right, have fun with Beltre. As a catcher, that really puts your hands in a tough position. You're like, 'What do I do to get this guy out, because the next guy on deck is daunting as well?' Fortunately for us, he's on our side now."
Here's where the Rangers' rationale for acquiring Fielder intersects with the protection debate: Jon Daniels, the general manager who made the trade, cited a need for power and run production, paired with the middle infield depth that made Kinsler expendable. Daniels wasn't motivated by a desire for Andrus to see a higher number of hittable pitches – the oft-cited byproduct of Fielder-level protection.
Manager Ron Washington, who makes the in-game moves often influenced by on-deck hitters, has a different perspective. He talked about how Fielder and Beltre will "make each other better." He said the same would happen between new leadoff man Shin-Soo Choo and Andrus.
Of Andrus, Washington said, "He's going to get some fastballs, and I want him to be able to handle those fastballs. He's going to get pitched to, simply because they don't want to put him on the bag, because Elvis is dangerous if you put him on the bag. Hopefully having Prince behind him can elevate his production. I'm not going to say his 'game' because Elvis got game. But hopefully it'll elevate his production."
Andrus said he expects hitting ahead of Fielder will be the same as when Josh Hamilton batted behind him two years ago – when, not coincidentally, Andrus had the best offensive season of his career. "It's always fun when you have such a great hitter behind you," Andrus said. But sabermetric analysts likely would tell Andrus that he will be on his own in 2014, as he always has been.
Jeff Sullivan wrote a well-researched piece at FanGraphs.com in 2012, arguing that Fielder's impact on Cabrera's Triple Crown season was negligible and perhaps nonexistent. In "The Book: Playing the Percentages in Baseball," authors Tom M. Tango, Mitchel Lichtman and Andrew Dolphin wrote, "Protecting a star hitter appears to accomplish very little. He indeed gets fewer walks; however, there is no evidence that he gets more hittable pitches, since the pitcher always avoids pitching to a good hitter when the situation would call for an intentional walk."
This may shock you, but it's possible that both sides are right. Sabermetricians would point out that Cabrera's OPS+ actually declined from 179 to 164 in the first season he was paired with Fielder, while Braun's decreased only a little (166 to 158) after Fielder left. Cabrera posted the highest OPS+ of his career in 2013, when Fielder had an off year (by his standards).
Then again, remember the Barry Bonds-era San Francisco Giants? Jeff Kent and Rich Aurilia performed markedly better hitting behind or ahead of Bonds than during other seasons of their careers.
"Pretty tough to argue that the presence of Bonds didn't radically change the world for the guys hitting ahead and/or behind him in the lineup," observed Jerry Dipoto, the Angels general manager. Dipoto said he subscribes to the idea of lineup protection, adding, "I think many or most [major league] level acquisitions on a league-wide basis are made with lineup construction/balance/protection in mind."
Particularly in the late innings, it's apparent that managers make game-changing decisions based on the quality of on-deck hitters. That is the essence of lineup protection. The turning point of last year's World Series – Jonny Gomes' three-run homer in Game 4 – came after Cardinals manager Mike Matheny ordered an intentional walk of David Ortiz. (In that case, perhaps it would have been wise for Matheny to put less stock in the importance of lineup protection.)
If general managers take lineup protection into consideration when building their rosters, then it must be real, right? Emotionally, if not intellectually, we should be able to understand why: If a GM builds his team around a $20 million per year superstar, he wants some hope that – if the superstar's turn to bat comes up in the eighth or ninth inning with the score tied – the slugger will have the chance to hit, rather than take four pitches and head to first base.
"I think the goal of every GM in the game is to build the deepest lineup possible, with quality and balance," Marlins president of baseball operations Michael Hill said. "When you lack that quality and depth, you pay for it. No opposing manager is going to let your best player beat them if they don't respect the guy behind him." 
The greatest impact of lineup protection could be psychological – not for the managers, but the hitters themselves. "I think a lot of it is," Brewers general manager Doug Melvin said. "I know I've had players who have said, 'Who's hitting behind me? I need the protection.' But I've always thought if you get on base ahead of a hitter, that has more impact than the guy hitting behind. If there's a runner on first, (the pitcher) usually has to throw strikes. [Craig] Biggio had more of an effect on [Jeff] Bagwell than whoever hit behind Bagwell."
The 2014 Rangers – and the 2014 Tigers, for that matter – won't prove or disprove the existence of lineup protection. But the "Fielder Effect" on Andrus (and Cabrera) will be debated at length. Dave Dombrowski, the Tigers' president and general manager, said he remembers noticing an "appreciable difference" in the quality of pitches Cabrera saw beginning in 2011, when Victor Martinez arrived as his protection. Now Martinez is expected to bat behind Cabrera once again.
When the Rangers and Tigers play, there shouldn't be much doubt as to whether Washington will pitch to Cabrera in a big spot. During the 2011 American League Championship Series between the teams, Cabrera walked seven times in six games. The Rangers won the pennant. That winter, the Tigers signed Fielder.
---
---