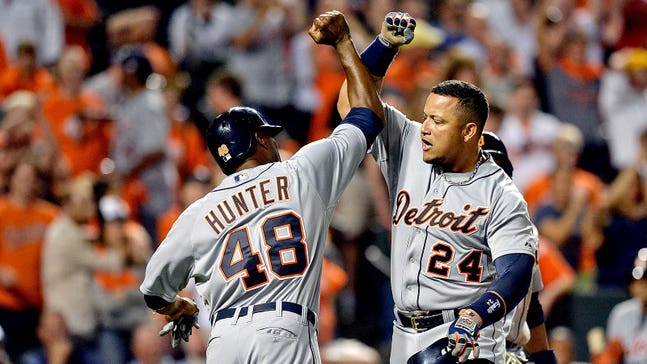 Miggy's 3-run homer in 9th caps Tigers rally vs. Orioles
Published
May. 13, 2014 10:26 p.m. EDT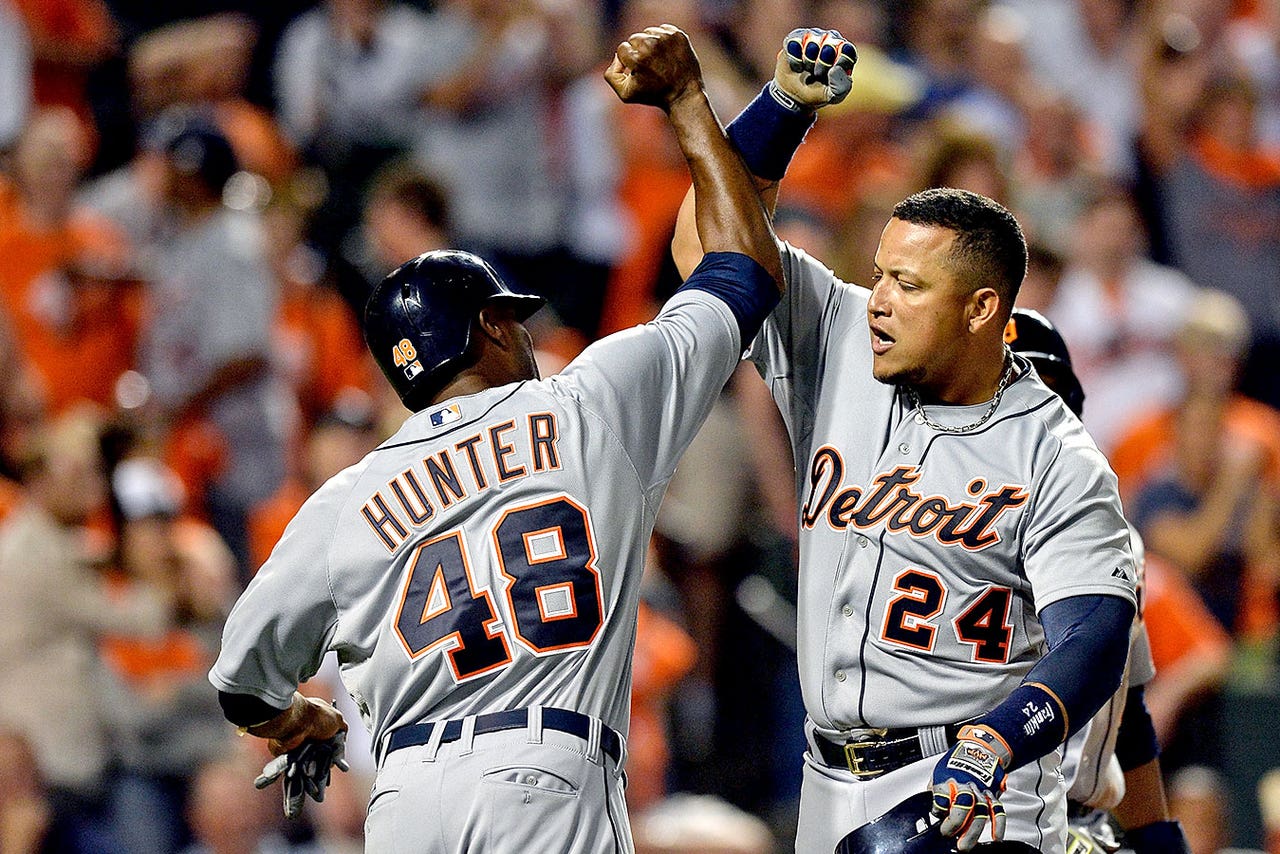 BALTIMORE — A reversed call got the uprising started. Then came a walk after the Detroit Tigers were down to their last strike.
That forced Tommy Hunter to go up against Miguel Cabrera, perhaps the last person a struggling closer wants to face with the outcome hanging in the balance.
Cabrera hit a hanging curveball over the center-field wall for a three-run homer, and the Tigers rallied past the Baltimore Orioles 4-1 on Tuesday night.
After being held scoreless on three hits over the first eight innings, the Tigers improved to 1-12 when trailing after eight innings.
''You never know in baseball,'' Detroit manager Brad Ausmus said. ''When the top of our order swings the bat, we can score some runs quickly.''
Hunter held a 1-0 lead before giving up a leadoff single to Alex Avila. Pinch-runner Rajai Davis was called out trying to steal, but Ausmus challenged the call and after looking at the replay, umpires called Davis safe at second.
''The instant replay was probably the turning point, I guess,'' Ausmus said.
Hunter (1-1) recorded back-to-back outs before working the count on Torii Hunter to 1-2. The at-bat ended in a walk.
''You can't let arguably one of the best hitters in the game come to the plate,'' Tommy Hunter said. ''You've got to throw a strike right there and I missed.''
Two pitches later, Cabrera connected.
''It's a chance that we win or we're going to lose,'' Cabrera said. ''You don't have to think too much of it. You've got to go out there and try and see what happens.''
Victor Martinez followed Cabrera's sixth home run with a shot to right that landed on Eutaw Street beyond the scoreboard in right field.
Justin Miller (1-1) pitched one inning to earn his first big league win and Joe Nathan got three outs for his ninth save. Nathan has seven saves and a 0.00 ERA in his last eight outings.
Adam Jones hit a first-inning homer for the Orioles, who have dropped three in a row following a five-game winning streak. Jones has five home runs, four in the last seven games.
Baltimore starter Ubaldo Jimenez gave up three hits, walked two and struck out seven in seven innings. After going 0-4 with a 6.59 ERA in April, the right-hander is 2-0 with a 0.46 ERA in May.
Jimenez, who signed a four-year, $50 million contract as a free agent in February, permitted only one runner past first base. All three hits against him were singles, and on each occasion the runner was erased trying to steal.
Darren O'Day worked a perfect eighth, but Hunter couldn't preserve the lead. He left the mound to jeers from fans who minutes earlier were standing in anticipation of the final out.
Hunter has 11 saves, but his job as closer could be in jeopardy.
''I'm not going to get in to handicapping, this means that and that means this,'' manager Buck Showalter said. ''We'll constantly see what gives us the best option to pitch nine innings, and be competitive and continue to be in first place. And that's what we'll do.''
Said Hunter: ''It's my job today. We'll see.''
Detroit starter Drew Smyly allowed five hits over six innings and matched a season high with seven strikeouts. In his previous three outings against the Orioles, all in relief, Smyly gave up two hits and struck out eight in eight shutout innings.
Detroit trailed 1-0 in the seventh when Hunter led off with a single and Cabrera walked. After Jimenez bounced a curveball, rookie catcher Caleb Joseph quickly found the handle on the loose ball and threw out Hunter trying to take third. Martinez bounced into a 4-6-3 double play.
Baltimore catchers were 4 for 29 in throwing out would-be stealers before Joseph went 3 for 4. The rookie also got his first major league hit, a fourth-inning single.
Notes
RHP Kevin Gausman will be recalled from Triple-A Norfolk to start Wednesday for the Orioles. The move was designed to give starters Wei-Yin Chen and Miguel Gonzalez an extra day of rest. Gonzalez will be available in the bullpen for Wednesday's game. Baltimore also announced it optioned RHP Preston Guilmet to Norfolk after the game. Guilmet made two scoreless appearances totaling 1 2/3 innings after being recalled before Monday's game. ... Ausmus said RHP Anibal Sanchez (finger laceration) will come off the DL to start Sunday against Boston. ... Detroit's Rick Porcello, who left Monday's game with a tightness in his side, remains on schedule for his next start Saturday. ... Showalter said starter Chris Tillman had some groin soreness after his start Sunday, but the right-hander appears to have recovered.
---
---