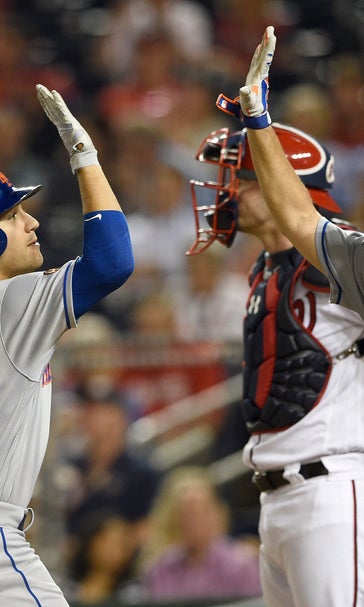 Lobaton's sacrifice fly lifts Mets past Nationals in 12
September 21, 2018
WASHINGTON (AP) — As Mickey Callaway's first season as manager of the New York Mets winds to an end, he's receiving more chances to see the club's young pitchers in key spots out of the bullpen.
He had to be pleased with how they fared late in a 5-4 victory over the Washington Nationals on Thursday night.
Jose Lobaton hit a go-ahead sacrifice fly against his former team in the 12th inning, while Jacob Rhame (1-2) worked two scoreless innings after entering the night with a 7.00 ERA.
"He threw the ball over the plate," Callaway said. "He threw the ball down when he needed to. He elevated when he needed to and he mixed in his off-speed pitches in quality locations. All these young guys did a great job tonight. They have great stuff, and when they can throw the ball over the plate and control the count, they're going to be successful."
Rhame wasn't the only Mets rookie to thrive Thursday. Left-hander Daniel Zamora outlasted Washington outfielder Bryce Harper, eventually cajoling a long flyout in the eighth inning to retire the only batter he faced. Tyler Bashlor pitched a perfect ninth to send the game to extra innings.
Lobaton, who spent the previous four years in Washington before signing with the Mets in December, lofted a one-out fly ball off Jefry Rodriguez (3-3) with the bases loaded to score Amed Rosario in the 12th. Paul Sewald earned his second save.
Harper was ejected in the 12th for arguing home plate umpire D.J. Reyburn's called third strike.
"He was walking away," Washington manager Dave Martinez said. "I don't know what he said. I haven't talked to him. But he was walking away. Should be done deal, whatever. When the umpire threw him out I was really surprised."
Washington starter Max Scherzer pitched seven innings, allowing three runs while striking out 13. He has 290 strikeouts this year, the most for a National since the franchise relocated from Montreal before the 2005 season. Scherzer set the previous mark of 284 in 2016.
However, he never held a lead Thursday. Michael Conforto smashed a two-run homer to left in the third, his 27th of the season. It was also his fourth home run in 23 career at-bats against Scherzer.
Four pitches later, Jay Bruce crushed his ninth home run of the season. It was the sixth time this season New York has hit back-to-back homers.
"It's frustrating because I thought I was sharp," Scherzer said. "I was also a little mechanically off just a touch. My fastball was running away from me. Every time I tried to go glove side with it early part of the game it was traveling to the other side of the plate. I got away with it a couple times. I think there in the third they made me pay for it when I didn't locate it the way I can."
Washington's Trea Turner led off the sixth with an infield single. Two batters later, Anthony Rendon golfed Jason Vargas' changeup to deep left for his 100th career home run to narrow the deficit to 3-2. Vargas allowed two runs and struck out eight over 5 2/3 innings.
Jeff McNeil led off the eighth with a triple and scored two batters later when Bruce punched a single to right past a drawn-in infield. But the Nationals responded with Rendon's run-scoring groundout and Juan Soto's RBI double off Robert Gsellman in the bottom half of the inning.
TRAINER'S ROOM
Mets: INF Wilmer Flores will miss the rest of the season after receiving injections in both knees to alleviate the pain of early onset arthritis. "It was probably a month and a half ago when I started feeling it," Flores said. "I was battling out there. I'm not going to make excuses because I was playing and giving my 100 percent. At this point, I'm not out there every day and the season is almost over. I felt like I needed to take care of this right away."
CALLAWAY TOSSED
Callaway was ejected in the 10th inning for arguing after Reyburn ruled McNeil had offered on a bunt attempt. "I thought it was kind of two in a row and it put our hitter in a huge situation down 0-2," Callaway said. "I lost it."
SOD STATE OF AFFAIRS
Washington 2B Adrian Sanchez and New York OF Dominic Smith both left divots in the outfield while making plays early in the game.
"Honestly, in 1986, when the Mets clinched, the only time I've ever seen the field with chunks missing like that was the next day when fans ripped everything out," Martinez said.
UP NEXT
Mets: RHP Jacob deGrom (8-9, 1.78 ERA), who is 5-1 with a 2.76 ERA lifetime at Nationals Park, gets the nod for New York as the four-game series continues.
Nationals: RHP Joe Ross (0-0, 3.60) makes his second start since undergoing Tommy John surgery last year.
---
---