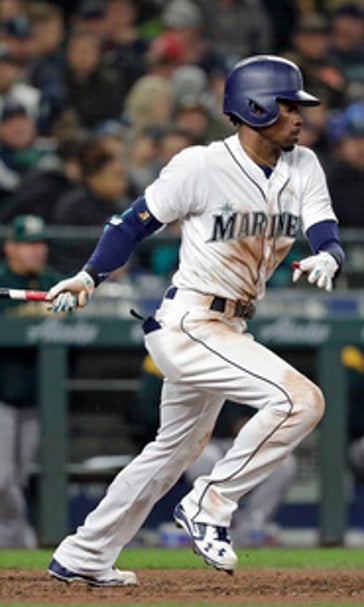 Homer happy Mariners hit 4 long balls in 10-8 win over A's
April 15, 2018
SEATTLE (AP) Daniel Vogelbach took advantage of a throwing error and scored from second base on an infield hit. He made a key scoop at first base to complete a needed double play and end an inning.
Important plays, yes. But they were secondary moments to a home run he won't soon forget.
''That's about as good as you can hit a ball. ... He's starting to heat up a little bit. The confidence is starting to come back,'' Seattle manager Scott Servais said.
Vogelbach the last of Seattle's four home runs, and the Mariners battered Oakland pitching for 17 hits in a 10-8 win over the Athletics on Saturday night.
Vogelbach's was the longest - an estimated 433-foot shot in the seventh inning that nearly reached the upper deck of right field - but was just the capper. Jean Segura hit a three-run homer off Oakland starter Kendall Graveman to stake Seattle to an early lead. Mitch Haniger and Kyle Seager added solo shots and the Mariners continued to show the potency of their lineup, scoring five or more runs for the seventh time in 12 games.
Vogelbach also doubled and scampered home standing up after Ichiro Suzuki's infield hit led to a throwing error and a chance for the lumbering first baseman to score from second.
''The vibe on this team, it's hard to describe,'' Vogelbach said. ''Everybody is in it together, big hits everybody gets excited. I think that's something you can't teach. I'm just happy to be here and contribute every day.''
Haniger had the decisive three-run blow in Friday's victory and followed up with an opposite-field solo shot in the fifth inning on Saturday. He also had a two-run single earlier after the A's had pulled even at 3-all.
Seager's home run was his third of the season and continued to counter what has been sluggish April's in the past from Seattle's third baseman. Seager has nine hits in his last 16 at-bats.
Seattle's Chasen Bradford (1-0) worked 1 2/3 scoreless innings of relief after starter Marco Gonzales was lifted in the fourth, including the key double play Vogelbach scooped to get out of the inning. Edwin Diaz pitched the ninth for his sixth save.
Oakland tried to rally late thanks to home runs from Mark Canha and Khris Davis in the seventh inning, and a solo shot from Stephen Piscotty in the eighth to pull within 10-8. But the homers couldn't make up for an ugly night from Oakland's pitchers, who allowed at least one hit to every batter in Seattle's starting lineup. Graveman was out after four innings and the A's bullpen wasn't much better.
''We're scoring some runs. Similar to last night, we just can't hold them down,'' Oakland manager Bob Melvin said. ''Hopefully our offense keeps swinging the bat the way it has been.''
CHALLENGE BACKFIRES
The top of the third inning appeared to end with Jonathan Lucroy scoring on Marcus Semien's double, and Semien then being tagged out at the plate for the final out trying to score after the ball escaped catcher David Freitas. But Seattle challenged and the call was changed to a ground-rule double after replay showed Semien's hit bouncing over the yellow line on the outfield wall.
The decision to challenge backfired. Canha followed with a two-run single and Jed Lowrie added an RBI single. Instead of being out of the inning up 3-1, the Mariners were in a 3-3 tie.
HIT STREAK
Lost in the home runs, Seattle's Dee Gordon extended his hitting streak to 12 games. It's the third-longest hitting streak to begin a season in club history. Dating back to last season, Gordon has a hit in 18 straight games.
TRAINER'S ROOM
Athletics: Oakland placed RHP Liam Hendriks on the 10-day DL with a right groin strain, but the club is uncertain the extent of the injury. Melvin said the team wasn't able to determine a time frame for recovery based off the initial examination.
Mariners: Catcher Mike Zunino is likely headed for a brief rehab assignment early next week. Zunino (oblique strain) is expected to catch a couple of games in the minors - either with Double-A Arkansas or Single-A Modesto - early next week before rejoining the Mariners.
UP NEXT
Athletics: Sean Manaea (1-2) has allowed two runs or less in each of his three starts but has gotten little run support. The A's have one combined run in his two losses this season.
Mariners: Felix Hernandez (2-1) makes his fourth start of the season. Hernandez allowed three runs in 5 2/3 innings in his last start against Kansas City.
---
More AP baseball: https://apnews.com/tag/MLBbaseball
---
---