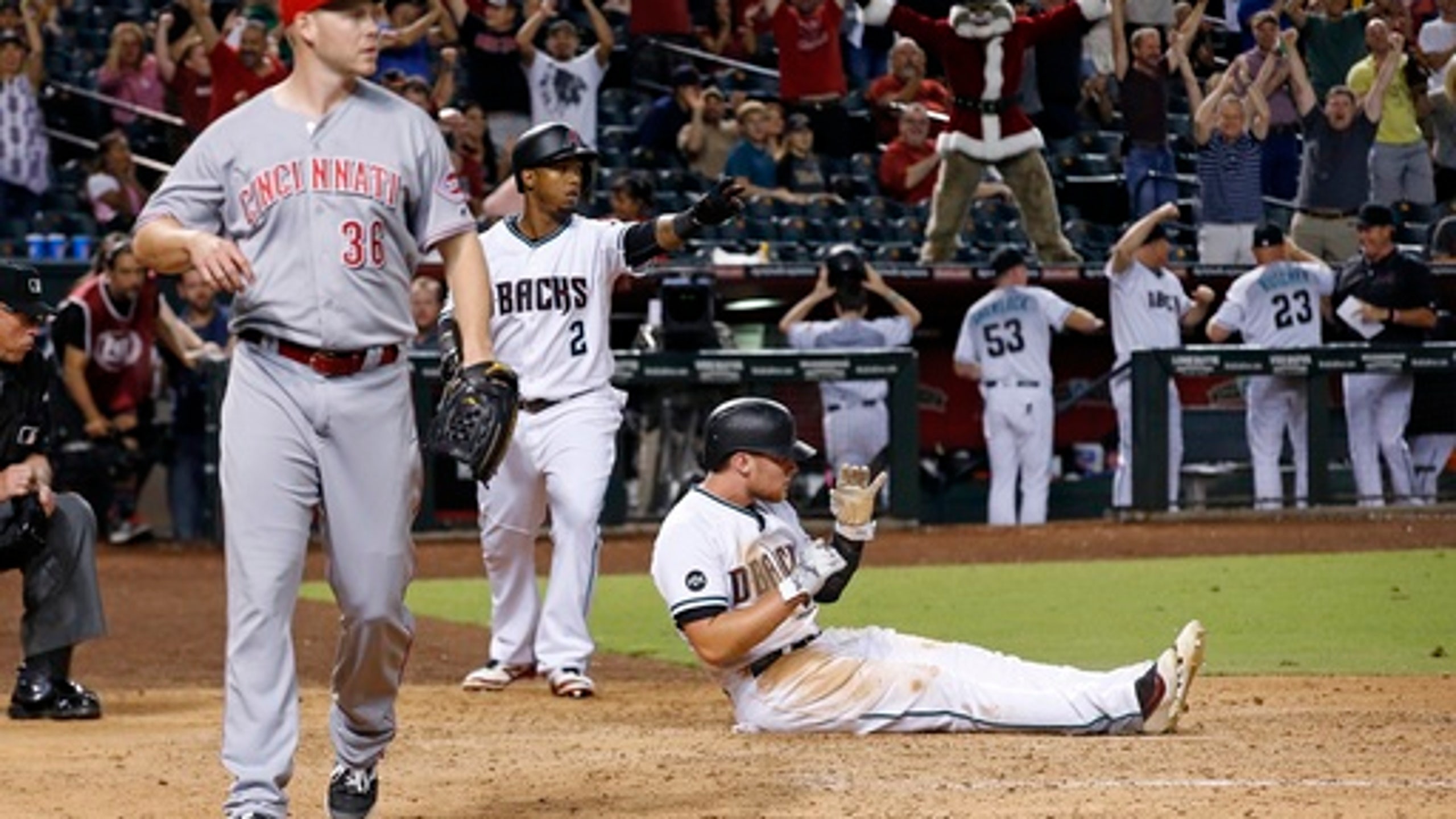 Diamondbacks beat Reds on 2-out wild pitch in 11th
BY foxsports • August 27, 2016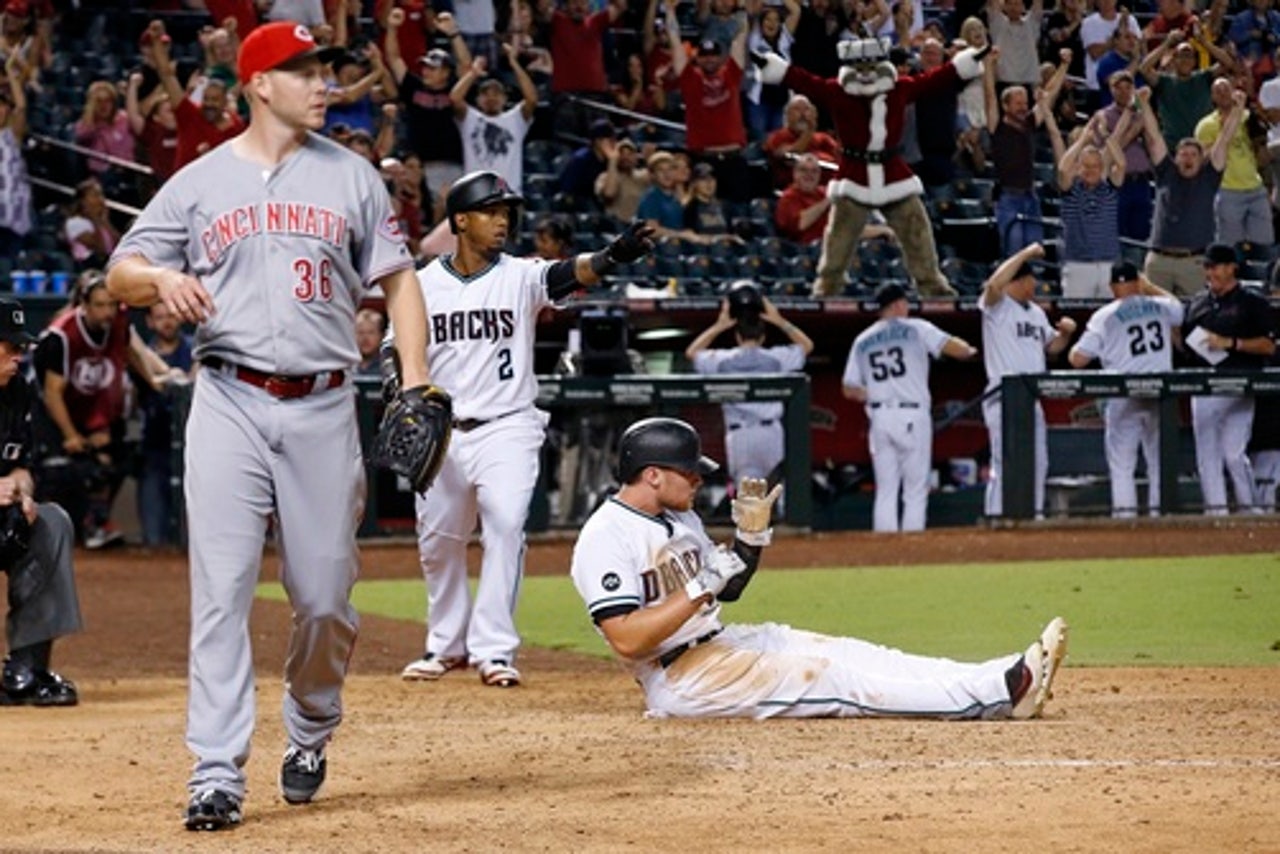 PHOENIX (AP) Without getting a hit, the Arizona Diamondbacks' Brandon Drury has delivered his team two 11th-inning wins in three nights.
Two nights after a game-winning sacrifice fly, the youngster scored the winner on a wild pitch with two outs in the 11th Friday night in the Diamondbacks' 4-3 win over the Cincinnati Reds.
After the Diamondbacks gave up a 2-1 lead in the ninth and then rallied to tie it in the 10th, Drury doubled with one out in the 11th off Blake Wood (5-3) and took third on a groundout. A walk brought up Jean Segura, and Wood's first pitch bounced in front of home plate and went all the way to the backstop.
Drury slid head-first across home plate for the win.
''You have to be ready for a ball in the dirt and any time it goes to the backstop, you've got to score on that play,'' Drury said. ''Anytime you pick your teammates up and help the team to win, that's a really good feeling all the way around.''
Wood explained his errant toss.
''Trying to throw a fastball down in the zone and threw it a little too far down. That was it,'' he said.
Edwin Escobar (1-2) earned his first career major-league win with a scoreless inning. But the Diamondbacks blew a chance to win before extra innings and trailed in the 10th.
A.J. Pollock, playing his first game in the majors this season after breaking his elbow in spring training, drove in the tying run for Arizona in the bottom of the 10th.
The Diamondbacks were down 3-2 when pinch-hitter Phil Gosselin drew a leadoff walk, took second on a wild pitch and went to third on a balk by Raisel Iglesias. Pollock hit a grounder and Gosselin beat the throw home.
Ramon Cabrera's sacrifice fly in the top of the 10th drove in Scott Schebler, putting the Reds ahead 3-2.
The Reds had runners on second and third base with one out after reliever Enrique Burgos balked. Cabrera hit a shallow fly ball to right field and Yasmany Tomas caught it and threw to third base for a double play, but Schebler crossed the plate in time.
Cincinnati tied it at 2 in the ninth. Daniel Hudson got the first two outs, but singles by pinch-hitter Ivan DeJesus Jr., Billy Hamilton and Jose Peraza brought home a run.
''It slipped away from us. It was a game that was there for us to win,'' Reds manager Bryan Price said. ''We were able to take the lead and then some things kind of fell sideways on us there.''
Reds starter Brandon Finnegan struck out a career- high 12. He allowed only two runs on three hits and two walks over six innings.
Rickie Weeks Jr. homered and tripled for Arizona.
Braden Shipley overcame some control issues and pitched four-hit ball for seven innings, giving up a run with four walks and a strikeout.
''Exciting finish, we will take it anyway we can get it,'' Diamondbacks manager Chip Hale said. ''
A.J.'S DAY
Pollock started in center field, batted second and struck out swinging at an offspeed pitch in his first at-bat, soon after getting a nice ovation from fans at Chase Field as he walked up to the plate.
Pollock struck out twice on an 0-for-5 night, but he made a running catch.
''I felt good out there. Physically it is not an issue anymore,'' Pollock said of his elbow. ''It's good to be out there with the team and to get the win, it's huge. It's like opening day for me. You have to get all of the first stuff out of the way.''
TRAINER'S ROOM
Reds: C Tucker Barnhart was scratched from the original lineup with a sore right hand and replaced by Cabrera.
Diamondbacks: OF David Peralta was transferred to the 60-day disabled list with a right wrist injury.
UP NEXT
Reds: RHP Anthony DeSclafani (7-2) will make his third career appearance against the Diamondbacks, the second at Chase Field.
Diamondbacks: RHP Zack Godley (4-2) has wins in each of his two career appearances against the Reds, though he's logged a 5.79 ERA from those games.
---
---