Correa's rise helps Astros improve, make them eager for more
Published
Mar. 13, 2016 10:43 a.m. ET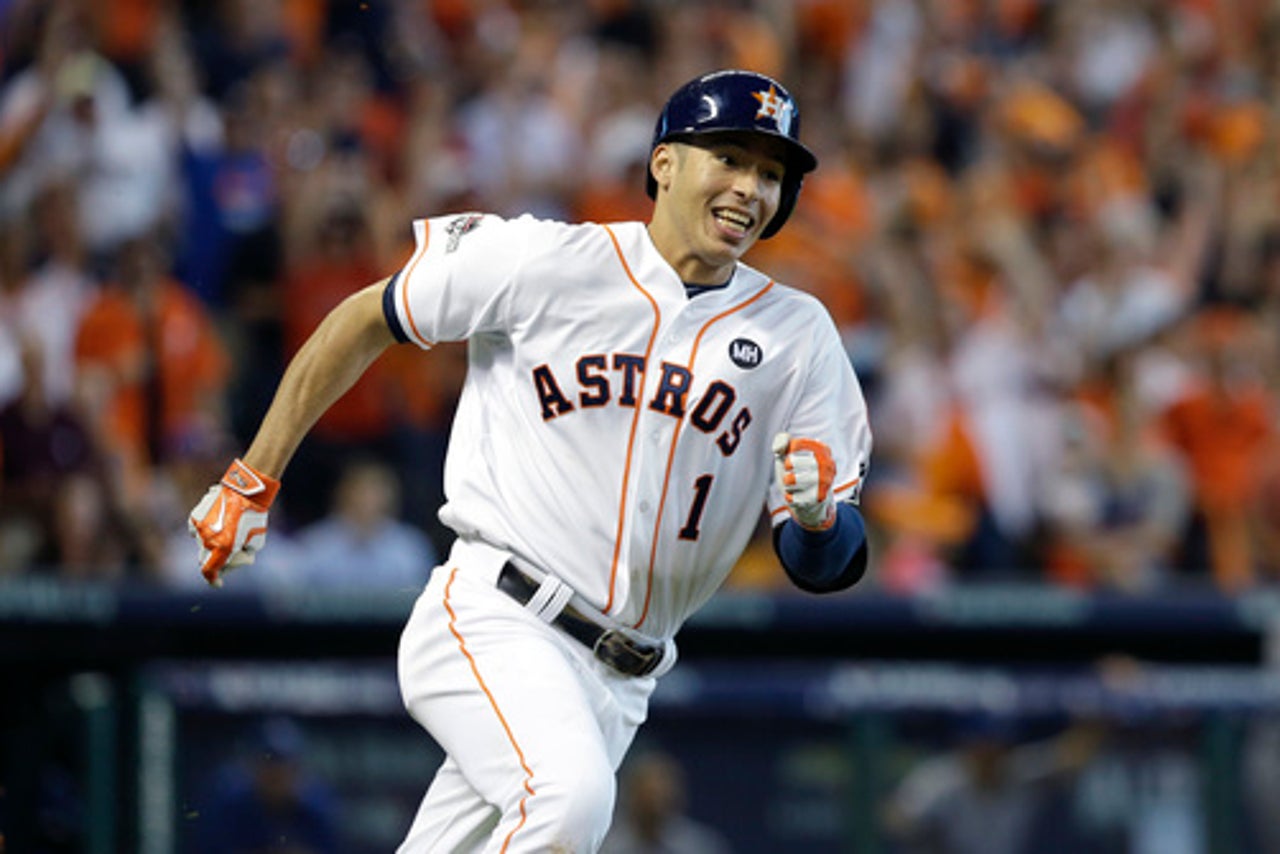 KISSIMMEE, Fla. (AP) Carlos Correa doesn't want to hear a word about how many shoes he has.
Last year's AL Rookie of Year has a closet filled with hundreds of pairs and is constantly adding to the collection. Why? Because the shoes symbolize just how far Houston's shortstop has come since his childhood in Puerto Rico, where he recalls having only one pair for more than two years.
''I'm like, `Dude just shut up because you don't know where I come from,''' he said. ''I come from having the same pair of shoes for years and now that I can have a lot of shoes, don't talk (expletive), don't do it, because you don't know anything about my past ... I truly came from nothing.''
Although Correa's parents, teenagers when he was born, didn't have much money, they did everything possible to foster his childhood dream of playing in the majors. When he was in elementary school and wanted to learn English, they enrolled him in a bilingual school.
But because his parents don't speak English, that wasn't enough for him, so he took extra classes three days a week. Those classes and baseball workouts on top of his regular school day often stretched his days to 10 or 12 hours. It was more than worth it to Correa, who even then had a vision for how he wanted to be seen when he reached the majors.
''I took it very seriously,'' he said. ''I wanted to learn English really bad. I wanted to speak both languages and I wanted to be able to speak for myself in America.''
He now implores other up-and-coming Spanish-speaking players to work on their English.
''It's not only about playing in the big leagues, there is much more to it,'' Correa said. ''People can make more money the first couple of years outside the field, but you need to learn English in order to do that in the States. So I want to be able to translate that to them so they can see that it's worth paying the sacrifice of learning a new language.''
Correa, whom the Astros selected with the top overall pick when he was just 17, is a perfect example of that. The charismatic 21-year-old is already becoming a marketing and media darling and starting to pile up endorsements.
He recently shot a commercial for a fishing company and has a trading card deal and an agreement with a car dealership. But the biggest deal - and the one that makes the man who once had only one pair of shoes smile the broadest - is his new contract with Adidas. They're currently designing his cleats and eventually will release a turf shoe with his name on it.
The always-dapper dresser isn't only a shoe aficionado. Correa is also a fan of fedoras, amassing a collection of more than 30 of the distinctive hats. He plans to have a hat company one day so he can design fedoras exactly the way he likes.
Though he's often playful and enjoys joking around, Correa has a sense of humanitarianism and poise that belie his age both on and off the field.
That could come from molding his life after fellow Puerto Rican Roberto Clemente's, the Hall of Famer who is remembered as much for his charitable efforts as his play.
''I want to be able to help people ... I want to be like Roberto Clemente,'' Correa said. ''Not only be good inside the field but also off of it. That's why I look up to that guy and that's why he's my idol.''
Correa, who will have a part in an upcoming movie about Clemente, thinks the league should do more to honor Clemente's legacy. He would like to see MLB have every player wear the No. 21 on Roberto Clemente Day each year like Jackie Robinson's No. 42 is worn on his day.
''The influence that Jackie Robinson had for African-American players, Roberto Clemente had the same influence for Latin American players,'' he said. ''So I feel like he broke the barriers and he paved the way for us to be here right now. The Dominicans, the Puerto Ricans, the Mexicans, everybody. So I feel like that should be appreciated and his number should be on everybody's back one day.''
Correa's success last season helped the Astros reach the postseason for the first time since 2005. He set a franchise record for home runs by a rookie with 22 despite spending the first third of the season in the minors. He hit .279 with 68 RBIs, 45 extra-base hits and 22 doubles to give the Astros their first rookie of the year since Jeff Bagwell won the NL award in 1991.
Correa has been compared to Alex Rodriguez since he was drafted, and now that he's had success in the majors, the expectations for his rise to continue are even higher. The Astros are eager to see what he can do in a full season in the majors but don't like to compare him to others when his career is just beginning.
''He's got the ingredients to make an enormous impact,'' manager A.J. Hinch said. ''It's always hard to slot these guys this early into historical names. But he certainly has the makings of a very special player. As a manager I'm responsible to try to continue to push him to get better, but the ingredients are all there for the Astros fans and for his teammates to be around something very unique.''
---
---