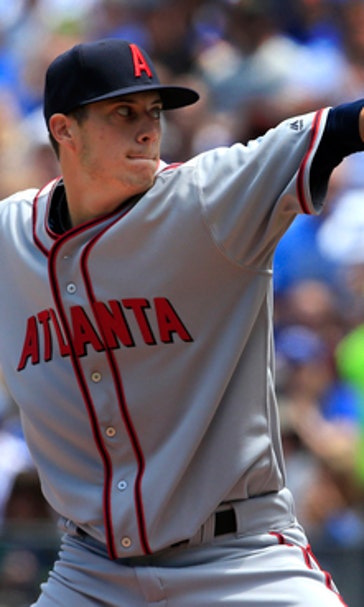 Braves keep losing close games, falling in 13 innings at KC
May 15, 2016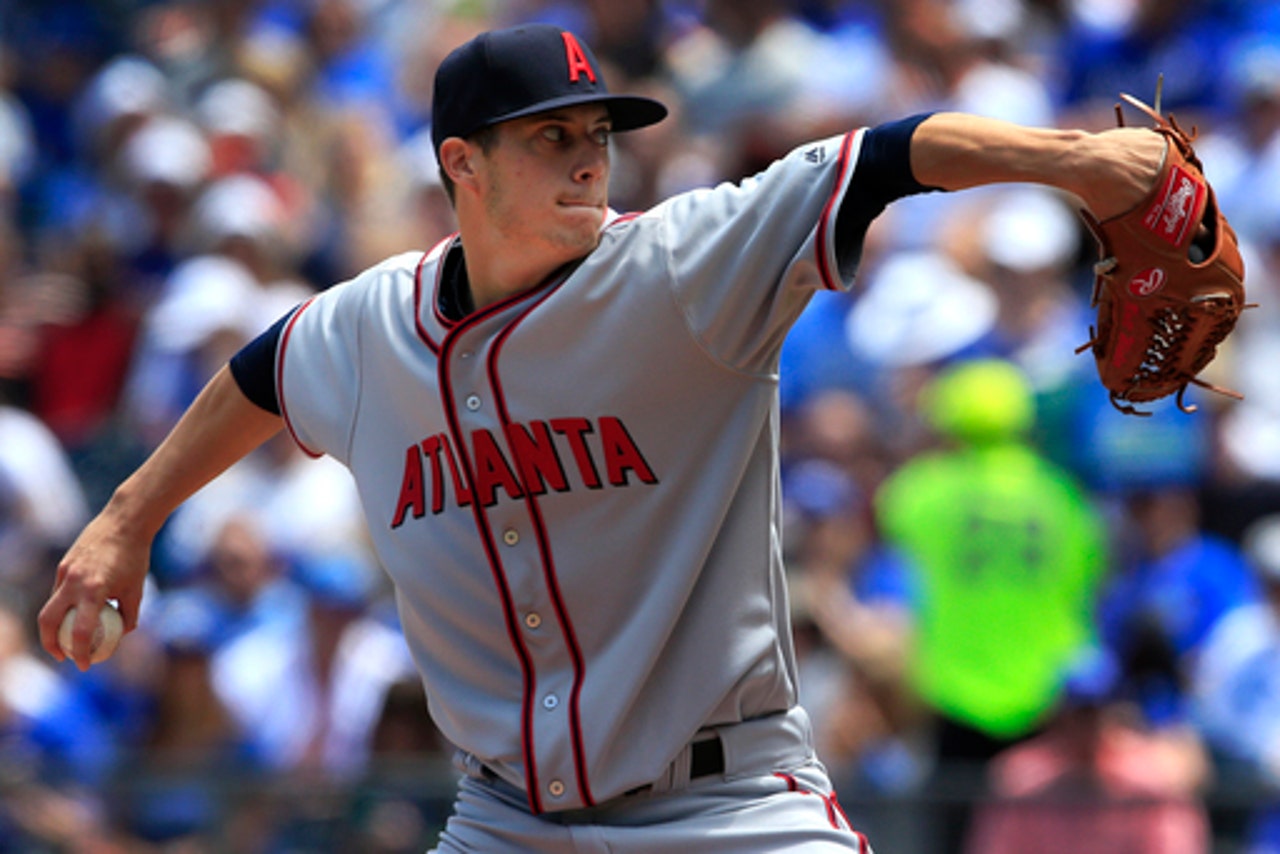 KANSAS CITY, Mo. (AP) The Atlanta Braves can play them close, but still can't win.
Kendrys Morales hit a game-ending, two-run homer with two out in the 13th inning and the Kansas City Royals overcame a rare blown save by Wade Davis to beat the Braves 4-2 Sunday.
The Braves are 0-6 in extra-inning games, 0-5 in one-run decisions and 0-5 in two-run games.
''We've played well, other than this inning where they walked us off,'' Braves manager Fredi Gonzalez said. ''We pitched well, we hit, we battled. We did a lot of good stuff and it's just a shame you walk out of here feeling pretty darn good, but your record, you lost two out of three.''
The Royals took two of three from the last-place Braves after losing their five previous series. The Braves lost for the 18th time in 23 games and have won only one series this season. Their 9-27 record is the worst in the majors, the only team without at least 10 victories.
The Braves wasted a solid start from right-hander Matt Wisler, who limited the Royals to two runs and eight hits over 7 1/3 innings, while striking out seven and walking none.
''I feel like I'm attacking hitters, staying aggressive,'' Wisler said. ''I fell behind on some guys today but I came back to get those guys. That's the main thing, attack hitters, make them put the ball in play. We have a good defense behind me so attack them, put it in play and see if the defense can make a play for me.''
The Braves rallied to tie it with two runs in the ninth off Davis, who blew his first save since July 12 against Toronto, and was 8 for 8 in save situations this year.
Mallex Smith and Erick Aybar had run-producing singles off Davis. Ender Inciarte led off the inning with a single and then Davis walked Chase d'Arnaud.
''We could have cashed in in the ninth today, but they came back and battled,'' Wisler said. ''Took me off the hook for it. We're not going to quit and hopefully we can start turning these into Ws.''
Alcides Escobar, who had four hits to match his career high, singled before Morales' blast off right-hander Jason Grilli, who was brought in to induce the switch-hitting Morales to bat lefty. Morales was batting .143 with 21 strikeouts in 105 at-bats against righties, but came through with his fifth home run on a full-count pitch.
The Royals used nine pitchers, tying a club record for one game, with Chien-Ming Wang (2-0) picking up the victory. Left-hander Eric O'Flaherty (0-3), the sixth of seven Braves pitchers, took the loss.
Royals rookie left-hander Scott Alexander allowed one single and struck out four in three scoreless innings after Davis' inning.
Hosmer, who had doubled, was thrown out at the plate to end the Royals' sixth when he attempted to score on Salvador Perez's single to left.
Left-hander Danny Duffy, who replaced the injured Kris Medlen in the rotation and was making his first start, threw three innings, allowing one hit, struck out five and walked two before reaching his pitch limit. Duffy, who made 24 starts last season, began the season with 16 relief appearances.
DIFFERENT LINEUP
Royals LF Alex Gordon hit second for the first time. He batted fifth 11 times and sixth 25 times in the first 36 games. Dyson made his second start in center as Lorenzo Cain, who had a nine-game hitting streak, got the day off.
GOOD STARTS
The Braves' rotation has a 2.85 ERA in the past 14 games, allowing 28 earned runs in 88 1/3 innings. Wisler became the first Braves to log at least seven innings in three straight starts since he ended the 2015 season with three such starts.
TRAINER'S ROOM
Royals: 3B Mike Moustakas (fractured left thumb) took flip swings in the indoor cage, his first step beyond dry swings since going on the disabled list May 5.
UP NEXT
Royals: Conclude this six-game homestand with three games against the Red Sox. RHP Yordano Ventura (3-2, 4.62) and Red Sox RHP Rick Porcello (6-3, 3.11) are the Monday probables.
Braves: RHP Williams Perez (1-0, 3.54) will start Monday as the Braves open a four-game series at Pittsburgh. LHP Jonathon Niese (3-2, 5.63) will be the Pirates' starter.
---
---