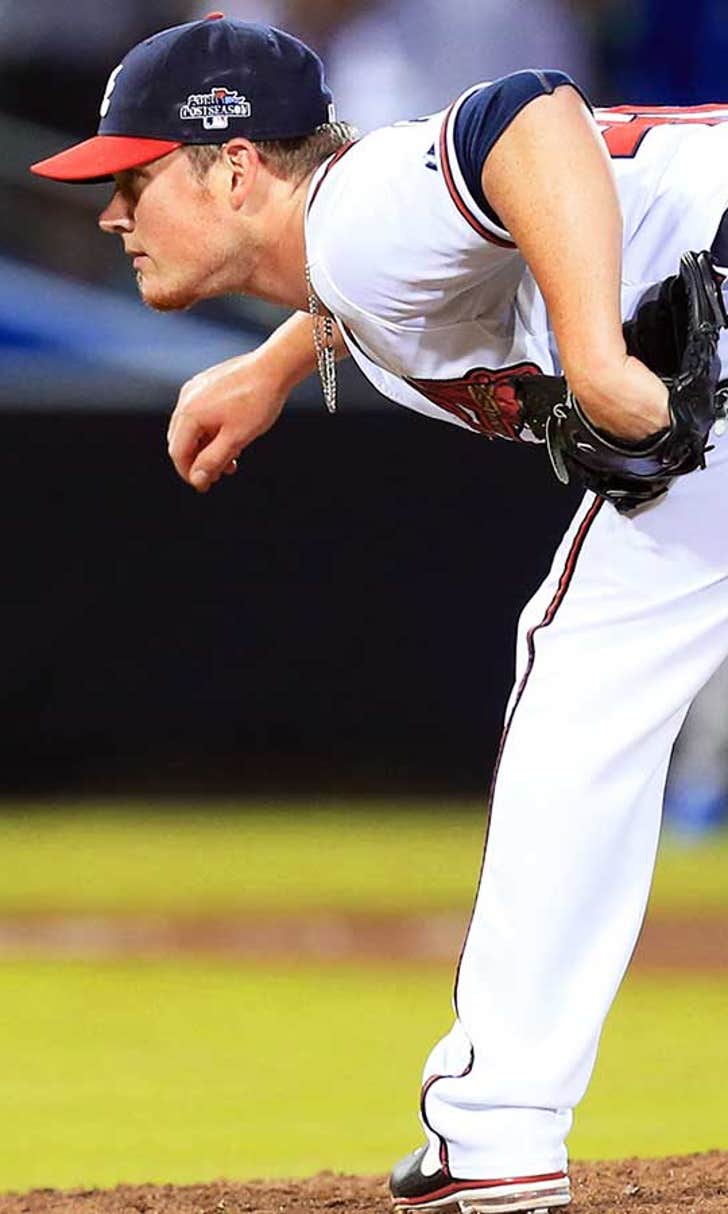 Braves about to find out whether rewarding young talent pays off
BY Ken Rosenthal • February 24, 2014
ORLANDO - Call them the Atlanta Young Millionaires Club. All seem like great kids. All deserve their new deals. But one of the risks is that the money will spoil, distract or otherwise affect them.
"I'm not going to let it happen," said Braves center fielder B.J. Upton, who knows something about the pressure that money creates after signing a five-year, $75.25 million free-agent contract on Nov. 29, 2012.
Upton, 29, recalled a conversation he had last season with Dodgers first baseman Adrian Gonzalez, 31 -- a season in which Upton would bat .184 with a .557 OPS in the first year of his new deal.
"Look," Gonzalez said. "They paid you to be yourself. That's it. Don't go out and try to be somebody else."
Sound advice, but as Upton can attest, not always easy to follow.
It's mind-blowing that the Braves awarded five contracts worth $280.7 million over a span of just 17 days. It's even more mind-blowing when you consider that all five deals went to players 25 or under.
Closer Craig Kimbrel is 25. First baseman Freddie Freeman, shortstop Andrelton Simmons and right fielder Jason Heyward are 24. Right-hander Julio Teheran is 23.
Right now, the Braves look smart for buying out a total of 10 free-agent years, and 12 if they exercise club options on Kimbrel and Teheran. But for all of the sport's advances in analytics, no projection system accounts for human emotion.
Players are not robots. Things happen off the field that can affect performance. Just last season, Prince Fielder filed for divorce and produced his lowest OPS over a full season (he and his wife, Chanel, seemingly have reconciled; she attended his introductory news conference with the Rangers in November.)
To the average fan, lifetime financial security hardly seems like a burden. Indeed, Upton said his younger teammates should experience "relief" after signing their new contracts. But some might feel added stress, too.
Braves general manager Frank Wren said the team weighed the potential ramifications on each player but noted that because all five are homegrown, club officials are quite familiar with their characters.
"That's part of hopefully knowing your guys better than you do free agents on the outside," Wren said. "You kind of know what they're made of, know how they approach the game, know how had they work. That's where you get your comfort level in going to these lengths of contracts."
As Wren said, it's different with free agents. Upton, who spent his entire career with the Rays before joining the Braves, signed his big deal when he was 28. And yes, he said, it messed with his head.
"Oh yeah. 100 percent," Upton said. "Obviously, as soon as you get that amount of years and the money on top of it, there's an expectation level from people on the outside.
"Internally, they don't expect you to do anything more. But from the media standpoint, from the fan standpoint, you actually think, now you have to. No. They paid you for who you are and what you've done. They're not asking you to do more."
"I think between what me and Dan (Uggla) went through last year, we won't let those guys get caught up in that."
Uggla, the Braves' second baseman, is entering the fourth year of a five-year, $62 million extension. He signed his deal after arriving in a trade from the Marlins entering his age 31 season. In three years with the Braves, he has not been nearly the hitter he was in Miami, but Uggla does not use his contract as an excuse.
"I'm not trying to live up to my contract," he said. "I'm battling in a different way."
Upton's younger brother, Justin, who agreed to a six-year, $51.25 million extension with the Diamondbacks at age 22, said a range of reactions is possible for the Braves' young stars.
"It can go either way. It depends upon the person," Justin Upton said. "Some people put more pressure on themselves. Some people take it as comfort and get better.
"Observing the guys here, how we play the game, I think it will be good for everybody to not worry about playing to keep their job. You're here. They want you here. Just settle in and play the game the way we did last year and continue to get better."
Still, there is something else to consider: the effect on Heyward, whose new deal runs only through his remaining two arbitration years. Freeman signed for eight years, Simmons seven, Teheran six and Kimbrel four.
The Braves can argue that Heyward's value is not fully established; he appeared in only 104 games last season due to an appendectomy and fractured right jaw. Heyward, though, could counter that he is not all that different from Freeman.
Both have made one All-Star team. Both have finished second in a Rookie of the Year vote. Freeman's career OPS-plus of 123 is better than Heyward's 115, and Freeman finished fifth in last year's MVP voting. But Heyward won a Gold Glove the year before.
Heyward's opinion?
"It doesn't matter," he said in a matter-of-fact tone. "It's never going to be worth voicing how I feel about it, regardless of whether I got a 10-year deal or whatever. I go about it the same way. I'm happy for my teammates. They're good people. I fight for 'em, fight with 'em, throughout a season."
Of course, if Heyward plays well, his day will come, whether it's with the Braves or some other club.
"I'm not even concerned with it. That's going to take its course," he said. "It's all up to what the team wants to do. It's nothing I can control. All I can do is show up, have fun, play the game, try and go out there and win."
The same is true for every member of the Atlanta Young Millionaires Club -- and chances are, all five will perform at increasingly high levels as they enter their prime years.
Wealthier or not, they just have to be themselves. 
---
---