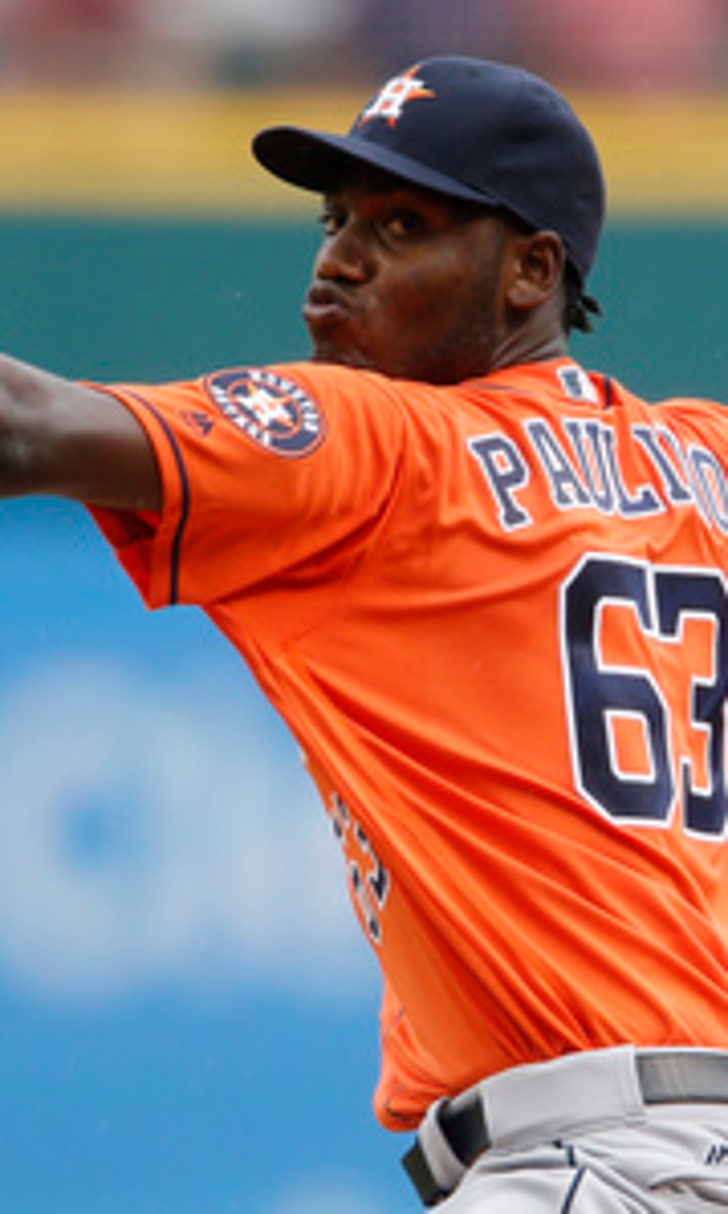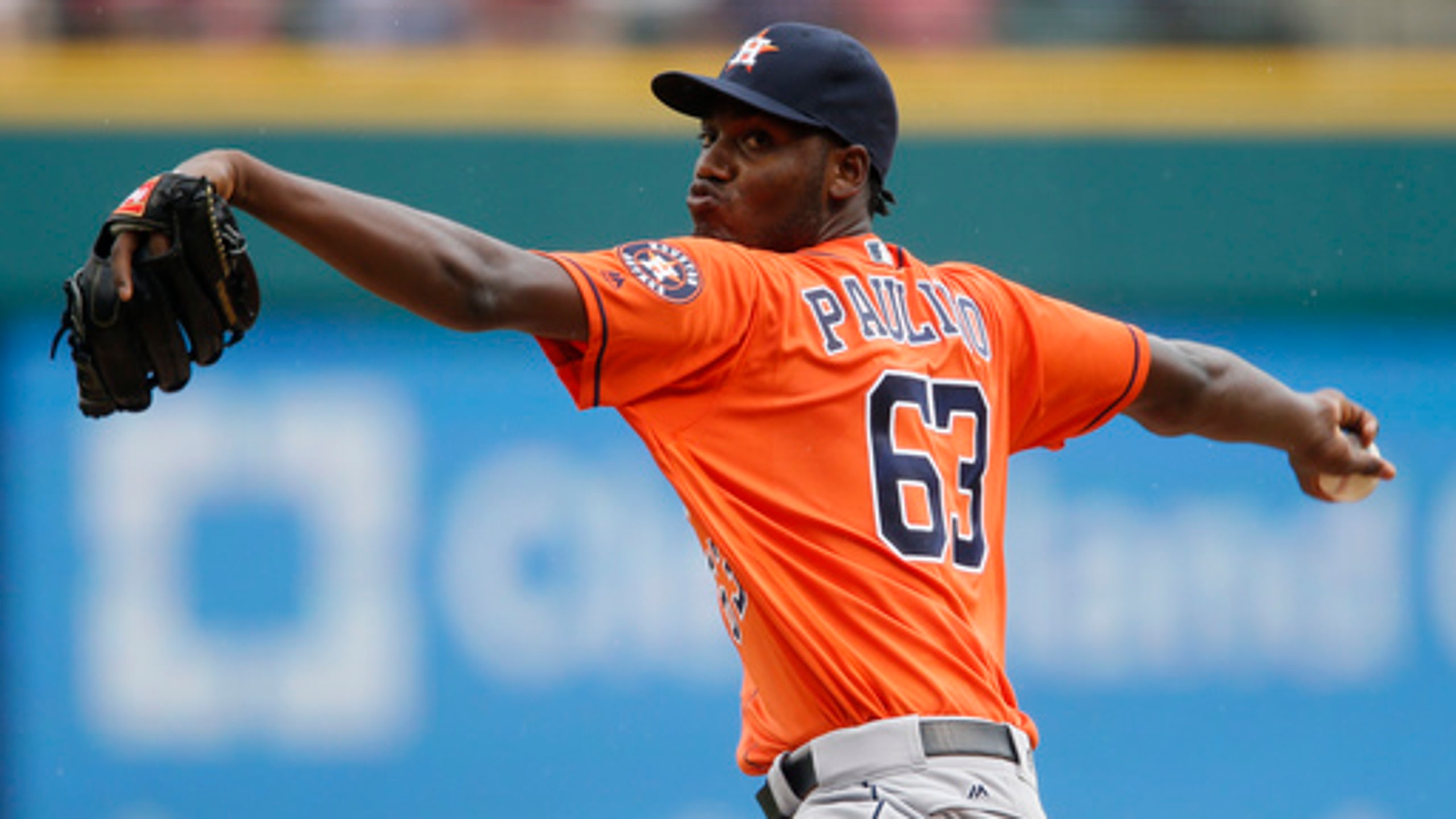 Astros' Paulino loses major league debut 10-7 to Indians
BY foxsports • September 8, 2016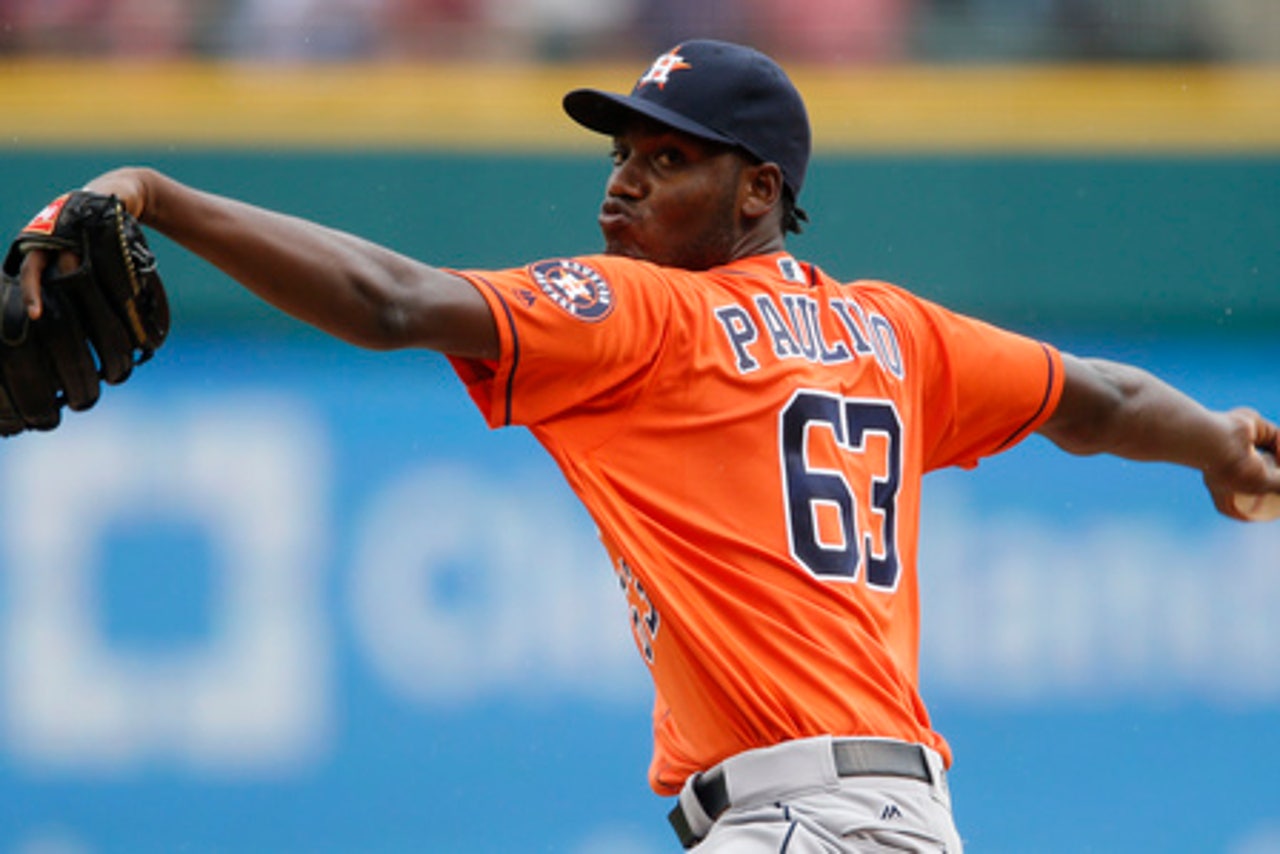 CLEVELAND (AP) David Paulino's major league debut was brief, yet quite eventful.
The right-hander pitched three innings, allowed four runs and threw two wild pitches Thursday as the Cleveland Indians outslugged Houston 10-7. The Astros dropped 2 1/2 games behind Baltimore for the final American League wild-card spot.
Paulino (0-1), who was promoted from Triple-A Fresno two days earlier, allowed four hits, two walks and hit a batter. He failed to strike out any of the 15 batters he faced.
''I felt really good, thank God, and honestly didn't feel any pressure going out there in the first,'' the 6-foot-7 Paulino said through an interpreter. ''I got a little tired in the long (third) inning, but that was about all.''
Rookie Alex Bregman tied his career high with three RBIs, while Colby Rasmus and rookie Yuli Gurriel homered for the second straight game for the Astros, who went 3-4 on their road trip.
Gurriel hit his first home run Wednesday in his 14th big league game, but Houston lost the final two contests of its four-game series against AL Central leader Cleveland.
''Coming into this series, you would happily take a split against the Indians,'' Houston manager A.J. Hinch said. ''But with the way it happened - losing the last two the way we did - you're going to be a mess, psychologically, about it.''
The Indians scored four times off Paulino in the third, taking the lead for good at 4-1. Two runs came around on a controversial bases-loaded wild pitch by Paulino, which led to Hinch's ejection by crew chief Jim Joyce.
Lonnie Chisenhall swung at a pitch in the dirt, which bounced away from catcher Jason Castro. Replays showed that Chisenhall fouled off the ball, but Joyce permitted both runs to count as the play was not reviewable.
''Common sense loses again, so all you can do is wear it,'' Hinch said. ''The umpires are trying their best and they're good umpires, but it's extremely disappointing to walk away like that.''
Paulino because the eighth consecutive Astros starter to fail to complete six innings. It was his first appearance since throwing five innings for Fresno on Sept. 1.
Brady Rodgers followed and gave up five runs in one inning as Cleveland eventually went up 10-3. Houston made 17 pitching changes and allowed 25 runs in the series.
''It was a big ask for us to expect Paulino to go long,'' Hinch said. ''I thought he started loosening up and his (velocity) had a little bit of an uptick after the first, but the third just took forever, which is why we went to the bullpen at that point.''
Indians right-hander Trevor Bauer (11-6) allowed five runs in five innings. Cody Allen tossed a perfect ninth for his 26th save.
The game was delayed by rain for 55 minutes in the middle of the sixth.
ROAD WARRIOR
Astros 2B Jose Altuve, who went 0 for 4, leads the majors with a .387 average on the road. The last player to post a higher mark in away games was Seattle's Ichiro Suzuki, who batted .405 in 2004.
TRAINER'S ROOM
Astros: SS Carlos Correa (left shoulder inflammation) returned to Houston for additional medical tests Wednesday. Hinch said he was optimistic the 2015 AL Rookie of the Year will return to action this weekend.
UP NEXT
Astros: RHP Joe Musgrove opens a three-game home series against the Cubs. Houston has averaged 3.0 runs scored during his six starts.
Indians: RHP Danny Salazar takes the hill to begin a three-game series at Minnesota. He is 6-4 with a 3.38 ERA in 12 road starts this year.
---
---