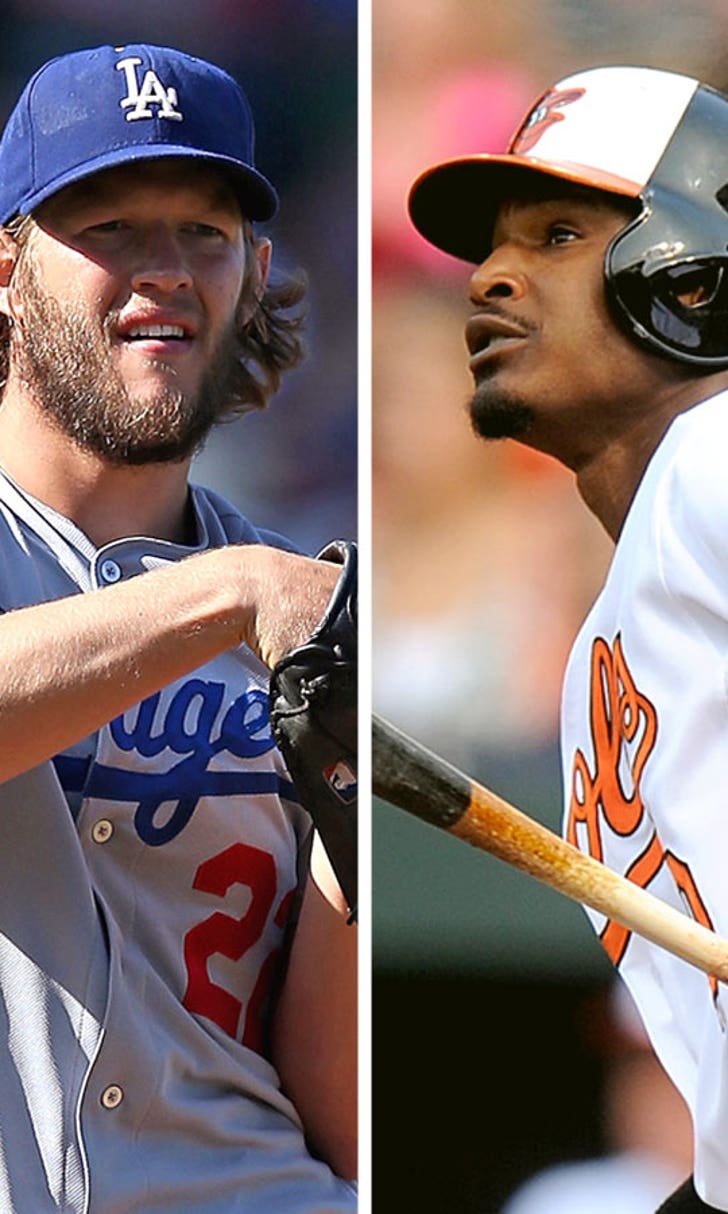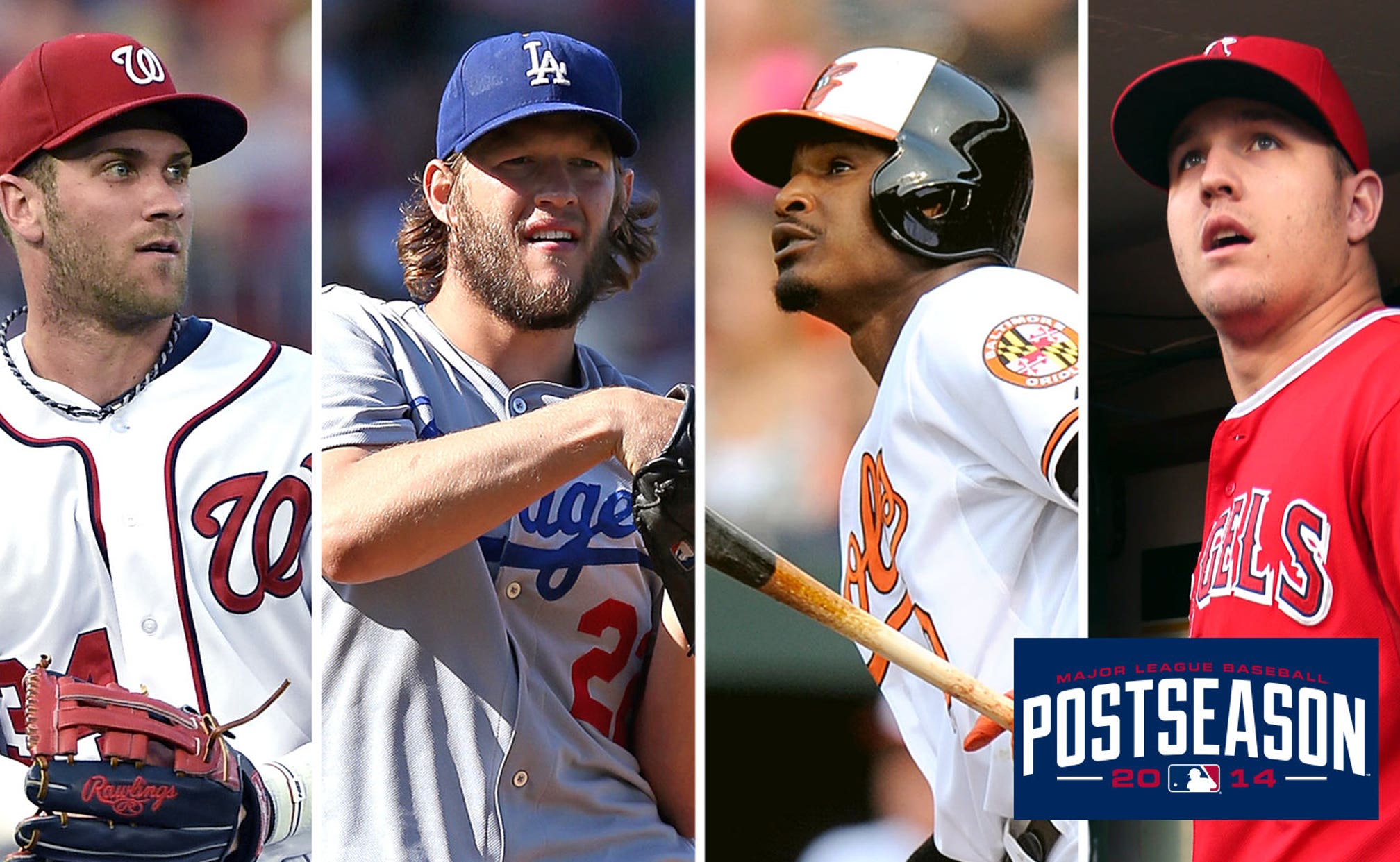 2014 playoffs: Why they will win it all ... or why they won't
BY foxsports • September 29, 2014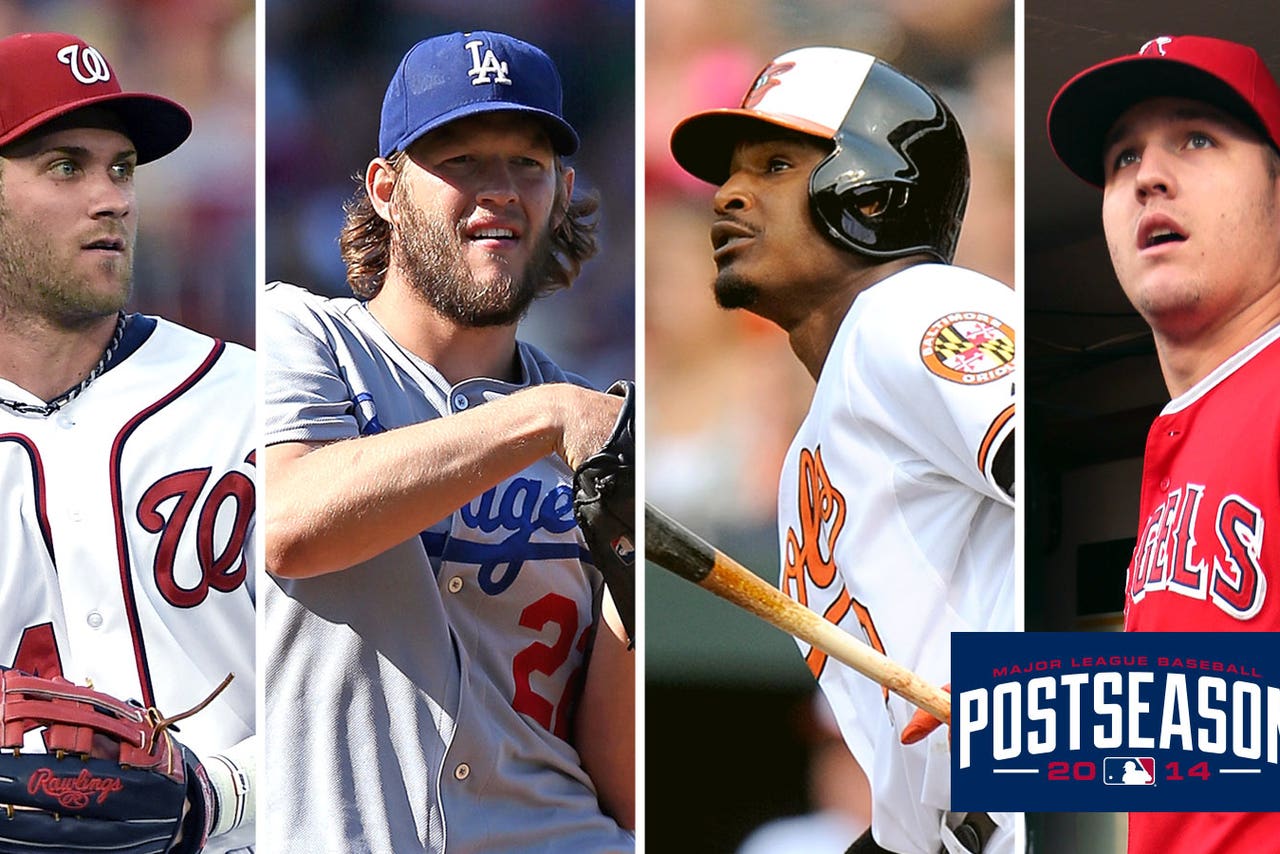 The regular season is over, but now the fun really begins.
Ten teams worked their way through the long six-month regular season and head into October with the same goal in mind: Getting to and winning the World Series, which starts Oct. 21 on FOX.
Will the top-seeded Nationals and Angels make their way through the field to face off in the Fall Classic?
What about experienced clubs like the Dodgers, Tigers and Cardinals?
Postseason play begins with the wild-card games on Tuesday and Wednesday, followed by the NLDS on FOX Sports 1, starting Oct. 3. (Full schedule)
Our FOX Sports MLB experts break down why each team will -- or won't -- win it all.
No. 1 seed: Nationals
Why they win it all: The Nationals have the most complete, well-balanced 25-man roster of any of the postseason teams. Rookie manager Matt Williams has had this team playing well the entire season. They led the majors in ERA and are a top-five offense in the NL. They can bring home a World Series title to DC by doing what they have done the entire year, playing consistent, quality baseball. They are not dependent on just a couple of star players or pitchers to carry the load. If the top of the lineup continues to set the table for the middle, they can score runs against anybody and get fitted for rings in October.
Why they won't: The pitching has been so good for the Nationals, but when you dig a little deeper you can find some concerns. Stephen Strasburg was a strikeout machine this year and crossed the 200-inning plateau for the first time in his career. He has never pitched in the postseason and questions surround him on whether or not he is a true ace. He'll need to prove that this postseason. Rafael Soriano lost his job as closer for the Nats after a stellar first half. Drew Storen has reclaimed the stopper role and is in the midst of a career year. Storen has some postseason demons from 2012 that he'll need to shake off. If they lose, it could be because one or both of these pitchers lets their teams down in big spots. — C.J. Nitkowski 
No. 2 seed: Dodgers
Why they win it all: It took manager Don Mattingly a few months, but he finally arrived at a consistent, productive outfield: Carl Crawford in left, Yasiel Puig in center and Matt Kemp in right. Kemp, who missed the entire postseason last year, could be the difference-making hitter the Dodgers lacked against St. Louis in the 2013 NLCS. Adrian Gonzalez, the major-league RBI leader, is a master at putting together excellent at-bats with men on base. In Clayton Kershaw, the Dodgers have an ace in his prime who is poised to dominate a postseason from beginning to end.
Why they won't: Hyun-Jin Ryu's status for the postseason remains in question because of a shoulder injury. If he can't pitch, then Mattingly will face an agonizing question: Will he start Kershaw on short rest beginning in the Division Series — which could reduce the lefty's effectiveness in the next round — or dare entrust a postseason start to Roberto Hernandez? The bullpen is a major question, with rookie Pedro Baez and the inconsistent Brian Wilson occupying crucial roles. And it's hard for the Dodgers to rely on Hanley Ramirez, the star shortstop who's been out of the lineup multiple times this year due to a number of maladies. — Jon Paul Morosi
No. 3 seed: Cardinals
Why they win it all: With Adam Wainwright and Lance Lynn, the Cardinals can almost keep up with the Dodgers' and Nationals' top two starting pitchers. Most of the Cardinals have been here before, as this season marks the club's fourth straight postseason appearance. And of course almost anything seems possible when Yadier Molina is healthy and catching and throwing and hitting.
Why they won't: With Michael Wacha still a big question mark, the Cardinals' rotation drops off steeply after Wainwright and Lynn. They've not been able to plug a big hole in right field, with first Allen Craig and then rookie Oscar Taveras struggling. In fact, the entire lineup's been missing a big bat all season, with Matt Holliday and Jhonny Peralta providing the only real punch and the whole bench failing to add much at all. — Rob Neyer
No. 1 wild card: Pirates
Why they will win it all: This Pirates team is different than last year's — stronger offensively, weaker in the bullpen and improving in the rotation with a resurgent Francisco Liriano and healthy Gerritt Cole. Three of their hitters — Andrew McCutchen, Russell Martin and Josh Harrison — are likely to draw MVP votes. And the team can only benefit from its postseason experience a year ago.
Why they won't: Can the Pirates beat the Nationals if they survive the wild-card round? Maybe not. But Pittsburgh won 17 of its final 23 games after getting swept in St. Louis in early September. Classic hot team. Classic tough opponent. — Ken Rosenthal
No. 2 wild card: Giants
Why they win it all: The Giants will win it all if the stars line up. The play-in game is a coin flip. You can make a case that they'll have a slight edge with Madison Bumgarner on the hill. His track record suggests he is superior to any starter the Pirates can throw out there. If they win, they'll earn the right to bump bellies with a rock star group of Nationals. If I was a betting man (not on baseball, of course), I would hypothesize that the Giants would be heavy dogs in Vegas in that series. The Giants will need Pablo Sandoval to hit three bombs in every game like he did in Game 1 of the 2012 World Series if they're going to win it all.
Why they won't: Baseball Prospectus' playoff odds report ranks clubs based on winning percentage to determine the quality of each team on the field, then regresses them. The remaining schedule is simulated one million times by computer. The Giants have a 4.5 percent chance to win the World Series, lowest among NL playoff teams. As of right now, Juan Perez sits atop the depth chart in CF with Angel Pagan out for the season. Perez has been below replacement level to date, albeit in a small sample size. The loss of Pagan makes an already league-average offense more average. How do you feel about the World Series chances of your slightly below-average offensive club? Exactly. — Gabe Kapler
No. 1 seed: Angels
Why they win it all: The Angels are tops in baseball in wRC+, which measures offensive production against league average and adjusts for ballparks. If you're an old school cat, dig this: The Angels have scored more runs than the rest of the world. The combination of better-than-average defensive metrics and a bullpen FIP (which is a better predictor of future success than ERA) that will be second best among AL playoff teams (behind the Royals) means the Angels should be positioned to hold a lead once the offense provides them with one.
Why they won't: The Halos, like all clubs, are relatively dependent on getting solid performances from their starters. Matt Shoemaker is now the most productive (WAR, FIP) member of that group who doesn't own a recently surgically repaired patellar tendon (see Richards, Garrett). Shoe himself is only "optimistic" about making a start in game three of the ALDS. That's a whole lot of uncertainty for this time of year. — Kapler
No. 2 seed: Orioles
Why they win it all: The rap on the Orioles is their starting rotation, and it's unfair. The Orioles ranked (sixth) in the AL in rotation ERA, and while they lack a legitimate ace, every one of their starters is above average. Their bullpen, meanwhile, is one of the best in the game.
Why they won't: My greater concern with the Orioles is their offense, even though they led the AL in homers and ranked (fifth) in runs. Their lineup has been thinned by the suspension of Chris Davis and injuries to Manny Machado and Matt Wieters. Eventually, it could be a problem. — Rosenthal
No. 3 seed: Tigers
Why they win it all: The veteran-laden Tigers are peaking at the right time, with one of the best September records in baseball. Justin Verlander has shown recently that, despite a subpar regular season, he's still capable of winning big games. The Tigers' rotation has the most October experience of any playoff team in either league. Miguel Cabrera and Victor Martinez have proven that they can hit elite pitching in the postseason, and No. 5 hitter J.D. Martinez (.923 OPS, 23 home runs) has passed one big test after another in his breakthrough season.
Why they won't: Rick Porcello, likely to slot third or fourth in the postseason rotation, has shown signs of fatigue in September. David Price has had an excellent season, as judged by Fielding Independent Pitching, but the Tigers are only 5-5 in his starts. The bullpen is the greatest concern. Closer Joe Nathan has been hittable in many of his save opportunities, setup man Joba Chamberlain has regressed in the second half, and manager Brad Ausmus has yet to entrust veteran Joakim Soria with high-leverage situations on a consistent basis. — Morosi
No. 1 wild card: Royals
Why they win it all: Thanks to four above-average starting pitchers and a sterling outfield defense, the Royals shouldn't get blown out early in many games. And as long as they're close they've got a chance, thanks to four lights-out relief pitchers, capped by Wade Davis in the eighth inning and Greg Holland in the ninth.
Why they won't: The Royals don't have a true ace, which leaves them mismatched against the likes of Max Scherzer and David Price. They've also struggled to score runs; they finished ninth in the AL in scoring, while the Angels, Tigers, and Athletics finished 1-2-3 in the league. Unless Billy Butler's season-long slump is a mirage, the Royals have only two legitimately good hitters: Alex Gordon and Lorenzo Cain ... and that might be stretching the definition with Cain. — Neyer
No. 2 wild card: A's
Why they win it all: Billy Beane put together a solid roster heading into the 2014 season and going deep into the postseason was a reasonable expectation. Then Billy Beane got bold. He acquired Jeff Samardzija, Jason Hammel and Jon Lester to boost an already good rotation. Good doesn't win a World Series, great does. Samardzija and Lester were fantastic for the A's in the regular season. In order for the A's to win they'll need those two, along with Scott Kazmir and Sonny Gray to carry this team. That's how the A's get their first title under Beane's regime.
Why they won't: The A's struggles down the stretch were glaring and it was all about the offense. It wasn't just the loss of Yoenis Cepedes, but the late-season slides of Brandon Moss, Stephen Vogt and Derrick Norris among others. This team will pitch, but runs will likely be at a premium. The old adage "good pitching beats good hitting" often holds true in the postseason and the A's offensively were just not good the final two months of the season. If they get bounced early it will be because the offense was held down and couldn't score the runs they needed to advance. — Nitkowski 
---
---