WVU Football: Do You Remember When..Stedman Bailey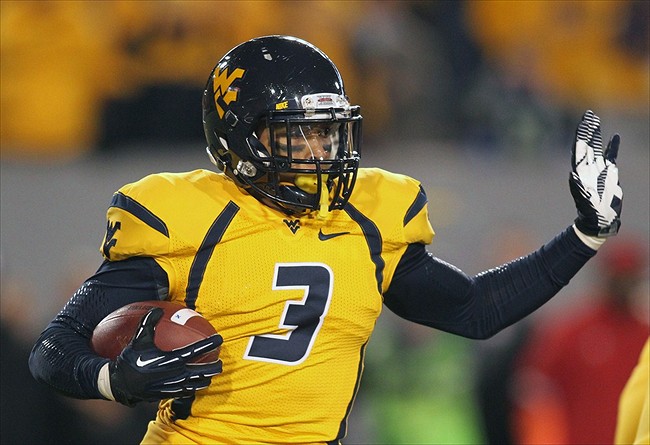 The WVU Football team was a nightmare for opposing coaches to gameplan against in 2012, and wide receiver Stedman Bailey helped make that job even tougher.
A former 4-star (Rivals.com) recruit from Miramar, Florida, Stedman Bailey took the Big 12 by storm in West Virginia's inaugural season in the conference.
Coming from the Big East, Bailey posted solid numbers within the conference; third in catches (72), second in touchdowns (12), first in yards per catch (17.8) and first in receiving yards (1,279). These numbers, while great in their own right, surely wouldn't translate to the Big 12's style of football – with Texas being so tough, and Oklahoma, TCU, Baylor.
That's where everyone was wrong.
In the Mountaineers first three games, Bailey had 28 catches for 332 yards and five touchdowns. That's pretty good, right? All three games were in the non-conference, but Bailey would shine even brighter against their first Big 12 opponent.
The Baylor Bears came to Milan Puskar Stadium, and boy was it a thriller! In a 70-63 win for the Mountaineers, Bailey caught 13 passes for 303 yards – just 29 yards shy of his season total. Oh, and he scored five touchdowns against Baylor – matching his season total. It was on his fourth touchdown from Geno Smith that day that etched his name in the record books, with all but the final numbers set in stone,
It was a first down play from their own 13 yard line. Tavon Austin, another Mountaineer receiver, motioned from right to left. Smith took the snap and gave Austin a quick look – just freezing the safety. As Bailey comes wide open down the sideline, Smith hits him and he's off to the races! After reaching the endzone, Bailey's 87-yard score made him the single-game leader with 260 receiving yards and four touchdowns. He'd score again and catch a few more balls, but it wasn't only the big play that made the highlights for Bailey.
The goal-line fade is one of the most scrutinized plays in football. The Seahawks practically gifted Tom Brady and the Patriots a Lombardi trophy because they opted for a version of the play in the Super Bowl. Smith and Bailey ran this play to perfection, though. It's all about timing, and these two had it. Bailey caught 113 passes for 1,627 yards and 25 scores his junior season before entering the NFL Draft. He scored 41 touchdowns while donning the old gold & blue, and reached the endzone in 23 of his 34 career games.
More from Hail WV
This article originally appeared on