What Needs To Happen For USC Football To Stay In Pac-12 Race?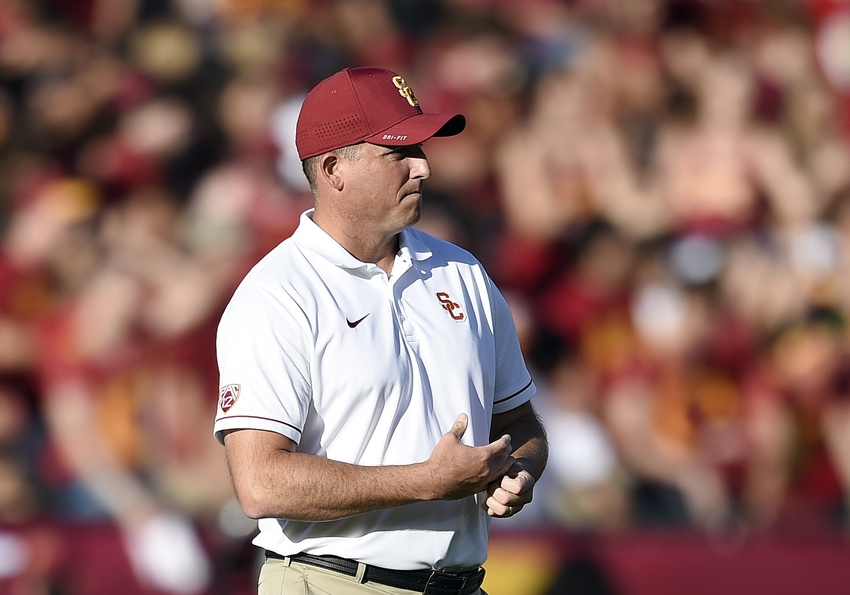 USC football has plenty of work to do to stay in the Pac-12 South title race. Or they need help from the state of Arizona. Here's what needs to happen in Week 10.
Back in September, it seemed as though USC was dead in the water in the Pac-12. However, a five-game winning streak has given the Trojans new life in the South division.
USC does not control their own destiny, but there are several scenarios which could see Clay Helton's squad repeat as South Champions.
Here's a look at what USC needs to happen in Week 11 in order to have a shot at capturing a place in the Pac-12 Championship game:
Pac-12 South Standings
Colorado (5-1)
USC (5-2)
Utah (4-2)
ASU (2-4)
UCLA (1-5)
Arizona (0-6)
USC's Best Case Scenario
USC fans know all about Perfect Days (or Weekends) involving Notre Dame and UCLA, after all, they have been numerous this season. This weekend offers the prospect of another kind of Perfect run, giving the Trojans control of their own destiny.
A loss for Utah on Thursday night against Arizona State, paired with a loss for Colorado against Arizona on Saturday, plus a USC win over Washington would give USC the inside track towards the division title.
In that scenario, the Utes would fall to 4-3 in the South and out of a tie with two-loss USC, effectively taking away the power of their head-to-head tie-breaker with the Trojans. Meanwhile, Colorado would be 5-2 in conference and subject to USC's head-to-head tie-breaker over them thanks to the Trojans win at the Coliseum.
As a result, USC would take control the race and could win the South with a win over UCLA, regardless of the result of Colorado and Utah's remaining games.
Probabilities:
USC win vs UW — 28%
Utah loss vs ASU — 38%
Colorado loss vs Arizona — 9%
USC's Worst Case Scenario
Just as easily as the Trojans could control their own destiny on Saturday night, USC could be left in the dust in the South as well.
Wins for Utah and Colorado plus a USC loss to Washington would seal the deal.
That's because USC does not enjoy the tie-breaker advantage in the South which they held last year because of their loss to Utah.
Thanks to Utah's tie-breakers, USC cannot win a three-way tie in the South at three losses if Utah is involved, but a three-way tie is the best they could hope for if Colorado and Utah both win this week.
In that scenario, the three-loss Trojans would need one-loss Colorado to lose both of their last two games in order for USC's tie-breaker to come into play. The trouble? They'd also need Utah to lose both of their last two games to take them out of the picture at four losses, thus negating the Utes' tie-breakers.
Simply put, that is an impossible scenario. Utah and Colorado play each other in the season-finale. One of them will notch a win and that win will end USC's hopes.
Probabilities:
USC loss vs UW — 72%
Utah win vs ASU — 62%
Colorado win vs Arizona — 91%
USC Stays Alive Scenario
Winning is always the simplest solution.
If USC manages to upset the Huskies, they will stay alive in the hunt for the Pac-12 South regardless of the results of other games in the division.
However, beating the No. 4 team in the country on their home turf is not an easy prospect. Should the Trojans fall, there are two ways to stay in the hunt — one of their rivals for the crown must lose.
As explained above, a three-loss USC would need Colorado to fall to three losses and Utah to fall to four losses before the end of the season in order to win the South.
If Utah beats ASU and Colorado falls to Arizona, the Utes could still lose their last two games of the season to Oregon and Colorado while the Buffaloes could still lose to Washington State, thus giving the Trojans the title with a win over UCLA.
If Colorado beats Arizona and Utah loses to ASU, the Buffaloes could still lose their last two games to Washington State and Utah, while the Utes could still lose the necessary game to Oregon. Again, USC would win the scenario with Colorado at three losses and Utah at four losses, if they beat the Bruins.
A lot of dominoes would need to fall into place, but that's exactly what happened for the Trojans last year.
Probabilities:
USC loss vs UW — 72%
Utah loss vs ASU — 38%
Colorado win vs Arizona — 91%
Utah win vs ASU — 62%
Colorado loss vs Arizona — 9%
This article originally appeared on