USC vs Utah State Odds: Trojans Two Touchdown Favorites Over Aggies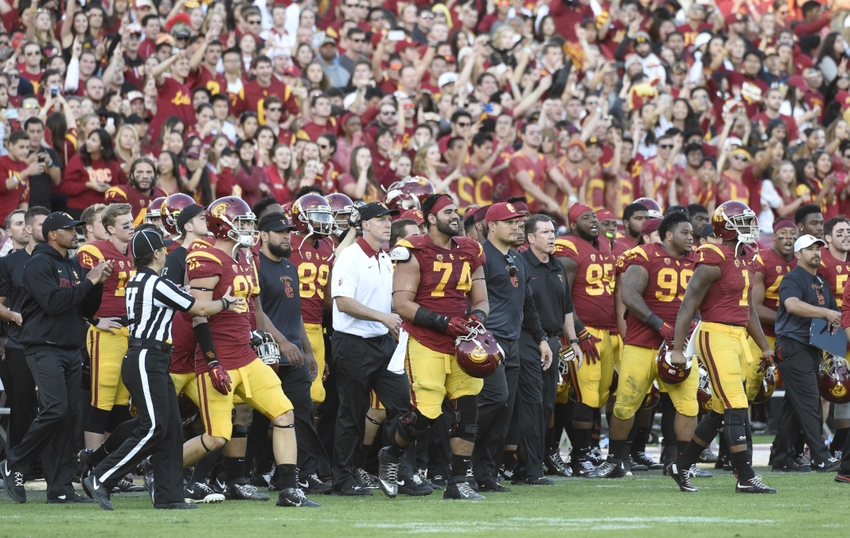 The Vegas odds for USC vs Utah State set the Trojans as two-touchdown favorites over the Aggies when they come to the Coliseum Saturday.
Coming off one of the worst losses in program history, the Trojans will hope to set things right with their return to the Coliseum. Vegas oddsmakers think they will, opening the USC vs Utah State betting line at 16 points.
That makes the Trojans better than two-touchdown favorites over the Aggies, who have never beaten USC in five tries going back to 1928
In fact, the 16-point spread in favor of Troy makes a lot of sense considering USC's average margin of victory over Utah State is 37 points.
Of course, that margin was cut significantly in the last meeting between the two teams at the Coliseum.
In 2013, the Trojans narrowly beat the Aggies, who were led by quarterback Chuckie Keaton. The 17-14 contest was highlighted by defensive displays from both sides, requiring a fourth quarter field goal from Andre Heidari to break the deadlock. It was also the final home game of Lane Kiffin's tenure as USC's head coach.
This year, the Trojans are set to face Utah State with similar unrest around the program.
USC's season opener went more poorly than expected. Facing the No. 1 Alabama Crimson Tide, the Trojans were embarrassed, 52-6.
Meanwhile, Utah State enjoyed a 45-6 victory over Weber State on the weekend.
The vast gulf between opposition is no question. However, USC's confidence may have been shaken in Arlington, while the Aggies will come into Los Angeles looking to complete the upset that was brewing three years ago.
An 11:00 a.m. kick off does not help matters for the Trojans.
Still, Clay Helton's squad has motivation to make a statement back home, proving that their performance in Texas was not a true reflection of their ability or the direction of the program.
This article originally appeared on