USC Injury Report: Stevie Tu'ikolovatu Progressing Nicely (11/10)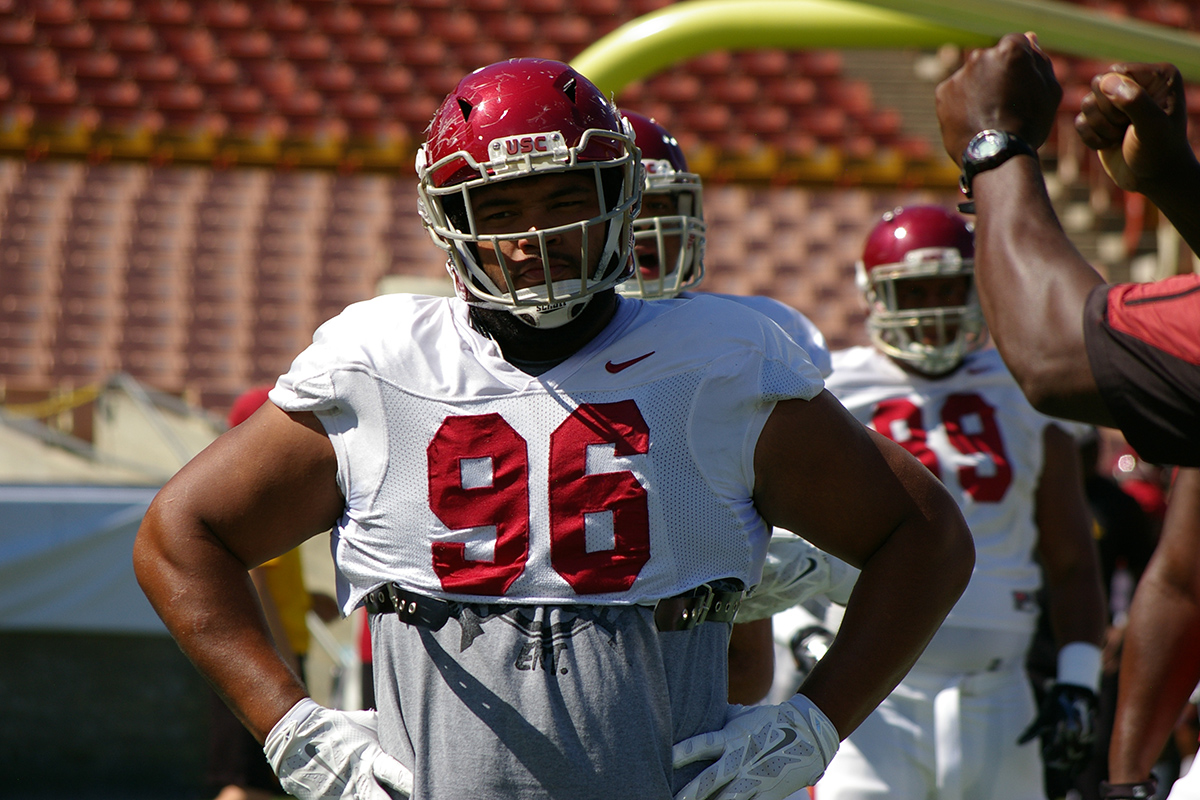 Stevie Tu'ikolovatu is progressing nicely, but Clay Helton and the Trojans have back up plans in place, plus more USC injury news.
Going up against Washington's top-level offense, USC needs a full complement of defenders at their disposal.
Luckily, the injury picture is looking rather fortunate for the Trojans, who expect key defensive lineman Stevie Tu'ikolovatu to be in action after aggravating a sprained PCL against Oregon last week.
Head coach Clay Helton updated Tu'ikolovatu's status after practice on Wednesday, pleased with his progress following a PRP injection which allowed him to move around more.
"He's a warrior," Helton said. "He told me when he walked off the field that he was going to play in the game [against Washington]. He's one of those guys that has a high pain threshold and is ready to go."
Should Tu'ikolovatu take the field as expected, USC doesn't plan to lighten his load in any particular way. There will be no pitch count as they don't expect an high play count in the game with the Huskies.
Still, whether Tu'ikolovatu plays or is limited, Helton expects back up Josh Fatu to play an important role.
The junior college transfer has already split reps with the Utah transfer because of the uptempo teams USC has faced over the past month. Those extra reps have prepared Fatu to step in as needed, should Tu'ikolovatu be slowed.
Helton also indicated that Jacob Daniel could see an increased role, if needed.
"The big man has been practicing well and would have an opportunity to get some quality reps in a game," Helton said.
USC Injury Report:
Out for the season: DT Kenny Bigelow (knee), C Toa Lobendahn (knee), WR Steven Mitchell (knee)
Out: DL Noah Jefferson (academics/shoulder), CB Jonathan Lockett (hip), RB Vavae Malepeai (shoulder), OLB Jabari Ruffin (suspension)
Questionable: RB Aca'Cedric Ware (ankle)
Probable: RB Justin Davis (ankle), LB John Houston (knee), LB Michael Hutchings (calf), CB Iman Marshall (hamstring), S Marvell Tell (hip), DL Stevie Tu'ikolovatu (knee)
Things are also looking promising for a handful of other Trojans who needed time at the trainers' table lately.
Cornerback Iman Marshall's hamstring held him out on Tuesday but he was back in action on Wednesday. Helton said he was hopeful of having the sophomore available on Saturday.
Running backs Justin Davis and Aca'Cedric Ware were both able to practice on Wednesday without pain from sprained ankles. Their status remains up in the air for the Washington game but their progress this week suggests they may be ready to return to action, though Davis remains the more likely of the two.
Meanwhile, guard Damien Mama had fluid drained from his sore knee and is expected to return to practice on Thursday.
The only unfortunate news for the Trojans is the status of cornerback Jonathan Lockett, who remains out with a hip injury. He has not made progress and is unlikely to suit up again this week.
This article originally appeared on