USC Injury Report: JuJu Smith-Schuster Held Out (11/22)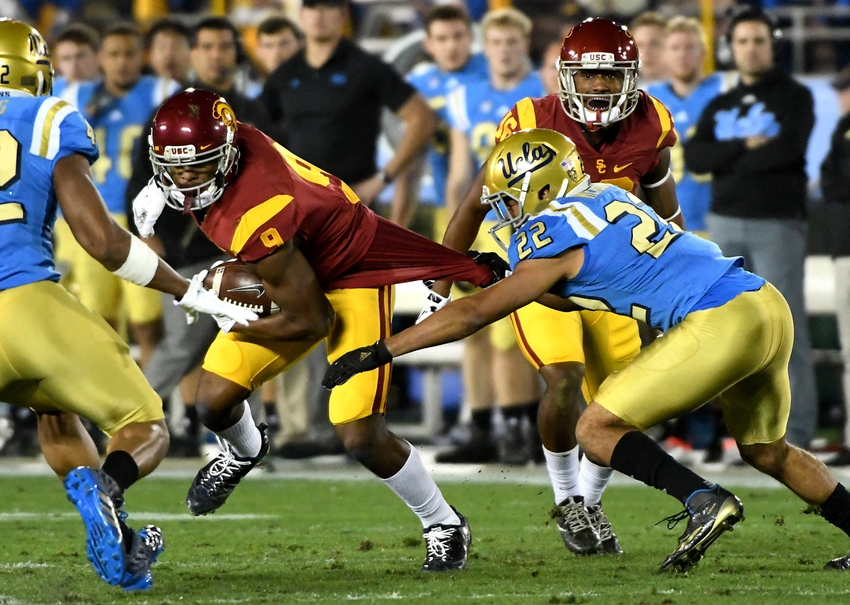 JuJu Smith-Schuster was held out of practice, with the hopes of getting him back for the weekend. Here's the USC injury report from Notre Dame Tuesday.
USC continues to flirt with an injury crisis, but the Trojans have made it to the final week of the regular season without any major concerns.
Ahead of the Notre Dame game, the status of JuJu Smith-Schuster is the biggest question mark. The star receiver suffered a hip pointer and an arm injury against UCLA, on top of the back injury he has been carrying for the last month.
Thanks to all those bumps and bruises, Smith-Schuster was held from action at Howard Jones Field on Tuesday. Head coach Clay Helton said he did some light work, but the plan is to let his body heal up as much as possible before Saturday.
Considering the fact that Smith-Schuster played through the pain in the second half at the Rose Bowl, he's likely to suit up against Notre Dame.
USC Injury Report:
Out for the season: DT Kenny Bigelow (knee), C Toa Lobendahn (knee), WR Steven Mitchell (knee)
Out: DL Noah Jefferson (academics/shoulder), RB Vavae Malepeai (shoulder/redshirt), OLB Jabari Ruffin (suspension)
Questionable: DL Josh Fatu (ankle), CB Jonathan Lockett (hip), CB Keyshawn "Pie" Young (concussion)
Probable: WR Deontay Burnett (knee), OLB Porter Gustin (ankle), WR JuJu Smith-Schuster (hip), DL Stevie Tu'ikolovatu (knee), OL Chad Wheeler (wrist)
On the defensive line, Josh Fatu was able to do more on his sprained ankle on Tuesday, but Helton said it'll be a wait and see proposition for his participation this weekend.
Meanwhile, Stevie Tu'ikolovatu is still contending with a sprained PCL so he remains limited during practice. He has played through that injury for two weeks, however, so his status is not in doubt.
In the secondary, Adoree' Jackson was not slowed by an ankle tweak he sustained against UCLA. In other good news, Jonathan Lockett was back in action, coming along from the hip injury which has kept him out for nearly a month.
Fellow cornerback Pie Young, however, is still going through concussion protocol and did not participate on Tuesday.
On the offensive line, left tackle Chad Wheeler sprained his wrist on Saturday and is now in a cast, but is not expected to be limited this week.
This article originally appeared on