USC Football Jumps To No. 13 In College Football Playoff Rankings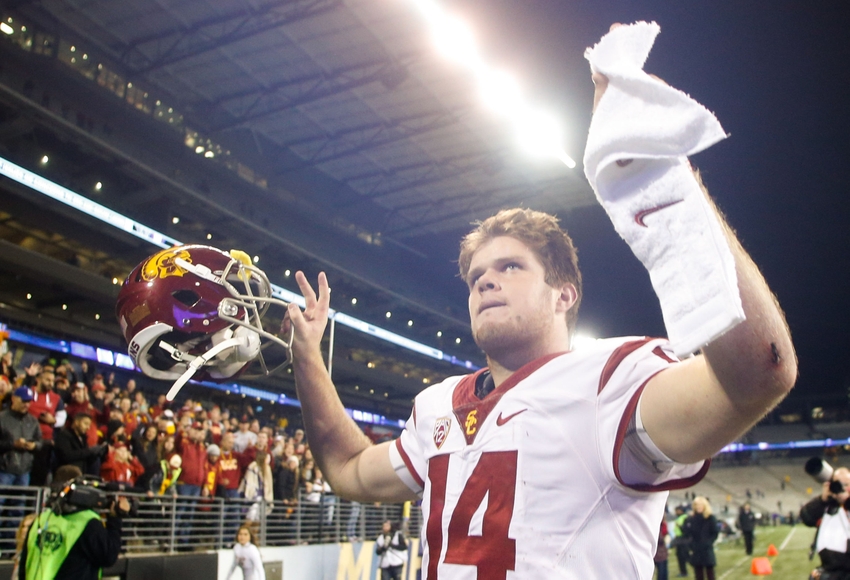 USC football was rewarded handily for their victory over Washington on Saturday, jumping up to No. 13 in the latest College Football Playoff Rankings.
The Trojans are arguably the hottest team in college football not named Alabama and the College Football Playoff committee knows it.
After debuting at No. 20 in last week's rankings, USC climbed seven places up the ladder to sit at No. 13 following their 26-13 triumph over then-No. 4 Washington, who dropped to No. 6.
The men of Troy are now the highest ranked three-loss team in the nation, sitting two spots above No. 15 Auburn, followed by LSU and Florida State.
The argument behind USC's generous ranking is simple, as the Trojans boast victories over two Top 10 squads while their losses have also come against three ranked teams.
With Colorado now sitting at No. 10 in the rankings, USC's October victory over the Buffaloes is a major resume builder along with the more recent win over the Huskies.
Now, USC is one of just three teams in college football with multiple wins over Top 10 teams, as Max Meyer noted on Twitter.
Moreover, Utah's No. 12 ranking means two of USC's three losses have come against teams ranked in the top dozen squads nationally, including the undisputed No. 1 Alabama, while Stanford's leap into the Top 25 at No. 24 gives the Trojans an added boost.
The ranking also comes as a greater acknowledgement of the Pac-12 takes hold. The conference now has four teams ranked in the Top 13 and, with Washington State's No. 22 ranking, six teams listed in total.
Though the Pac-12 is currently outside of the four playoff spots, Washington is poised to take one of those places if it wins out. On the other hand, USC is now nicely positioned to command a spot in one of the New Years Six bowl games if they notched expected victories over UCLA and Notre Dame.
This article originally appeared on