USC Football Drops Out of AP Poll After Alabama Loss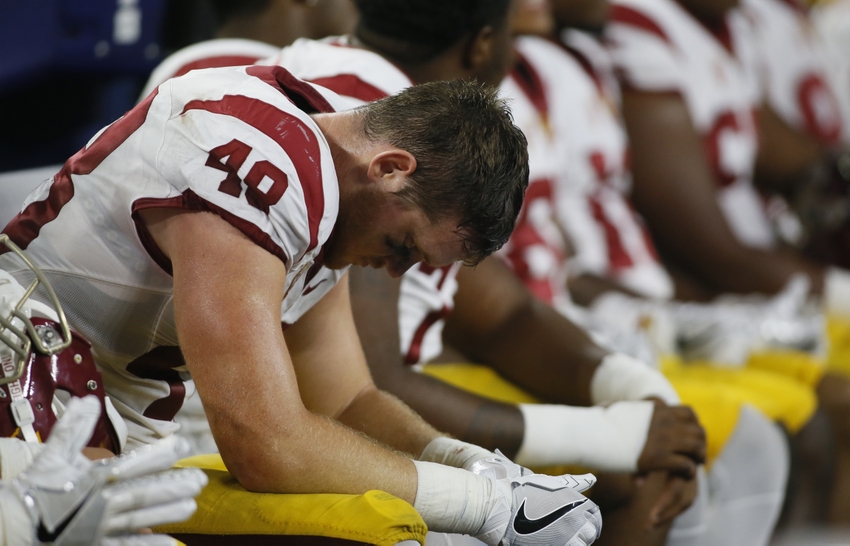 USC football tumbled out of the AP poll, which was released Tuesday, after losing to Alabama in embarrassing fashion.
USC football's return to the AP Top 25 was disappointingly brief as the Trojans were bounced from the poll Tuesday.
Clay Helton's squad had been ranked No. 20 in the initial preseason poll after finishing the 2015 season on the outside looking in.
Though there was skepticism about the hiring of the first time head coach, the talent level amassed at USC in recruiting over the years was enough for many in the media to pick the Trojans to compete for the Pac-12 title.
However, Saturday's 52-6 loss to Alabama burst the bubble for USC.
The men of Troy might have retained their place in the rankings with a more competitive loss. Unfortunately, there was no salvaging USC's performance against the Crimson Tide, who stifled an inept Trojan offense and punished the defense with big plays.
The Trojans will now look to regroup and work their way back into the Top 25 with a contest against Utah State at the Coliseum.
USC was not the only Pac-12 squad who dropped this week.
UCLA, who lost in overtime to Texas A&M, fell from No. 16 out of the poll entirely.
On the other hand, Stanford's 26-13 win over Kansas State and losses by two squads ahead of them was enough to move the Cardinal up from No. 8 to No. 7.
Meanwhile, Washington routed Rutgers 48-13 jumping from No. 14 to No. 8 thanks to losses by Notre Dame, Tennessee and Ole Miss.
Oregon handled UC Davis 53-28 but remained at No. 24.
USC rival Notre Dame slipped from No. 10 to No. 18 as a result of their loss to Texas, who skyrocketed up to No. 11 after being unranked.
This article originally appeared on