UNC vs. Duke: Changes made to the Victory Belll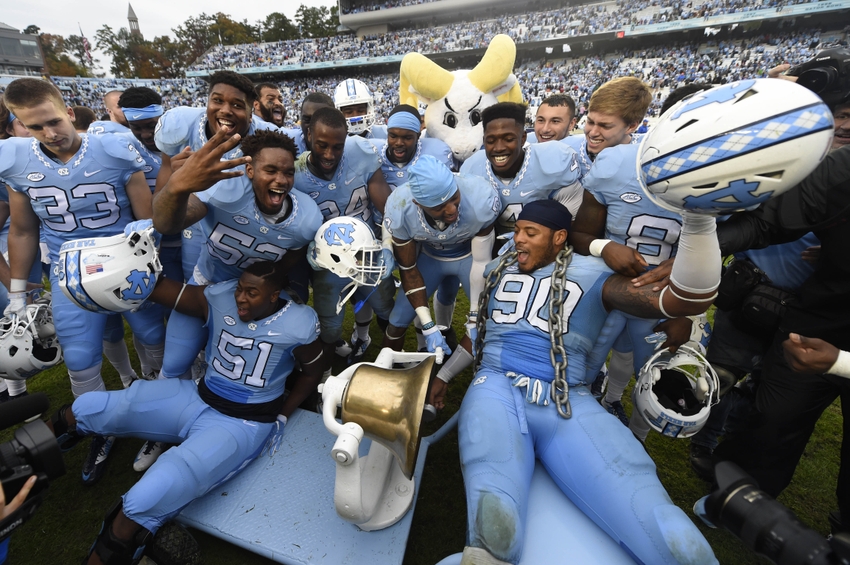 There will be a new Victory Bell for the UNC and Duke rivalry. Does Tradition survive?
So Thursday Night there is this big rivalry game between Duke and North Carolina.
The game is called the "Battle for the Victory Bell".
Why you ask? Because the winner gets to take home a bell and paint it the color blue of their respective school. Most times the players do it right after the game whether on their field or not.
It is quite the tradition. So of course it only makes sense that in spirit of camaraderie, that tradition gets stomped on.
In case you haven't seen it, here is the "new" victory bell:
So a couple of things first.
One apparently the respective AD's agreed to this. Having attended UNC, I do know that the two schools do a lot together academically.
There are shared programs and it is a good way to strengthen and diversify the education system for both schools. However, this is not academics and Bubba Cunningham's decision was not met well.
Look at some of the reaction to the UNC AD:
Secondly this defeats the point of the rivalry. Why even play the game? What's the point of even having a rival? This one reaction sums this up perfectly:
Participation Trophy indeed. Apparently the UNC Duke game is nothing more than a Pop Warner match-up.
So what now? Well here is one suggestion:
Regardless of the solution this is a sad day for a great rivalry. What's next players holding hands and singing "Kumbaya" before each basketball game?
Maybe they should just play flag football instead. Nobody wants to hurt anybody's feelings or anything.
Why not just cancel the game and hold a big giant party and call the whole stupid thing a tie?
Besides if it is truly to be representative of the rivalry shouldn't the bell look more like this:
I always heard a tie is like kissing your sister. Well this feel's the same way. The only way for this to be resolved is for the Heels to beat Duke.
Then just as one fan suggested, the players will need to do what is necessary to set things right.
UNC has dominated the rivalry over the past 20-plus years and is looking to extend their season win steak to four games. The two teams will meet on Thursday for the first time since the new Victory Bell was introduced.
Now, let's see what happens when the winner gets their hands on it.
This article originally appeared on