UCLA Football: Bruins Drop From The AP Poll After OT Loss to Texas A&M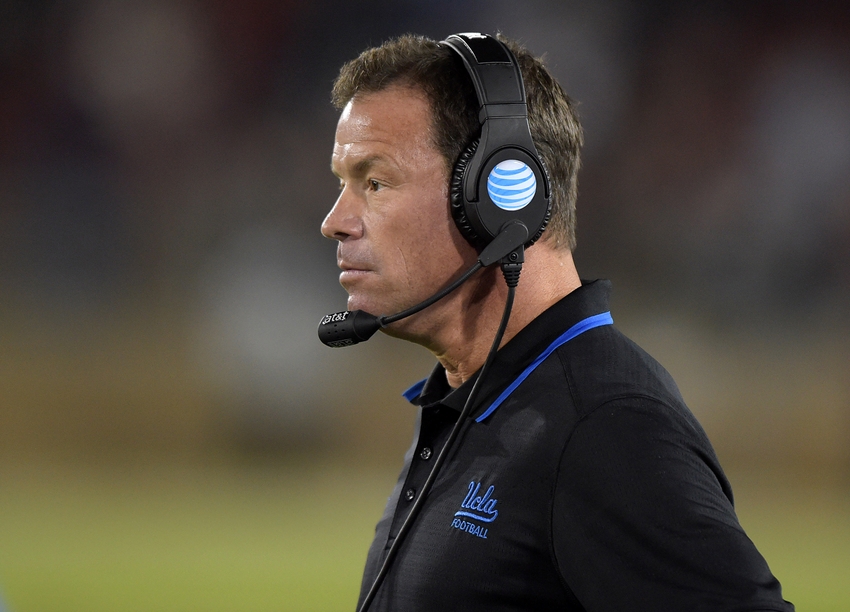 After losing to Texas A&M in week one, the UCLA football team dropped in the  AP Poll rankings to
It was a rough first game of the season for the #16 UCLA Football team as they fell to Texas A&M, 31-24.
Despite a spirited comeback in the fourth quarter to tie the game after being down 24-9, the Bruins were not able to seal the deal as they lost in overtime. The Aggies had a touchdown walked in by QB Trevor Knight while UCLA QB Josh Rosen could not get anything in the endzone.
The result: UCLA has dropped from the AP Top 25.
Despite many calling this an upset victory over UCLA, it was a solid battle between two very similar teams.
With this victory, the Aggies proved they were worthy of a Top 25 ranking and came in at #20 in the Week 2 AP Poll rankings.
Though UCLA dropped out, they have a chance to redeem themselves this Saturday as they play the UNLV Rebels in the second of a home-and-home series.
Despite not playing up to their potential against Texas A&M, the Bruins did show a lot of promise against the Aggies which we will be able to see on full display this Saturday at the Rose Bowl.
After a mediocre first half and an abysmal third quarter, the Bruins managed to get on the board twice late in the game and force overtime.
With the Bruins finding their niche late in the game, they will most likely be able to continue that style of play as the season progresses.
Head Coach Jim Mora said that he just wants his team to play "UCLA Football" and against the Rebels, we will see plenty of that.
This article originally appeared on