Three Things The LSU Tigers Must Do To Win Against Auburn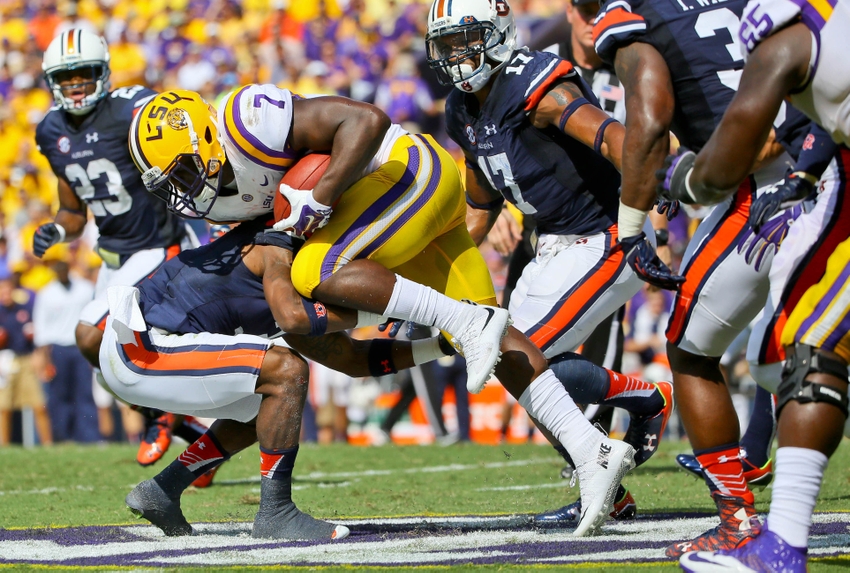 Saturday night marks another chapter in one of college football's most historic rivalries. The LSU Tigers travel to The Plains to take on Auburn in a game that has quite a bit riding on it. For LSU, Les Miles and the #18 Tigers will look to prove that early-season struggles are behind them and the team is ready to move forward and contend for a conference title. Meanwhile, for Auburn, Gus Malzahn's 1-2 Tigers desperately need a win to get back on track and prevent another disappointing season.
One team is looking to take steps towards contending for a title, and the other is just trying to put up an acceptable season, but both coaches need this game. Les Miles and Gus Malzahn are each a loss or two from beginning a job search, but both can gain a bit of job security with a statement rivalry win.
LSU is a heavy favorite, and justifiably so. The Tigers are clearly more talented than this year's Auburn team, but as we've seen too many times, anything can happen on the road in a rivalry game. LSU will have a great chance to emerge with a win on Saturday night, but there are a few things they must do to ensure that outcome.
1. Limit The Impact Of The Auburn Front-Seven
Auburn's defense has gotten off to quite a start up front, allowing just 448 total rushing yards through three games. That stat is impressive enough in itself, but when you consider the Tigers have faced arguably the most talented offense in the country in Clemson and a high-powered Texas A&M attack, the numbers become all the more impressive.
The Auburn coaches rely heavily on the front-seven to win games, and if Leonard Fournette is able to get off to a fast start and pick up chunks of yardage on the ground, the Tiger defense could quickly spiral out of control.
The defense is "bend but don't break", but if you can break them, they usually can't do much to recover. If LSU can pick up yards on the ground, avoid negative plays, and not allow the Auburn pass rush to have a big impact, points should go on the board in a hurry.
2. Force Auburn To Throw The Football
For years under Gus Malzahn, the Auburn offense has been a smash-mouth, run it down your throat unit. Whether it was Michael Dyer, Tre Mason, or others, they were running the football right at you, no matter how many guys you put in the box.
But now, Malzahn has gotten away from that, giving LSU a huge opportunity to strike. The Auburn offense is still predicated on running the ball, but Gus has shown that if you can stop the ground attack, he is perfectly content throwing it. Against both Texas A&M and Clemson, the Tigers had great success running the ball, but when things got tough Malzahn called a barrage of pass plays and didn't seem to care whether it worked or not.
Auburn will have trouble putting up points against this talented LSU defense, but if our Tigers make the early effort to completely shut down their rushing attack, the potential is there for quite a few quick, productions drives. Auburn quarterback Sean White looks overwhelmed, and with Gus Malzahn not doing much to help him out, the LSU defense should feast on this offense.
3. Manage The Game
It seems like a no-brainer, but LSU has to play smart and not turn the ball over on Saturday night. Many people are dubbing this game a prime position for an upset with the Tigers going on the road for a rivalry game. A lot is on the line in this game, and it's easy to get caught up in the moment a try to do too much to get the win.
But, if Les Miles and the Tigers can effectively do both of the other two things I mentioned, which they are very much capable of, LSU should have no real problem getting out of Auburn with a victory.
The only way I can see things getting close is if we see risky fourth-down attempts backfire, multiple turnovers, big plays for Auburn on missed assignments, etc. Auburn is only going to have a chance at this one if LSU screws up and gives it to them, so all they need to do is execute the gameplan and not take any over the top risks.
More from Death Valley Voice
This article originally appeared on