Tennessee vs Ohio Smokey Points: Top 5 Vols Who Performed vs Bobcats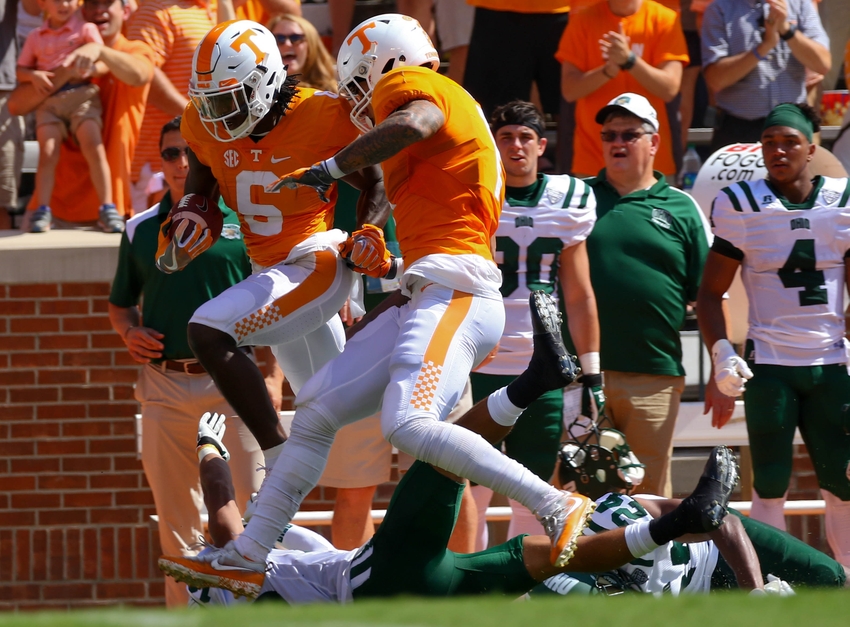 Tennessee got a 28-19 victory over the Ohio Bobcats at Neyland Stadium in Knoxville. Saturday. Here are the top five Volunteers performers from the win.
In reality, it's hard to give too many people on the Tennessee Vols credit for how they played against a 1-1 MAC team that lost to Texas State two weeks ago.
However, we warned everybody that Tennessee football should be on upset alert against the Ohio Bobcats, as this is a good enough team to win its conference.
At the same time, certain players aren't getting near the respect they deserve for how they performed in the game.
As we get set to hand out our Smokey Points, it's important to realize that, yes, the Vols had no business looking that ugly.
It's also important to be concerned about the Tennessee football injuries, including the fact that Cameron Sutton is out for an extended period of time.
However, it's also important to give credit to certain players on the team who kept level heads in spite of Vols fans panicking all around them.
They may have had an easy time doing it against a MAC opponent, but 3-0 is 3-0. And Tennessee hasn't had that record since 2004.
So all Vols fans should be happy about that fact for now, and they are going to face the Gators with a 3-0 record.
Maybe this could be the year that they finally get the elusive victory over them.
Before we look ahead to Florida, though, let's take a look at the top five Tennessee football performers against the Ohio Bobcats from Saturday.
5. Alvin Kamara, Junior Running Back
We knew that Alvin Kamara was a playmaker. In this game, Butch Jones finally used his deadly abilities to Tennessee's advantage.
The junior speedster didn't have a touchdown, but he did have 11 carries for 67 yards and added another two receptions for nine yards. Kamara had a big 35-yard run to set the Vols up for their first touchdown of the game. He added multiple other runs to keep drives alive.
Yes, on top of not having a touchdown, he also bobbled far too many line drive punts. But overall, Kamara was the playmaker the Vols were looking for him to be the first two games. Jones and Mike DeBord finally gave him that chance, and he seized it as much as he could.
Jalen Hurd deserves lots of credit for his 66 yards on 15 carries, his long run in the fourth quarter, and his leap for a touchdown. But in this game, Kamara was the playmaker who changed the game. The flashy star needs to get more touches going forward, which is something all Vols fans can agree to. And with Cam Sutton now hurt, he's going to need to become even more of a special teams weapon over the next few weeks.
Vols fans are hoping this game was just a tease by Kamara.
4. Colton Jumper, Junior, Linebacker
I can't believe these words are coming out of my mouth. For a year and a half, numerous analysts, including myself, trashed Butch Jones for and whomever the defensive coordinator was at the time for allowing Jumper on the field.
Live Feed

Tennessee Volunteers
And Jumper's play validated our criticisms through last week. Our verdict was that he is a hard worker, but he can't handle any offense that spreads the field or runs any misdirection.
Well, although he didn't put those questions to rest on Saturday, he made us re-evaluate our analysis.
Jumper filled in for Darrin Kirkland Jr. at linebacker. And he had even more pressure forced on him after Jalen Reeves-Maybin was knocked out of the game due to injury.
His response?
He came away with seven tackles and a tackle for a loss. Okay, it's not the greatest stats sheet, but considering who he is and how important his position is, being able to contain Ohio's offense was a huge deal.
Jumper did that and then some. He also saved the Vols with a key fumble recovery after Alvin Kamara dropped a punt.
While we have said in the past that the Vols do not need a bunch of Rudy's out there on the field, Jumper has made another leap.
Finally, his performance matched his heart. And for that, we award him a helmet sticker for his first Smokey Point.
3. Joshua Dobbs, Senior, Quarterback
If you want to hear an over-reactionary fan base, listen to the way Tennessee football fans talk about their quarterback.
All day long, Vols fans were calling for Joshua Dobbs to be benched. Twitter exploded because he missed two deep balls and threw an interception.
However, the interception was not his fault. Preston Williams dropped the pass. And Josh Malone misjudged one of the deep balls. So really, only one of the miscues was his fault: another overthrow of Malone.
Still, Dobbs finished 20 of 28 for 203 yards and two touchdowns, and he added 59 yards rushing and another touchdown on 14 carries.
With horrendous protection throughout the night, those are pretty impressive numbers. Dobbs managed to account for three of the Vols' four touchdowns, and he also kept other drives alive at the end of the game to allow the Vols to run some clock.
Overall, Dobbs had a solid performance, and he did a great job making plays for the Vols. His two touchdown passes to Josh Malone were beautiful passes.
And his touchdown run was all him.
As a result, he once again earns a helmet sticker for his performance in this game. The ugly play of the Vols was mostly not his fault.
While the senior quarterback is not a superstar and can't do things that elite quarterbacks can do, he does what he is supposed to do. And that's what happened in this game.
2. Derek Barnett, Junior, Defensive End
We often say that Derek Barnett waits until the big games to perform in order to save his energy. Heck, we even tweeted that out in the middle of the Tennessee-Ohio game.
Live Feed

College Football
However, right after we tweeted that and the game got tight, Barnett exploded.
Anchoring a defensive line unit that continuously got a push on the Ohio Bobcats all night, Barnett finished the day with five tackles, a tackle for a loss, and two quarterback hurries.
Those quarterback hurries were crucial plays as well, as they resulted in pass breakups.
But the biggest asset Barnett brought to the game Saturday as the Vols' superstar defensive lineman was the push he helped the unit get. Greg Windham was limited in the plays he could make, and Frank Solich was limited in the plays he could call because of Barnett.
With the linebackers injured, Tennessee needed its line to get a good push in order to take the pressure off of those backup linebackers.
Barnett was the guy to do that. He's the one who got Shy Tuttle and Kahlil McKenzie going. And he's the one who made the plays when necessary. As such, he earned a helmet sticker a little earlier in the season this year than he usually does.
However, nobody in Vol Nation is complaining about that. Barnett is our No. 2 guy on our Smokey Points list. That makes our top performer from the game pretty obvious.
1. Josh Malone, Junior, Wide Receiver
No surprise here. For the third straight week, Josh Malone changed a lead thanks to a touchdown catch he had.
The 6'3″ 200-pound junior wide receiver is approaching Peerless Price in regards to Tennessee Vols who have the all-time biggest game-changing impacts per touch.
Malone caught a 20-yard touchdown pass to give the Vols the lead early. Like all of them, he was in traffic when he caught it, but he made it look easy.
Then, in the fourth quarter, Joshua Dobbs and the Vols turned to him to extend their lead, and he caught a pass in double coverage for a touchdown to secure a 28-19 win for Tennessee.
Malone finished the game with five receptions for 69 yards and two touchdowns. He should have had two more touchdowns, but he misplayed one play by accident, and Dobbs missed him on another deep pass.
Still, Malone has proven that he is clearly the go-to receiver the Vols should rely on all year. There is nobody who can really stop him, and that's likely to continue into SEC play.
All offseason, we implored Butch Jones and Mike DeBord to stop using so many receivers. The reason for that was mainly so an elite player like Malone could get into a rhythm.
Well, the coaches compromised. They are still running lots of receivers, but they are consistently leaving Malone in the game.
And that has made a huge impact on the Vols' abilities to make plays.
So as the top game-changer for Tennessee through three games, Malone is the top helmet-sticker earner from the Ohio game. He is clearly the player of the game.
And that makes him No. 1 on our Smokey Points list.
Now maybe Jones and DeBord will realize that they should throw to him more often.
More from All for Tennessee
This article originally appeared on