Tennessee Football: Four Significant Things the Vols Could Still Accomplish in 2016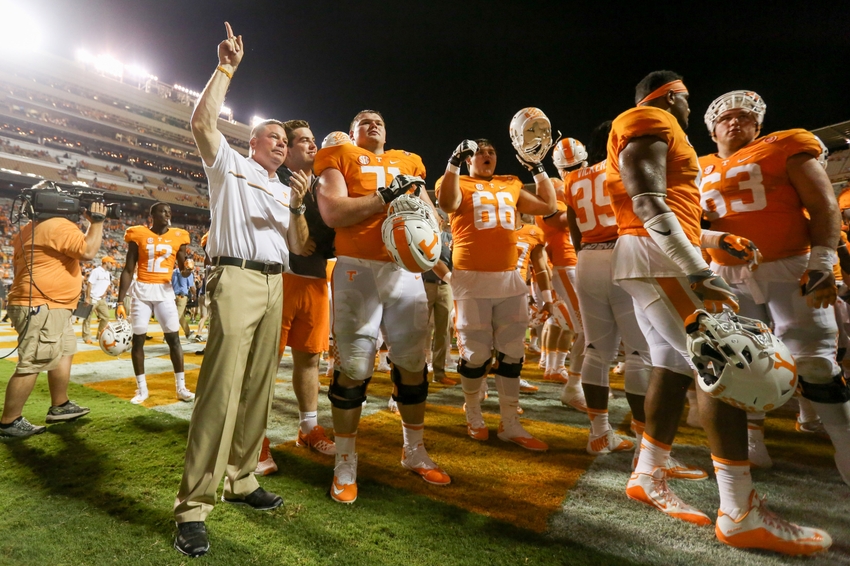 So the SEC East is out of reach, but Tennessee football still has a lot to play for. Here are four things the Volunteers could still accomplish this year.
So the goal of winning the SEC East is dead for Tennessee football this year, and that makes winning the SEC Championship dead as well. It also has fans getting a little impatient with Butch Jones in his fourth year as head coach.
But newsflash, you don't always reach your goals. Some years you over-achiever, and in other years you come up short.
The fact of the matter is that the Vols were in the running for a long time, and when trying to return your program to relevance, that's all you can ask for.
With Tennessee football having to reset expectations for 2016, it's time to consider the fact that they could still accomplish a lot.
Heck, they already have accomplished a lot. Beating the Florida Gators and the Georgia Bulldogs in the same season has to count for something.
Going undefeated in a non-conference schedule that includes three potential conference champions is impressive as well.
So the losses to Texas A&M and Alabama hurt. The loss to South Carolina was unacceptable.
And with a senior quarterback in Joshua Dobbs, it's easy to see why Vols fans wanted more.
But they can still accomplish a lot the rest of the way.
In fact, we've come up with a list of things the Vols could accomplish that they haven't done since the height of the Fulmer years. And we don't mean Jones's cheesy quote in being a champion at life.
These are tangible things on the football field. They would be impressive feats too considering all the injuries the Vols have faced this year.
Here are four significant things Tennessee football could accomplish this year despite not winning the SEC East.
1. A 10-Win Season
Yes, for Tennessee football this should be a given. Heck, the Vols did it four years in a row during the 1990s when the regular season was just 11 games.
But they have not achieved 10 wins in a season since 2007, and they've played 12 games during the regular season every year since. So hey, as Butch Jones has consistently said, build the program brick by brick.
This should be attainable. The Vanderbilt Commodores on the road should most likely be a win, and the Vols have yet to lose a bowl game under Jones.
Winning their final two games to finish 10-3 will be the best season for the Vols since 2004, when they finished 10-3.
Okay, it's just the best season record-wise since then. They finished 10-4 in 2007 but won the SEC East, so you have to give that team more credit in one way.
Still, 10-3 is another step in the right direction, and we can't forget how far the program had fallen.
If Joshua Dobbs as a senior quarterback gets the Vols back to 10 wins, he laid a great foundation for the future.
After all, Erik Ainge went 10-4 in his final year and we consider his run at Tennessee to be successful. Let's give Dobbs the same courtesy.
By the way, a 10-win season could put the Vols in great position for something else that they have not done in an extremely long time. That brings us to our next point.
2. A Top 10 Finish
Here's a bit of quick trivia for you…when was the last time Tennessee football finished off a season ranked in the Top 10?
It was 2001, when they went 11-2 and finished ranked No. 4 in the country.
For Vols fans, that length of time without a Top 10 finish is unacceptable. It's worse when you consider they started this year in the Top 10 and expected to get back.
Well, ranked No. 24 now in both polls, they have a strong chance to get back there when its all said and done.
If they can take care of business against the Vanderbilt Commodores and then win their bowl game, finishing 10-3 might be all it takes to finish in the Top 10 this year.
Right now, about five to 10 teams ahead of the Vols are not likely to finish with the records they have. Meanwhile, Tennessee will likely continue to leapfrog people.
Not playing in the conference championship game, ironically, saves them from a chance to fall in the polls as well.
A Top 10 program of all time, finishing ranked No. 9 or No. 10 would be right at the standard for Tennessee football. That signifies getting back to normalcy for the program, and if they stay in that range over the next few years, that's all you can ask for.
Butch Jones's mission was always to get the Vols back to that point. He now has a chance to prove he's done that.
And if he does, there is no reason to be upset with him or the way this season played out.
The Vols might get a lot of help reaching that Top 10 finish if they can achieve this next milestone.
3. A Sugar Bowl Appearance
The Vols haven't had a 10-win season since 2007. They haven't had a Top 10 finish since 2001. But does anybody know the last time they went to the Sugar Bowl?
It was at the end of the 1990 season, Andy Kelly's junior year. They finished 9-2-2 after beating the Virginia Cavaliers that year in the bowl game and winning the SEC Championship. That was considered one of the most successful years in school history.
This year, the SEC Title is off the table for Tennessee football, but that would have happened in 1990 too had Florida not been on probation.
So the Vols have a chance for a similar season…and a really strong finish.
How can they get to the Sugar Bowl? Well, for starters, they need to beat the Vanderbilt Commodores. Then, this weekend, they need the Alabama Crimson Tide to beat the Auburn Tigers, the LSU Tigers to beat the Texas A&M Aggies, and the Florida State Seminoles to beat the Florida Gators.
By the way, all the teams the Vols need to win are favored to win. If they all happen, the final thing they need is for Alabama to beat Florida in the SEC Championship game.
At that point, Tennessee will be the only team left outside of Alabama with fewer than four losses, and they'll likely be the highest ranked team among all of them.
Alabama will get into the College Football Playoff, and the Sugar Bowl is contractually obligated to take the highest-ranked SEC team not in the playoff…which would be Tennessee.
So yes, the Sugar Bowl is a strong possibility, and it would be a great sendoff for a ton of Tennessee football contributors who did a great job of restoring the program.
A 10-3 season with a Sugar Bowl victory is exactly what those players could use.
And speaking of those contributors, that brings us to our final thing the Vols can accomplish this year.
4. Numerous Individual Records
If you are a Tennessee football history buff, the stats that individuals leave behind with the program count for something.
And they don't always have to be champions to do it.
Reggie White is considered one of the greatest Vols ever. He never played on a team that won more than nine games or had fewer than three losses in Knoxville.
And speaking of Reggie White, that's where we go first. Derek Barnett is one sack away from tying White's school record for career sacks with 32. He has only been playing in Knoxville for three years as well. That's a huge point of pride for the Vols.
Meanwhile, he's one sack away from tying John Henderson for the third most sacks in a single season in school history, and he's three sacks away from moving into second place all time.
Joshua Dobbs has a few records he could break as well. He's now two touchdowns behind Casey Clausen for the second most career touchdowns ever by a Tennessee football quarterback…only to Peyton Manning.
He could also potentially tie Stanley Morgan, if he somehow gets three rushing touchdowns in each of the next two games, for second most rushing touchdowns in school history. That's pretty impressive for a quarterback.
So Dobbs and Barnett have a chance to leave major marks on the Tennessee football program, and these are things that have to count for something.
With two game left, these are accomplishments we have to take into account as a result.
This article originally appeared on