Spurrier, Mullen suggest how to simplify Ohio State QB race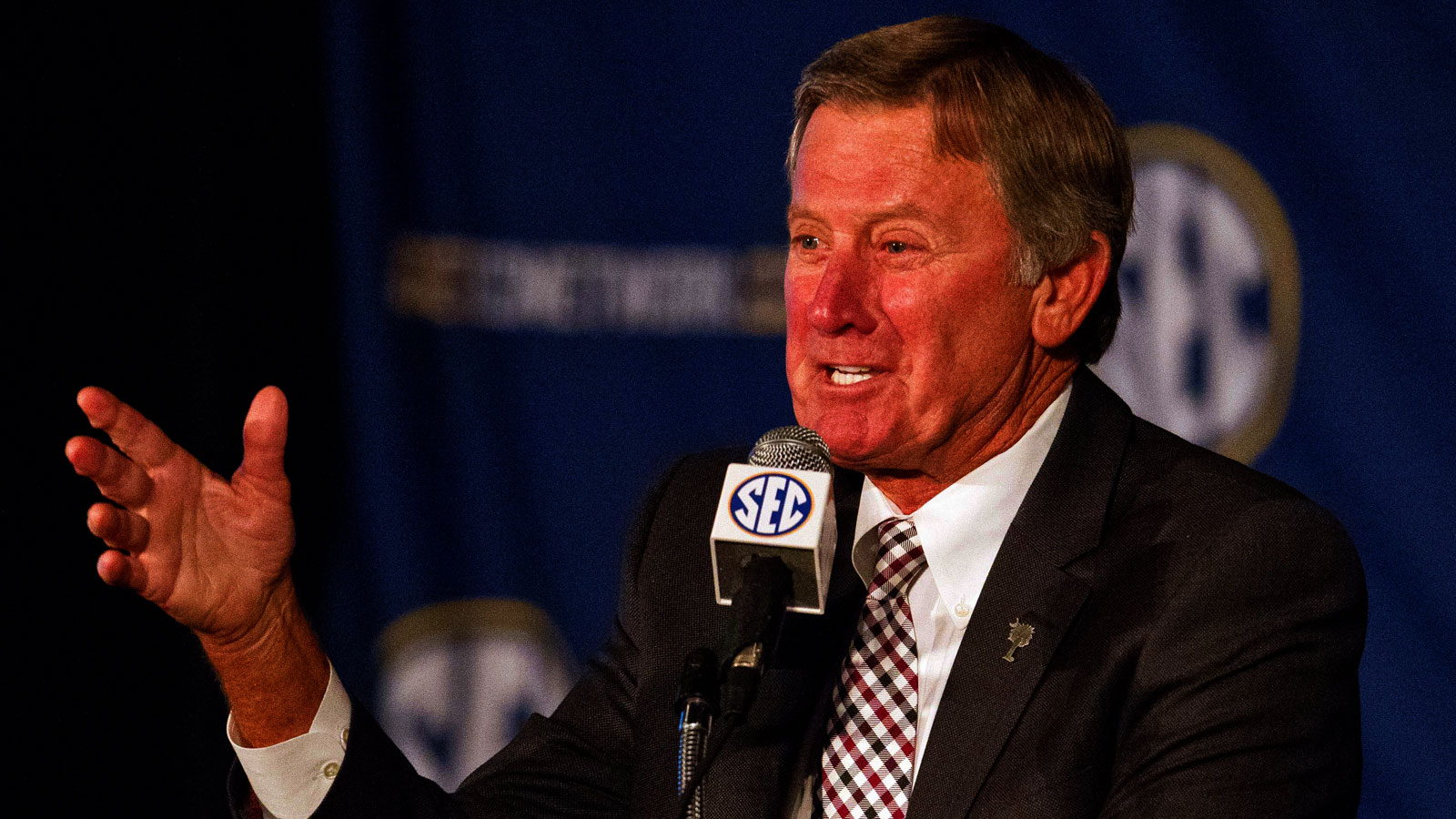 A pair of coaches with ties to Florida seemed to have similar ideas when the subject of Ohio State's quarterback quandary came up at SEC media days this week.
Per CBSSports.com, Mississippi State head coach Dan Mullen and South Carolina head coach Steve Spurrier both wondered if Urban Meyer's decision would get easier if his pool shrank from three to two.
"I think Braxton (Miller), supposedly his shoulder is not where he can quite throw like he used to and he may play another position," Spurrier, the former head coach at Florida.
If that were to happen — and Miller has indicated his rehab from shoulder surgery is progression and he intends to remain at quarterback this fall — it would leave Cardale Jones and J.T. Barrett to vie for the starting job.
Mullen, who was Meyer's offensive coordinator at Florida when Tim Tebow won the Heisman Trophy and Cam Newton and John Brantley were both four-star recruits waiting in the wings, called it "a good problem to have," especially considering how well Barrett and Jones played after Miller went down with a preseason injury.
He called it a tricky situation because all three OSU quarterbacks have performed successfully and agreed Miller moving to another position "probably simplifies things." Then both Jones and Barrett would need to be groomed to start in case the other went down this fall.
Spurrier's pick would be Jones, a 6-foot-5, 250-pound junior.
"I still think the big guy is going to be the starter," Spurrier said. "He runs like a fullback or a linebacker, and (he's) a good passer."
In terms of his own experience with Meyer and multiple quarterbacks, Mullen also had an eyebrow raising opinion regarding the 2008 season, when Tebow was the biggest star in college football and led the Gators to a victory in the BCS National Championship Game.
"When I was at Florida, I knew Cam Newton was the real deal, but Timmy was playing," Mullen said. "If Timmy had gotten hurt, Cam would have come in and won the championship. And that's the challenge."
Of course, Newton later got his championship at Auburn after being kicked off the Florida team, but that is an intriguing suggestion.
(H/T CBSSports.com)