SEC Football: Game Balls, Top Performers from Week Six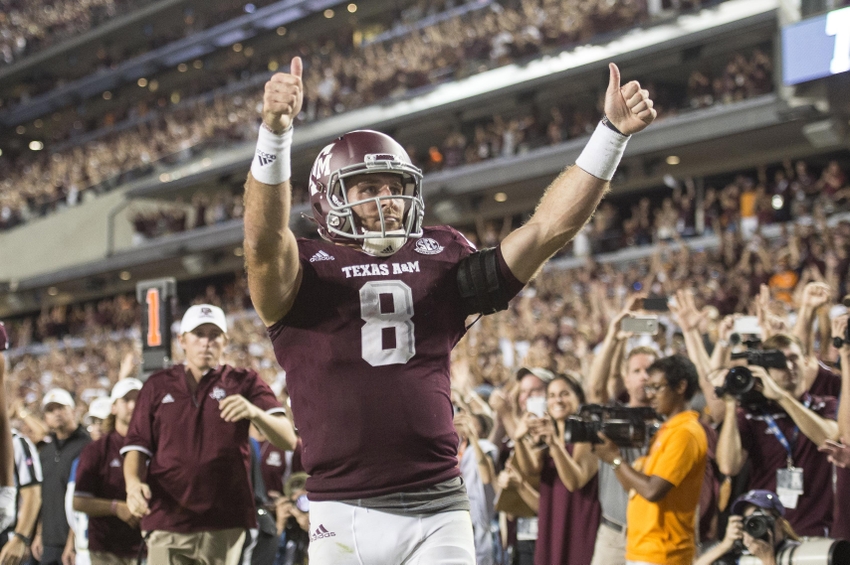 Hello there. Welcome to our weekly "Game Balls" column here at Southbound and Down. In this column, we will give you our picks for who the top performers on offense, defense, and special teams from SEC Football were this week. Though some overlap may occur, this is not a re-posting of the SEC's Players of the Week.
In addition to the top performer, we will also give you two "Honorable Mentions" for each category. If you are reading the article and think that someone was snubbed, or even omitted entirely, then please let us know in the comment section.
Below their names, I will attempt to tell  you a bit about the player's performance this week. That way you can see why I felt they deserved a Game Ball. But again, if you think someone else performed better, let us know.
This week there were several big games happening across the conference, and thus there were many players who performed at a high level for their teams. This did make it tough to decide who should get the "Game Balls" this week. Nevertheless, we here at Southbound and Down have powered through and will give you what you came to see.
Some players on losing teams perhaps deserve to be on this list. However, if a player can't lead his team to a win, then that is a pretty big knock against them. For a player on a losing team to make our list he must perform virtually flawlessly.
Well, without further ado, let's just dive on in. We will start with the offensive "Top Performer" and the two offensive "Honorable Mentions." Click on the handy link below to see who gets the offensive "Game Ball" this week.
It was only a matter of time before Trayveon Williams got a game ball. The dynamic freshman running back has established himself as the man in the A&M backfield. He did have a bad fumble that let Tennessee send the game to overtime, but everybody has bad plays now and then.
On the whole, Williams still had a phenomenal outing against the Volunteers. He carried the ball 28 times for 217 yards. That's an average of 7.8 yards per carry. He also scored a touchdown. He would have scored another if not for the unfortunate fumble at the one-yard line. Still, Williams is a great young player.
Honorable Mentions:
Trevor Knight, QB, Texas A&M
Speaking of great performances out of the Texas A&M backfield, quarterback Trevor Knight also had himself a whale of a game. Knight, as he has been all season, was effective on the ground and in the air. He threw for 239 yards and two touchdowns on just 17 completions. Unfortunately, he also had two interceptions.
On the ground Knight was even more impressive. He carried the ball 15 times for 110 yards, good for an average of 7.3 yards per carry. He also added three rushing touchdowns. The interceptions are a problem that Knight will have to fix before the Aggies travel to Tuscaloosa next week. However, if Knight can keep scoring five touchdowns in a game it may not matter too much.
Jalen Hurts, QB, Alabama
Jalen Hurts looked extremely comfortable against the Arkansas defense. He did have one interception, on a play where he was hit while releasing the ball, but was otherwise magnificent. Hurts completed 13 of his 17 passes for 253 yards and two touchdowns. He also scored two rushing touchdowns on the night.
Hurts is still improving, which should be terrifying for opposing defensive coordinators to consider. By the time he is a senior he will likely hold some records for the Tide, assuming of course that he can stay healthy.
Alabama's secondary struggled a bit against the Arkansas Razorbacks. They allowed Hog quarterback Austin Allen to throw for 400 yards. That's a bad day no matter how you slice it. The lone bright spot in the defensive backfield was sophomore corner Minkah Fitzpatrick.
Fitzpatrick had a banner day, reeling in three interceptions. He almost had a fourth one but couldn't quite haul it in. On his third interception, Fitzpatrick took the ball from deep in his own end zone and ran it all the way back for a game-clinching pick-six.
Fitzpatrick is a key cog in the Alabama secondary. He plays as the number two corner opposite Marlon Humphrey. Also, in nickel and dime sets, Fitzpatrick slides into the slot corner, or "star," position, at which he excelled a season ago as a true freshman. Fitzpatrick is a ballhawk with excellent man-coverage skills. He should only get better.
Honorable Mentions:
Carl Lawson, DE, Auburn
Carl Lawson arrived at Auburn a few years ago with a lot of hype. He was supposed to be an elite pass-rusher that would terrorize opposing quarterbacks. Unfortunately, he has not really lived up to those lofty expectations, primarily due to injuries.
However, it looks like Lawson may finally be putting all the pieces together. Last week against ULM he got two sacks. This week, he added two more. His first sack resulted in a fumble, which was picked up and returned for a touchdown by Montravious Adams. If Lawson can keep playing at a high level, this could easily be the best Tiger defense since 2010.
Armani Watts, S, Texas A&M
Armani Watts has made this list before, taking home a Game Ball last time. He didn't quite pull it off this week, but he still had an exceptional game. And, more importantly, played a vital role in helping his team get a victory.
Watts was second on the team with nine tackles this week. Six of them were solo. Also, he had a pass defended. Finally, Watts was the man who intercepted Josh Dobbs in overtime to win the game for the Aggies. I'm sure that will be a moment he will always remember and cherish.
Special Teams: Terry Godwin, WR, Georgia
Terry Godwin had a forgetful day on offense, catching a grand total of zero passes. However, he still played a vital role in leading the Bulldogs to victory against a scrappy South Carolina team. The Gamecocks trailed 21-14 late in the fourth quarter. They attempted an onside kick, which was promptly fielded by Godwin. Godwin then returned the kick 43 yards for a touchdown.
Godwin is a tiny sophomore receiver from Hogansville, Georgia. For the season he has caught 13 passes for 179 yards. He has also rushed the ball four times for 14 yards. Georgia's wide receivers have played poorly all season long. That bodes ill for Godwin, who one would think would be able to carve out a larger role. Still, he helped the Dawgs get a win this week.
Honorable Mentions:
JK Scott, P, Alabama
JK Scott is one of the top punters in college football, and he showed it this week against Arkansas. Scott punted four times for 206 yards. That's an average of 51.5 yards per punt. Also, two of his four punts landed inside the Arkansas 20. In short, Scott had about as good of a game as a punter could hope to have.
JK Scott is a phenomenal junior punter from Denver, Colorado. He excelled as a freshman, and probably deserved to win the Ray Guy Award. He didn't. However, he will undoubtedly console himself with all the money he makes punting in the NFL for the next decade and a half.
Austin MacGinnis, K, Kentucky
Kentucky won their game against Vanderbilt by seven points this week. Eight of Kentucky's 20 points were scored by Austin MacGinnis. MacGinnis converted both of his field goal attempts, as well as both of his extra point attempts. His coaches can't ask for any better than that.
Thank You!
Thank you so much for reading. I hope you enjoyed the article. If so, be sure to like us on Facebook and follow us on Twitter. Also, share your own top performers in the comments below. Finally, check in again next week to see who gets a "Game Ball" in Week Five.
More from Southbound and Down
This article originally appeared on