Redemption on the Line for Clay Helton, USC Football vs. Washington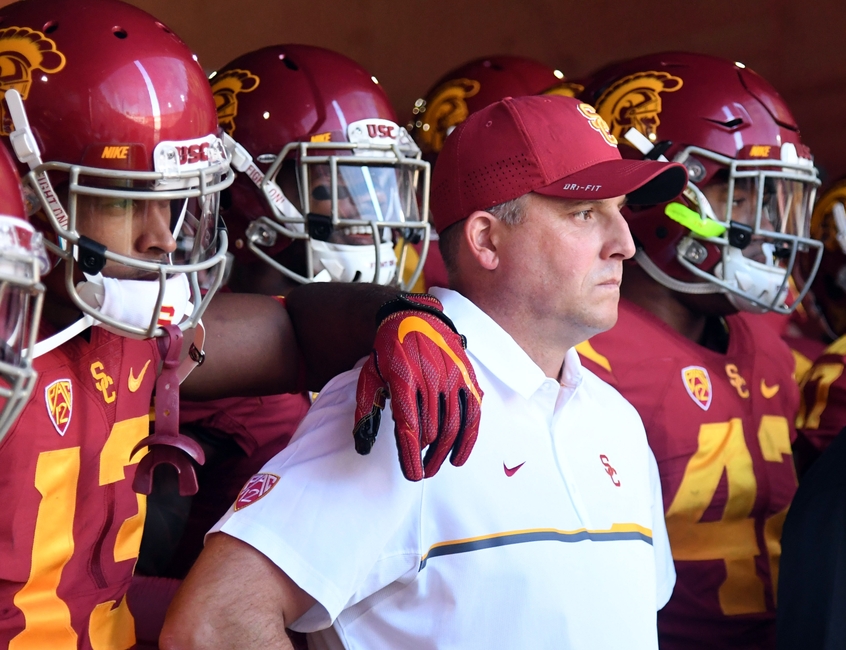 Clay Helton's USC football team faces No. 4 Washington Saturday in one of the most-anticipated Pac-12 games of the year. But there's more than conference supremacy on the line for the Trojans.
It's been 50 days since USC's season virtually ended on a misty night in Salt Lake City.
Following a third disastrous performance in which Utah scored touchdowns on their final three drives to the tune of 253 yards, all helped along with a questionable punt decision, head coach Clay Helton was anointed 'dead man walking'.
'No Trojan team should ever start 1-3,' was the message.
'Helton is in over his head,' was the critique.
It wasn't just us at Reign of Troy. It was The Big Lead, College Football News and Daily Trojan. Sports Illustrated's Andy Staples got in on it, going to bat for Houston coach Tom Herman.
Even your barber, your Uber driver and your didn't-think-she-cared-about-football mom had opinions.
Everybody.
USC was a dumpster fire and the only way it could be saved was if new athletic director Lynn Swann dropped the guillotine on the Trojans' not-quite-as-new head coach.
That was 50 days ago.
Fifty long days.
Fifty days in which USC has slowly but surely turned its season around, with seemingly no one paying attention.
The Trojans have won five-straight games by an average margin of victory of 21 points.
They have a quarterback in Sam Darnold whose 165.7 passer rating against Power 5 opponents ranks fourth in FBS, and a defense with an average defensive percentile performance of 85.6 percent in their last five games, per Football Study Hall.
But no one has noticed.
USC is unranked in both the AP and Coaches Poll, and not a single pundit from USA Today has picked the 6-3 Trojans against Washington on Saturday.
After a treacherous September, the Washington game is the one that can make the stench disappear.
Altogether, it makes the showdown with the undefeated and 4th-ranked Huskies a massive opportunity for redemption.
After a treacherous September that saw USC lose to three ranked teams away from home, each in different yet embarrassing fashion, the Washington game is the one that can make the stench disappear.
A win in Seattle as a 7.5-point underdogs would be the Trojans' first as road dogs since 2014. And ironically enough, would be the first double-digit line USC would overcome since beating Oregon in 2011, who were also ranked No. 4 in the AP Poll.
READ MORE: Five Times USC Football Ruined Washington's Season
But it's not the weight of the felled tree that would make an upset so resounding.
It's that under Clay Helton, the Trojans have yet to show they deserve to share the playing field with a team better than them.
Take out the third quarter against Stanford in last year's Pac-12 Championship Game and the first 22 minutes versus Alabama in the season opener, and USC has been outscored 79 to 12 by the last two Top 5 teams they've played under Helton.
Then take into account that the Trojans are seeking revenge for their shocking loss at the hands of the Huskies last year, in what was Steve Sarkisian's final game.
USC no-showed, while Washington slogged their way to Chris Petersen's first signature win at UW.
Those are the games people remember.
That's the USC which has been branded into the eyeballs of the national conscious.
It's those games that provided pause when this season's 1-3 start was compared to the 1-3 start of Pete Carroll's first team in 2001.
FLASHBACK: Clay Helton, USC Need Unthinkable Turnaround After 1-3 Start
But if you've watched the Trojans play within the last 50 days, you would see that they're not the same team, despite the same cardinal and gold uniforms.
Turnovers be damned, the current iteration of USC looks formidable.
But most importantly, it's not the wins that signal change. It's how they've done it.
They finally have an identity on offense and defense.
They have a wide variety of playmakers they're comfortable using, have averaged 7.54 yards per carry the past three games despite being without No. 1 running back Justin Davis, and are holding high-octane Pac-12 offenses in check.
They're doing the little things, like picking up slack on both sides of the ball to prevent mistakes from becoming game-deciding disasters.
Unlike like last season, they're beating bad teams by the big margins they should beat them by. No playing down to teams. No caving.
With so much external noise, multiple expulsions at key positions and a swath of general negativity around the program, it would've been so easy for this USC team to quit.
Instead, they've rallied.
TRENDING: Previewing the Washington Offense Going into USC Game
And for the first time in years, it feels like the annual 'we fought on through adversity' company line could be true.
But there's a caveat.
USC can't prove it without a win at Washington.
Another bad loss to a respected opponent just reinforces the harsh criticisms from September.
Another bad loss makes the last 50 days irrelevant.
And so the Trojans aren't just suiting up against the likes of Jake Browning, John Ross and Myles Gaskin with their Pac-12 South lives on the line. They'll take the field in Seattle tonight and come face to face with the ghost of their old selves.
Whether it haunts them or serves as proof of a 50-day exorcism is up to them.
This article originally appeared on