Penn State vs. Purdue Position Grades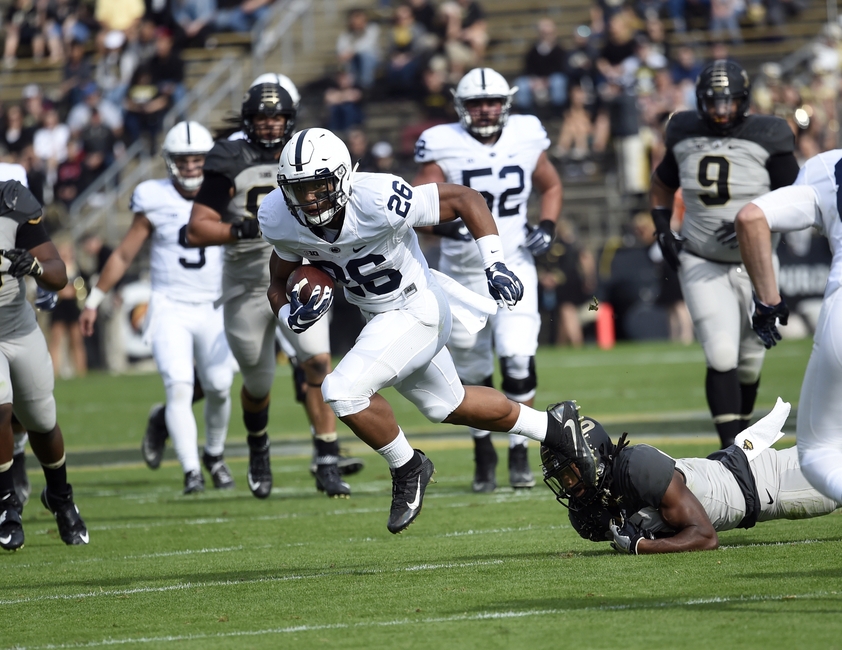 Penn State rolled over Purdue 62-24 on Saturday in West Lafayette.
The Nittany Lions had to overcome a sluggish start, which many predicted, but in the second half they dominated and posted over 60 points for the first time since 2008.
More from Victory Bell Rings
In the first half, the defense was the biggest reason why Penn State went to the break tied at 17 with Purdue.  The Lions were uncharacteristically undisciplined in the first half and they finished the game with 11 penalties for 91 yards.  Hopefully this was an anomaly, but something James Franklin must address this week.
Another problem, especially in the first half, were missed tackles and missed assignments.  However Penn State was a different team in the second half and ran away with the victory.
Purdue just does not have the talent to take on a team like Penn State right now and the Lions were able to overcome their own flaws.  Against a better team, those first half mistakes could be a killer.
The Lions have completed a perfect October with 4 wins and are now bowl eligible.  What a difference a month makes.
Let's put the final word on the Purdue game and hand out some grades.
Quarterbacks
Another solid performance by Trace McSorley.  Was it perfect?  No, but it did not have to be.
McSorley went 12-for-23 for 228 yards and 3 touchdown passes.  Bigger than those numbers are again, no turnovers.  After a shaky start to the season, McSorley has cleaned it up and held onto the ball and has not forced throws.
The other big thing here is that McSorley did not have to run in this one.  For the most part, he was handing the ball off to the running backs from the zone read or throwing it.  I think the coaches prefer that, but they are not afraid to run McSorley when it's needed.
Due to the lopsided nature of the second half, backup Tommy Stevens got extended playing time, leading two Nittany Lion scoring drives.  He carried the ball five times for 31 yards and completed one pass for 26 yards.  In his limited time this season, Stevens looks capable of running this offense.
Grade: A-
Running Backs
Saquon Barkley continues to amaze week after week.  Is there anything he can't do?
Barkley had a career day.  207 yards on 18 carries and two touchdowns.  That's 11.5 yards a carry for those keeping score at home.  Barkley also caught three passes for 70 yards, which was good enough to lead the Lions in receiving on the day.
His 81-yard touchdown run capped off his big day.  His vision and moves are unmatched.  It's simply amazing to watch Barkley go to work.
The other running backs got in on the action as well and showed how deep this position is.  Andre Robinson had two carries, both going for scores, including a nice 19 yard scamper.  Mark Allen only touched it once, but scored on that run.  Freshman Miles Sanders posted a 21-yard catch and score.
Great day for this unit and the plus is for Barkley doing Barkley-like things.
Grade: A+
Wide Receivers / Tight Ends
This position group had a pretty good day, as McSorley spread the ball around to seven different receivers.
Even though Barkley had the most receiving yards, Chris Godwin had himself one of his better games of this year.  He had five catches for 58 yards and two touchdowns.  His second touchdown where he came back to the ball in the lower corner of the endzone was a very nice throw and catch.
Saeed Blacknall, Irvin Charles, and DaeSean Hamilton all had a catch each.  Hamilton was targeted more and had a couple drops on balls that should have been caught.
Mike Gesicki also only had one catch for 23 yards and he looked like he was still favoring the injury that caused him to leave the first half against Ohio State last week.  DeAndre Thompkins did not play due to the injury in the Ohio State game.
Grade: B+
Offensive Line
It was another good performance from the offensive line.  There are four games left in the season, but this position could be the most improved unit of the team.
Only one sack was allowed on the day and the line opened up huge holes for the running backs to run through.  One of the Boilermaker strengths is their defense line, but the Lions did not have many problems up front.
When you have over 500 yards of total offense, you are doing something right up front in the trenches.  Credit also goes to offensive line coach Matt Limegrover for how he has turned around this unit.
Grade: A
Defensive Line
Not as great of a performance this week as last week, but the defensive line still played pretty well and were much better in the second half to shut down Purdue.
The Boilermakers were held to only 46 yards rushing and a paltry 1.8 yards per rush.  The unit only got one sack on the day, but that could be chalked up to the quick passing game of Purdue.  The one sack was credited to redshirt freshman Ryan Bucholtz.
In addition to Bucholtz, Penn State rotated in several defensive linemen, keeping the line fresh and touting the depth at this position.  This is a good sign for the future.
Grade: B
Linebackers
The linebackers also had a part in holding the Boilermakers under 50 yards on the ground.
Jason Cabinda led the team with nine tackles, six of them being solo.  Manny Bowen had 6 tackles and Brandon Bell had 5 tackles, with one being for a loss.
The tackling was shaky in the first half, but they got in cleaned up in the second.  Brandon Smith's interception early in the second half swung the game in the Nittany Lions favor.  They scored on the subsequent drive, breaking the tie and Penn State never looked back.  The funny thing is that Smith was only in the lineup at that time because Cabinda had an equipment issue with his face mask.
Grade: B
Secondary
Like the linebackers, the secondary had problems in the first half with wrap tackling.  The second half was a different story, and they were decent in the last 30 minutes outside giving up a 62 yard catch and run for a touchdown.
Malik Golden led this unit with eight tackles, including one for a loss.  Marcus Allen had six tackles on the day, and Grant Haley tallied three.  With the game well in hand, Christian Campbell had an interception which he returned for a touchdown. Unfortunately, the score was called back for an illegal chop block penalty.
Purdue quarterback David Blough threw for 281 yards and there were plenty of missed tackles from this unit.  However, the Lions were able to overcome their mistakes.  Plenty to correct here.
Grade: B-
Special Teams
The special teams did pretty well against Purdue, and they did not have the mistakes that could have cost them against Ohio State.
The punt team caused a fumble, giving the Lions great field position that they turned into a touchdown two plays later.  Punter Blake Gillikin had three punts for an average of 41.3 yards.
Joey Julius was plenty busy.  He booted 11 kickoffs in total with five touchbacks.  He did have one go out of bounds, but the coverage unit held the Purdue return game in check.
Tyler Davis rebounded from his first career miss last week to nail both of his field goal attempts, plus he was perfect on all eight of his extra point attempts.
Grade: B+
Coaching
Outside of the sluggish start to the game, there were not too many complaints with the coaches.
Penn State seems to be a second half team and that's not necessarily a bad thing.  Besides the Michigan game, the adjustments are made at the break and the Lions come out as a different team in the second half, often leading to great results.  Saturday was no different as Penn State outscored Purdue in the second half 45-7.
Defensive coordinator Brent Pry got aggressive in the second half, which flustered David Blough and started to force Boilermaker mistakes.  Penn State capitalized on all four turnovers, scoring 28 points.
This was the first road win for the Lions in 8 tries.  Granted it was against Purdue, but a 38 point road win is nothing to sneeze at.
Grade: B
This article originally appeared on