Penn State Football Recruiting Roundup: December 1, 2016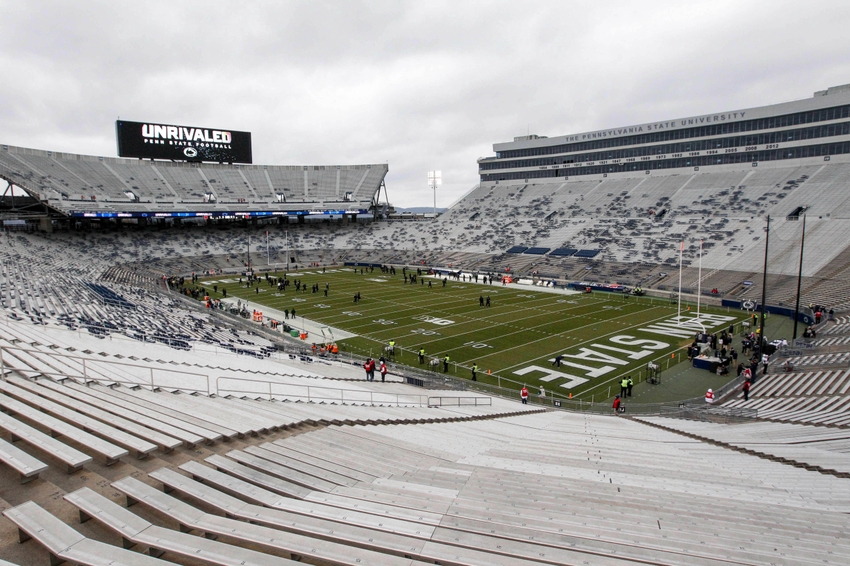 Now that the regular season has ended, the world of Penn State Football recruiting will really start to rev up. Even with a trip to Indy on the docket.
This past weekend was a great one for the Penn State Football program. Not only did the Nittany Lions blast Michigan State 45-12 to win the Big Ten East, it was also a great weekend for Penn State Football recruiting. And now the coaching staff will look to ride this great wave of momentum into what will be a delayed offseason.
There are very few teams in the country that are hotter than Penn State right now. That includes both on the field, and on the recruiting trail. Hopefully, that hot streak will continue by winning the Big Ten Championship this weekend.
With all of that said, let's get started with this week's Penn State Football recruiting roundup.
The Nittany Lions Gain Two Commitments 
Over the weekend, Penn State picked up two new commitments. One in the 2017 recruiting class and one in the 2018 class. The 2017 commit was defensive tackle Fred Hansard, while the 2018 commit was tight end Zack Kuntz.
More from Victory Bell Rings
James Franklin and the Nittany Lion staff were able to flip Hansard from Florida. You can read more about his commitment here. As for Kuntz, he is the top tight end in the country in the 2018 recruiting cycle. And more about Kuntz's commitment can be found here.
Last Weekend's Visitors
On top of gaining a pair of commitments this weekend, the Nittany Lions also had a big weekend in terms of visitors. Five-star (at the time) Maryland defensive end commit Joshua Kaindoh, four-star Maryland defensive tackle commit Cam Spence, and four-star defensive back Ambry Thomas all took official visits to Penn State over the weekend. All three of these recruits are ones that have been on Penn State's radar for a long time.
Following his visit this past weekend, Kaindoh de-committed from Maryland. He will now announces his commitment at the Under Armor All-American game on January 1. Personally, I believe this is now a two horse race. Those two horses are Penn State and Florida State. And right now, I believe the Nittany Lions are the team to beat for one of the country's 30 best players.
Early on in his recruitment the Nittany Lions led for Kaindoh. Furthermore, he is originally from Maryland and playing close to home could be a big factor here. That said, after spending the past two seasons at IMG Academy in Florida I would not blame him for wanting to stay in the Sunshine State.
As I said above, I believe the Nittany Lions now lead for Kaindoh. He is an early enrollee, due to this he will enroll at whichever school he chooses in January.
Entering the weekend, Ambry Thomas appeared to be a Michigan lock. However, after a great visit the Nittany Lions have given themselves a chance with the top-100 recruit. Maybe most importantly, as she showed on Twitter, Momma Thomas fell in love with Penn State over the weekend.
Loved my visit to Penn St. @Tavonn_ @Wheaty95617709 @coachjfranklin @CoachTimBanks pic.twitter.com/PIzPF6PeLL

— Carmen Thomas (@ImTheMomma326) November 27, 2016
One thing I have learned in my years of covering recruiting, never doubt the power of mom. Thomas is one of the best athletes in the country. He can play defensive back or wide receiver at the collegiate level. And would make an impact as a true freshman. I still believe Thomas will end up at Michigan, but Penn State certainly has a shot now.
The Contact Period Begins
This week begins the contact period in recruiting. The contact period will last until the beginning of the recruiting dead period on December 11. During this time coaches will be flocking to do in-home visits with recruits.
Originally, Penn State's staff planned to do some in-home visits this week. Well, due to the Big Ten Championship Game, plans have changed. Luckily for Coach Franklin and company, playing in the Big Ten Championship Game recruits for itself.
Instead, the Nittany Lion coaching staff will now hit the road next week. I would expect them to focus on four main recruits during that time. Those four recruits are class of 2017 commits Michael Miranda and Brelin Faison-Walden, Joshua Kaindoh, and Lamont Wade. The reason I expect these four players to get in-home visits next week is because they are all early enrollees. And by the time the dead period ends, they will already be enrolled in college.
Wade will announce his college decision on December 17, and, as I mentioned above, Kaindoh's will come on January 1. Right now, I believe the Nittany Lions are the team to beat for both of these players. And a home visit from James Franklin next week, especially since both (Wade to West Virginia and Kaindoh to Georgia) have official visits lined up for this weekend, could be what seals the deal for the Nittany Lions.
Nathan Proctor's Official Visit Is Set
Four-star linebacker Nathan Proctor is one of the top players remaining on Penn State's 2017 recruiting board. And, Adam Friedman of Rivals.com broke down Proctor's four planned official visits earlier this week.
4-star LB Nathan Proctor official visit schedule:#VT 12/9#UCLA 1/13#PSU 1/20#OleMiss 1/27https://t.co/p94OvahUmV pic.twitter.com/4CwU7nVW3K

— Adam Friedman (@RivalsFriedman) November 29, 2016
It is a good sign that Proctor's official visit to Penn State will be the weekend of January 20. That is due to the fact that is the weekend that the rest of the members of Penn State's 2017 recruiting class will be taking their official visits to Happy Valley. Combine that with the fact that I believe Penn State currently leads for Proctor, and the Nittany Lions should be in good shape. In my opinion, their biggest competition will be Virginia Tech.
That will do it for this week's Penn State Football recruiting roundup. It will be a very exciting two months to see how well the Nittany Lions can finish with their 2017 recruiting class. They have the chance to finish as strong, if not stronger, than any other program in the country.
However, currently, there is just one thing that matters. Wisconsin, Wisconsin, Wisconsin, Wisconsin, Wisconsin, Wisconsin, Wisconsin, Wisconsin, Wisconsin.
This article originally appeared on