Penn State at Rutgers: Prediction Roundtable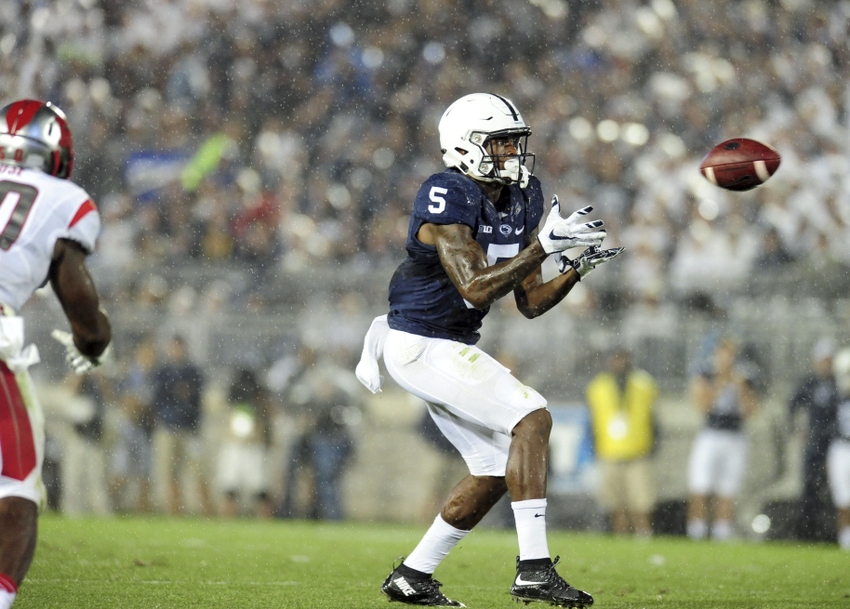 How will Penn State fare this weekend in New Jersey against the Rutgers Scarlet Knights?
With two games remaining in the regular season, Penn State still has a real shot at winning the Big Ten East crown. Job one is to take care of business by winning out. That begins this Saturday when the Nittany Lions take on Rutgers.
The Scarlet Knights are winless in the conference and rank at or near the bottom of nearly every statistical category.
Still, anything can happen, and Penn State is playing with the added pressure of being ranked No. 8 in the College Football Playoff. Also, if things go right, there's a legitimate chance that the Nitany Lions could find their way into the playoff come season's end.
First and foremost though, James Franklin and company need to get out of New Jersey with a victory Saturday. Check out the VBR staff predictions for the game at Rutgers.
Site Expert Barry Leonard Jr. 
While I don't really classify this week as a trap game, it could be a bit tricky. All signs point to a Penn State blowout win. The Nittany Lions are rolling and the Scarlet Knights are the worst team in the Big Ten. However, with a lot to play for, Penn State could find itself looking ahead.
Fortunately, I don't see that happening. James Franklin and company have done a good job through this winning streak keeping the team focused.
As for the game itself, that's some real concern on the offensive line due to injuries, but it shouldn't make much of a difference this week. Rutgers ranks near the bottom of the conference in total defense and is the worst team in the Big Ten at defending the run.
Saquon Barkley could be in for a big day. It seems likely that he'll once again be able to put up at least 200 yards. Barkley could be busy once the Nittany Lions get a lead.
The Penn State defense has been playing really well and could have an opportunity for some big plays against the struggling Rutgers offense.
I'm really not expecting this one to be close at all. The Nittany Lions have scored at least 41 points in each of the last three games. Penn State will leave New Jersey with a nine-game winning streak in tact.
Penn State 48
Rutgers 7
Contributor Marty Leap
Penn State's offensive line is definitely banged up this week. Paris Palmer is out for the season, joining Andrew Nelson. Brendan Mahon remains out as well. Furthermore, Connor McGovern's status for this weekend is unknown. Luckily for the Nittany Lions, they play Rutgers, who is very possibly the worst Power 5 Conference team in the country.
Despite the OL injuries, I expect Penn State's rushing attack to have a big day. The Scarlet Knights have the second-worst rush defense in the FBS and Penn State has Saquon Barkley. I look for Say Say to have a huge game Saturday night. I would not be surprised to see Penn State top 300 rushing yards as a team on Saturday night.
Additionally, the Rutgers offense stinks too. They have been shut out three times, and scored just seven points on two other occasions. Combine this with the Nittany Lion defense being healthy and look for Rutgers' offense to struggle immensely on Saturday night. Rutgers is also coming off of a 49-0 pasting at the hands of the miserable 3-7 Michigan State Spartans.
I see no way this game is even remotely close. Penn State is one of the hottest teams in the country right now, and are playing to try and win the Big Ten and make the playoff. As for Rutgers, they are absolutely horrible. The Nittany Lions score early and often on their way to a blowout victory.
Penn State 49
Rutgers 7
Contributor Shane Lunnen
All signs point to a comfortable win this weekend for the Lions against Rutgers.  However Penn State only need to look back to last weekend to realize they need to be focused or else they could be a victim of an upset.
On paper this game should not even be close.  The Scarlet Knights rank near the bottom of the FBS in rushing defense, giving up just over 250 yards a game on the ground. Their pass defense looks great by comparison, but with teams running all over the Knights, there is no reason to pass.  Even though Penn State's offensive line is reeling from injuries, this should be a huge night for Saquon Barkley.  Hopefully the Lions' other running backs get some extended playing time as well.
Offensively, Rutgers has not been much better. They have been shutout three times in conference play, granted two of those shutouts were to Ohio State and Michigan. But last week a bad Michigan State team beat them 49-0. Although the Lions probably won't record a shutout, their defense should be fine and take care of business against a lesser opponent.
Penn State's only worry should be Rutgers playing beyond everything we have seen from them this season.  This is Rutgers biggest game and to send a dagger into Penn State's dreams of a Big Ten championship would make their season.  I can't see that happening.  Penn State rides Barkley and wins going away, inching closer to a 10-win season.
Penn State 42
Rutgers 13
Contributor Corey Hunter
What did Mr. T say when he was asked to predict his upcoming fight with Rocky Balboa in a scene from Rocky 3? See for yourself.
Yeah, that's about what I expect Saturday night – Pain!
Penn State is steamrolling to a possible Big Ten East title and maybe even a shot at the College Football Playoff. Rutgers, meanwhile, is simply playing out the schedule.
Sure, beating Penn State would be a nice salve for the wound that is the Scarlet Knights' season, but I just don't see that happening. Even though the Lions are decimated by injuries on the OL, they still should be able to open up holes against the most porous rush defense in the Big Ten. Rutgers allows over 250 yards per game on the ground. Unless the score gets out of hand too quickly, I expect Saquon Barkley to have at least 200 all-purpose yards.
Penn State wins this game handily, but, no matter the Penn State margin of victory, expect to see the Nittany Lions drop in the CFP rankings next week if Oklahoma beats West Virginia.
Penn State – 52
Rutgers – 3
More from Victory Bell Rings
This article originally appeared on