OU Football: Notable Numbers From Win Over K-State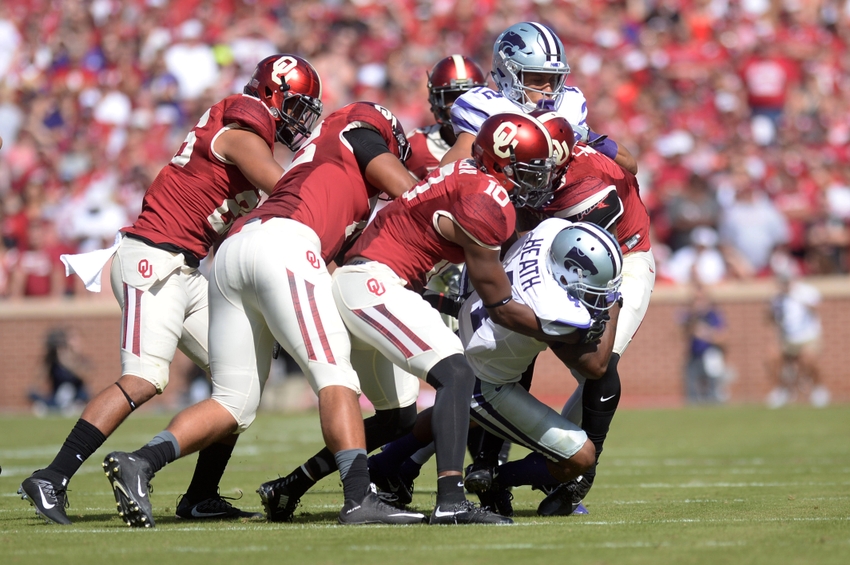 OU football is two wins away from becoming bowl eligible for the 2016 postseason. No big deal, really, when you factor that the Sooners have gone bowling every year since Bob Stoops became head coach in 1999.
The numbers that has the most meaning for Oklahoma halfway through its heavily front-loaded 2016 schedule are one and ten. What that represents is a first-place finish and a 10th Big 12 championship for Stoops and the Sooners in 18 seasons.
Such an outcome would also earn the Sooners a spot in the All-State Sugar Bowl, where they would likely face the second-best team this season in the Southeastern Conference. This, of course, assumes that the SEC's best team, Alabama, will continue to win and earn a deserved spot in the College Football Playoff.
Here are a dozen more numbers to know from Oklahoma's weekend win over Kansas State:
4 – Touchdown passes thrown by Baker Mayfield in the win over Kansas State. It is the fourth time he has delivered four TD passes in a game as a Sooner.
7.8 – Yards per play gained by the Oklahoma offense in 65 offensive plays on Saturday.
11 – The Sooners' 38-17 victory over Kansas State on Saturday was Oklahoma's 11th win over K-State is 16 game since the Big 12 began in 1996. No other Big 12 team has a winning record against the Wildcats in the Big 12 era.
12 – In the third quarter of Saturday's game with K-State, Sooner linebacker Ogbonnia Okoronkwo recorded his sixth sack of the season, taking down KSU quarterback Joe Huebner for a 12-yard loss.
17 – Kansas State's point total on Saturday was half of the Wildcats' 34.2 season average. K-State scored fewer points, however, in its two previous 2016 losses (13 against Stanford and 16 in losing at West Virginia).
19 – Joe Mixon posted 88 yards rushing on Saturday on 19 carries. That topped his previous high-water mark for rushing attempts in a single game. He had 16 carries three previous times in a game.
88 – Dede Westbrook hauled in an 88-yard touchdown pass midway through the fourth quarter to put a capper on Oklahoma's win over K-State. It was the fourth longest touchdown pass in OU football history and the longest in the history of Gaylord Family-Oklahoma Memorial Stadium.
200 – Oklahoma's 510 yards of total offense against Kansas State was 200 yards more than the Wildcats' season average of 310.2 yards allowed. Entering the game, K-State ranked 14th in the country in total yards allowed in a game.
574 – Pass receiving yardage by wide receiver Dede Westbrook in his past three games (TCU, Texas and K-State), a school record over three games. The previous record was held by all-time Sooner leading receiver Ryan Broyles in 2010.
628 – Passing yardage the past two seasons by quarterback Baker Mayfield in games against Kansas State. In those two games, Mayfield has completed 45 of 58 passes, a .776 completion percentage, with one interception and nine touchdown passes.
1973 – The last time an Oklahoma running back threw a touchdown pass (Joe Washington to Tinker Owens for 40 yards in a game with Texas, Oct. 13, 1973). In Saturday's win over Kansas State, Joe Mixon pulled up from what appeared to be a running play around the right side of the formation, and let fly a 26-yard touchdown strike to a wide-open Dede Westbrook for the Sooners' third touchdown in the game.
86,049 – Crowd size at Gaylord Family-Oklahoma Memorial Stadium on Saturday, the third largest in history of GFOMS. The largest crowd in the stadium's history was accomplished earlier this year in the Sooners' first home game of 2016, against Louisiana-Monroe.
More from Stormin in Norman
This article originally appeared on